SANTA FAMILIA, Cayo District, Mon. June 19, 2017–On Friday night, Amy Guerra, 16, left her home in Bullet Tree Falls en route to Santa Familia to meet her ex-boyfriend, Eliseo Bacab, 22. The two had agreed to meet to iron out their differences after an intimate relationship, which they had begun over a year ago, had recently gone sour. Their meeting, unfortunately, would end in bloodshed.
At around 10 o'clock that night, the lovers met near the village cemetery, but upon seeing three men, whom they knew, the couple decided to walk over to the football field. For reasons yet to be revealed, the three men followed them a few minutes later.
One of the men, armed with a knife, accosted Bacab and stabbed him as many as ten times. Bacab was later thrown into a nearby river and left for dead. While Bacab was being attacked, Guerra tried to escape, but she was captured and stabbed multiple times in the throat. She, too, was thereafter thrown into a nearby river.
Today, Bacab told Amandala that before the stabbing started, one of the alleged attackers, Steven Manzanero, indicated that there would be no witnesses left behind.
According to him, Manzanero then grabbed him from behind and began stabbing him in the neck. Bacab fought back and they both fell to the ground. While on the ground, Bacab was stabbed another three times in the back, and once in the hand. Thereafter, he became unconscious.
Bacab told Amandala that when he regained consciousness, he was in a shallow part of the river near the football field. Although he had lost a lot of blood, he was able to swim to shore. A Good Samaritan from the village took him to the police station, but the door was shut, and no one responded to their call for assistance. He was later taken to the Loma Luz hospital in Santa Elena, where he was treated and released today, Monday.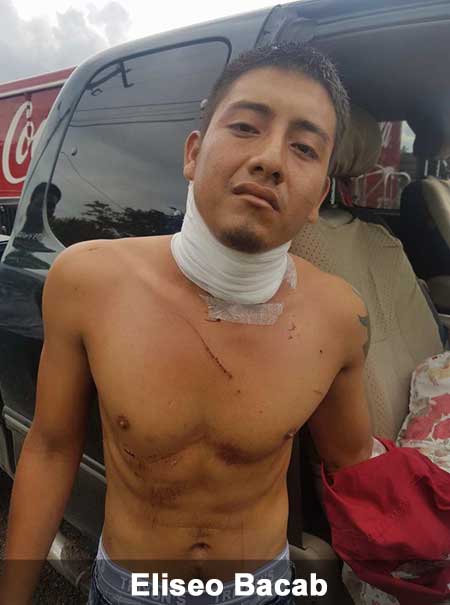 When we asked Bacab why the men would want to kill him, he told us that he had had no prior conflict with the men. "I know the three guys," he told us, "they talk to me. I don't know why they stabbed me and tried to kill me."
Sadly for Amy Guerra and her family, she did not survive the vicious attack. Her body was recovered, fully clothed, by a search party consisting of her relatives at around 2 o'clock on Saturday afternoon.
When our newspaper spoke to Guerra's mother, Kathy Guerra, a mother of 7, she, too, was clueless as to why anyone would want to murder her daughter.
"I just want justice," she told Amandala. "I just want them to pay for what they do to my daughter. The way how they killed my daughter. I want the three of them pay for that."
According to the distressed mother, her daughter, "was a happy girl. She like sing; she like dance; she like play. They had no reason fi kill ah like that."
Kathy Guerra said that a few hours before her daughter's death, she had been interviewed at Western Dairies in Spanish Lookout, and was to begin her new job soon.
The men police believe are responsible for taking her life have been charged following a statement given by Eliseo Bacab. Although the murder weapons have not yet been recovered by police, Steven Manzanero, Reginald Patt, and Armando Coleman (no ages provided), were today charged by San Ignacio police with murder and attempted murder.
Manzanero has a violent past. At the age of fifteen, he was charged and convicted of manslaughter after stabbing another teen dead. According to our sources, almost 6 months ago, he was charged for stabbing another villager. Amandala has not been able to find out why he was released from prison.
The community of Santa Familia is organizing a rally in front of the police station at 9 a.m. on Tuesday to protest the violence in their village.