BELIZE CITY, Thurs. June 1, 2017–A source inside the Belize athletics community suggested over the weekend that he suspects that Belizean star sprinter, Kaina Martinez might be "going pro" after she graduates from Texas A&M University, Kingsville in a few weeks' time.
To our email query following congratulations yesterday, Kaina confided that she intends to come home in about three weeks "to deal with some things. Until then, I'll continue to work hard."
But on the matter of entering the professional arena, she had no such plans.
"Not really thinking pro. Thinking more about moving forward to higher degree. So I'm doing my Master's in counseling and guidance. I received a scholarship due to my academic performance. Track was just something I wanted to use to help bring changes for sports and athletes in Belize using my talent. Getting what I got last year really tells me it's better to go on & use my education & use it to bring changes. I now look forward to being a mental health advocate, professional counselor.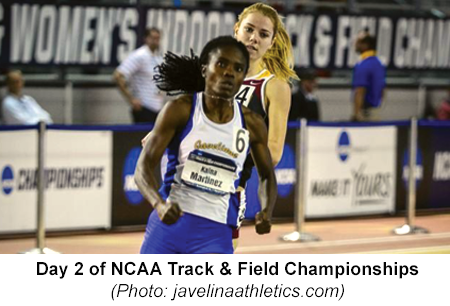 "Many know me from sports because I put everything into it to hopefully bring change. It's not the only thing I can do or am good at. Nevertheless, as I continue to pray and seek guidance, I look forward to what life has to offer. My vision is bigger than my disappointments, so I know great things will happen."
In "Getting what I got last year" above, Kaina was referring to being denied by the local Olympic Committee the opportunity to represent Belize at the 2016 Olympics in Rio, Brazil.
Kaina reached the finals of all three events – 4x100m relay, 100m and 200m – in which she represented her school, TAMU-Kingsville at the NCAA Track & Field Championships over the weekend in Bradenton, Florida, where she figured in all 16 points earned by her school, including third place in the relay and second place in the 100 meter dash.