BELIZE CITY, Wed. Apr. 17, 2019– Week 10 games of the National Amateur Women's League (NAWL) 2019 Tournament were played over the weekend to complete the regular season – 3 games each were scheduled for Saturday and Sunday, April 13 & 14.
On Saturday at the M.A. Stadium in Independence, home standing Altitude were taking no prisoners, demolishing Santa Elena Strikers, 16-0, with goals from Tamara Baptist (5', 45' & 84'), Christy Cardinez (36', 47', 49', 72', 82' & 88'), Sabrina Eiley (50'), Jessica Foreman (52'), Zulma Ortega (58' & 69'), Pauline Linarez (64') and Veronica Figueroa (74' & 89'). It was much more competitive at the MCC Grounds in Belize City, where a penalty conversion by league leading scorer Kaite Jones (41' PK) was the difference in a 1-nil victory for Orange Walk's Gladiators over Belize City's Black Orchid. Meanwhile, at the Isidoro Beaton Stadium in Belmopan, it was deadlocked at 2-2 between Jewel Fury Bandits and Rumberas from Independence, as both teams remained undefeated to end the regular season. Jewel Fury was up 2-nil with goals from Jada Brown (10') and Fatima Romero (73'), before Rumberas rebounded with goals from Jessica Lopez (78') and Nataki Alvarez (80').
Only 1 of the 3 scheduled games were played on Sunday, as 2 teams unable to make the playoffs lost by default. At the Victor Sanchez Union Field in Punta Gorda, Ladies Freedom Fighters won by default (3-0) over Dangriga Pumas; and at the Norman Broaster Stadium in San Ignacio, Verdes Rebels won by default (3-0) over San Pedro Invaders. The only NAWL Sunday game played was at the Ricalde Stadium in Corozal, where Corozal Scorpions stung Cayo's Royal Maya Hill, 9-1, with goals from Maindy Canul (17' & 40'), Noemi Magaña (29', 52', 76' & 89'), Nora Ramirez (48') and Dianira Lopez (70' & 80'). A late penalty conversion by Maya Hill's Janelli Rosalez (90' PK) avoided the shutout.
The stage is now set for the quarterfinal playoffs with some very interesting match-ups, but not just yet. The tournament takes a break for the Easter holidays, and the top 4 teams in each group will enter the home-and-away quarterfinals next weekend, matching teams from the two groups, where North Seed #1 meets South Seed #4, etc.  (See final regular season standings below; and the quarterfinals schedule for next week.)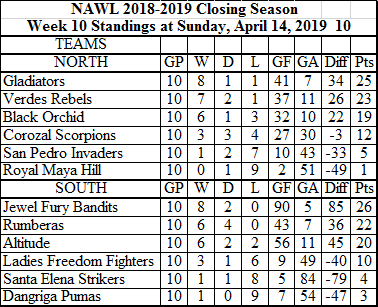 Quarterfinals 1st leg schedule:
Saturday, April 27
3:00 p.m. – (S#3) Altitude vs (N#2) Verdes Rebels – M.A. Stadium
4:00 p.m. – (N#3) Black Orchid vs (S#2) Rumberas – MCC Grounds
Sunday, April 28
4:00 p.m. – (S#4) Ladies Freedom Fighters vs (N#1) Gladiators – Victor Sanchez Union Field
4:00 p.m. – (N#4) Corozal Scorpions vs (S#1) Jewel Fury Bandits – Ricalde Stadium