BELIZE CITY, Mon. Nov. 15, 2021 — The National Amateur Women's League (NAWL) 2021 competition continued over the weekend with a full schedule of five games (2 in the North Zone and 3 in the South) at different venues across the country (still with no fans in attendance).
In the only game on Saturday, November 13, defending champions Jewel Fury FC of Belmopan visited Punta Gorda's Victor Sanchez Union Field where they proceeded to crush home standing Hyper Phoenix FC by a 9-1 score. Sharing the scoring for the visitors were Jada Brown (31', 43', 88' & 90'), Gisel Baeza (13', 40' & 57'), Jesselle Conorque (55') and Janivi Quiroz (73'); while Hyper Phoenix avoided the shutout with a late goal from Zeaunn Alvarez (78').
On Sunday at the Louisiana Field in Orange Walk, an early goal from Nora Ramirez (8') gave visiting Corozal United Warriors FC the 1-nil victory over Juventus Sugar Girls FC.
Meanwhile, at the Norman Broaster Stadium in San Ignacio, it was Rebel Girls FC shutting out Cayor Dreamers FC, 5-0, with goals from Shanay Nasario (18', 25' & 53'), Shantel Robinson (34') and Cynthia Salazar (68').
Down south at the Carl Ramos Stadium, it was a 3-3 affair, after home team Kulcha United had jumped to an early 2-nil lead in first half over Rumberas FC from Independence. Netting a goal apiece for Kulcha were Shamika Lambey (4'), Naomi Gamboa (10') and Gianni Gomez (47'); while Rumberas' goals were by Kelsie Polanco (34' & 60' PK) and Sendra Casimiro (79').
And at the Michael Ashcroft Stadium in Independence, Sagitun Girlz FC sent visiting Stann Creek United FC Hyper Jewels back home on the losing end of a 9-0 shelling. Goals for Sagitun Girlz were by Karisha Coe (7'), Jurshia Zuniga (12'), Twila Chaneb (19'), Naomi Ramirez (26'), Sabrina Eiley (55', 68', 89' & 90+4') and Leslie Pensamiento (90+2').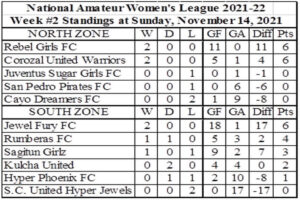 Upcoming Week 3 schedule:
Saturday, November 20
3:00 p.m. – (N) San Pedro Pirates vs Cayo Dreamers – Ambergris Stadium
3:00 p.m. – (S) Rumberas vs Stann Creek United Hyper Jewels – Michael Ashcroft Stadium
Sunday, November 21
3:00 p.m. – (N) Juventus Sugar Girls vs Rebel Girls – Louisiana Field
3:00 p.m. – (S) Kulcha United vs Jewel Fury – Carl Ramos Stadium
3:00 p.m. – (S) Sagitun Girlz vs Hyper Phoenix – Michael Ashcroft Stadium