BELIZE CITY, Mon. Oct. 11, 2021– There is no football playing in Belize for over a year now due to Covid-19, and the football community has thus been quite disconnected, no longer getting together to share the latest developments at weekend football games. The ball has stopped rolling, but our ballers, mostly veterans, and also some young up-and-coming stars, have quietly left us without much fanfare. Street violence has taken away a number of youths with great promise in the sport, while our veterans are succumbing to other senior health issues.
Possom
At the Amandala sports desk we had cause to mourn the passing a few weeks ago of our tall teammate, Possom (Edward Breaffith) who played right wing on a 1990s team, Kabeeo, which participated in an Over-35 competition being organized at the time by legendary striker, Arthur "Goatman" Leslie. In recent years before Covid, we used to see Possom every Friday as he picked up copies of Amandala and delivered copies of Belize Times to our canal side distribution outlet. It's been over a year since I stopped holding the fort on Fridays at canal side, and Possom had passed for over a week, before I found a story in the Belize Times, to which he had been attached for years. R.I.P., brother Edward "Possom" Breaffith.
Bowfoot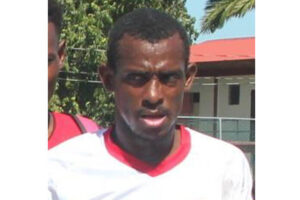 Late last week, we received word that an outstanding Belize City baller of the late 1990s, Jermaine "Bowfoot" Zuniga had passed and was already buried. Bowfoot showed great promise as a young striker, but in later years he anchored the defence in a number of Over-40 city teams. Bowfoot's mom was his greatest fan at the MCC, and she was missed when she passed suddenly at a relatively young age. It was surely a blow to Bowfoot. Now he has passed long before his three-score-and-ten. R.I.P., brother Jermaine "Bowfoot" Zuniga.
Pull Mi Hea
And just yesterday, we got the sad news of the passing in L.A. of a stalwart defender on the famous 1980s Corozal Sugar Boys team – Glenford "Pull Mi Hea" Francis, who was one of the renowned Francis football brothers from Hattieville who were fixtures in the 1980s Belize City football competitions. Pull Mi Hea played most of his career in Corozal where he later resided, before migrating to L.A. Of the other three brothers, the youngest, Maurice "Magic" also played briefly in Corozal, making his mark at the MCC around 1982 in a Corozal Sugar Boys invitational against then city champions Belikin, when he scorched the legendary Orin Orio from outside the eighteen. In the 1983-84 city season, a Phoenicians team featured what became known as the "Francis to Francis to Francis" connection, with the three brothers in the starting eleven, the eldest Gregory "Sarge" along with Colin "Bye-Man" and the youngest, Maurice "Magic Francis. Sarge already passed in the late 1980s. R.I.P, Sarge. And now another of the renowned Francis brothers has passed. We join the football family in expressing our sincere condolences to Bye-Man, Magic and the rest of the Francis family on the passing of their brother. R.I.P., brother Glenford "Pull Mi Hea" Francis.