BELIZE CITY, Mon. Jan. 15, 2018– It was probably the last thing that BDF coach Eric Gongora expected yesterday afternoon when first half got under way for his BDF squad against the Freedom Fighters team from Punta Gorda at the MCC Grounds. It was Week 1 of the Premier League of Belize (PLB) 2017-2018 Closing Season, and coach Charles "Chuck" Gutierrez of Freedom Fighters had just been joined the previous week by former PLB Best Coach, Robert Muschamp to add another tactical dimension to the P.G. attack. Gongora and his assistant, Jerome "JeJe" Serano no doubt had a game plan for the Freedom Fighters team they had blasted 7-0 in the last game of the previous Opening Season; but things looked amazingly different as first half got under way yesterday, following the pre-game minute of silence in memory of referee Fareed Ahmad.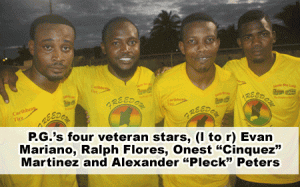 Nothing seemed to be working right for the BDF defence, famous for its resilience against the toughest attacks.  Repeatedly, seemingly from nowhere, PG attackers, coming from different directions in midfield, were finding space to penetrate the BDF defence.
First of all, maximum attention had to be given to perhaps the most formidable PLB attacking duo that Freedom Fighters presented on Sunday, a rejuvenated and demonstrably fit Ralph Flores, alongside the stalwart Alexander "Pleck" Peters, who had returned to his PG roots after playing a season with Placencia Assassins. With so much speed, power and dribbling skills keeping the BDF defenders on their heels, different PG midfielders took turns venturing into the frontline attack, rotating to cover each other, so that defensive holes were adequately clogged, while there was always a "free" man creating havoc for the BDF defensive line. The confusion and frustration soon resulted in a penalty, when young PG midfielder Zidane Hines was cut down, and he boldly blasted the penalty past BDF goalkeeper, Ricky Muschamp, who replaces Tevin Gamboa, reportedly due to some discipline issues.  Behind 1-nil at the 17th minute, a surprised BDF team had hardly recovered and regrouped from this setback, when the same young man, Zidane Hines struck again, taking advantage of a through pass on the right side of the eighteen to calmly beat Muschamp with a grounder to the farthest (left) corner; 2-nil, Freedom Fighters at the 18th minute.  Seconds after his second tally, Zidane was down on the sidelines, needing medical attention, his face bloodied from a severe elbow that referee Efrain Guy had apparently not seen, and neither did any of his assistants. His replacement, Myron Cadle was almost as effective, as P.G. continued to dominate play until half time.
Early in second half (48'), George Ortega extended the lead to 3-nil for the visitors with his header from a loose ball after a scramble in front of the BDF goal. BDF still could not figure out the P.G. attack; but their game got more physical, and, after a fine save by young P.G. goalkeeper Keron Sosa, stopping a shot from point-blank range by BDF striker Shane "Chucky" Flores, an advancing Rickey Rickets was cut down in the eighteen, and the veteran Vallan Symms converted to put BDF on the scorecard at the 56th minute.  The army battled gallantly to get back in the game, but it was a little too late, as their only other goal came from an alert Jaren Myers, who took advantage of a defensive miscue at the 89th minute, to beat the P.G. goalie from close range and cut the lead to 3-2.  And that's the way it ended.
Except for missing star goalkeeper Tevin Gamboa, BDF fielded a strong eleven, and much credit must be given to what was a tremendously rejuvenated Freedom Fighters team, featuring some able veterans apparently in top form, along with a cast of very talented young players, including their tall, young goalkeeper, Keron Rosa, who made some very fine saves to preserve his team's victory.
Freedom Fighters FC – Zidane Hines (17' PK & 18'); George Ortega (48').
BDF FC – Vallan Symms (56' PK); Jaren Lambey (89').
Freedom Fighters FC – #00 goalkeeper, Keron Rosa; #16 Yusef Vernon; #17 Kyle Flowers; #19 Onest Martinez; #20 Leary Simon; #2 Mario Noralez (#35 Delbert Diego at 78'); #11 Zidane Hines (#21 Myron Cadle at 27'); #7 Evan Mariano; #8 George Ortega; #9 Ralph Flores; #10 Alexander Peters.  Coach – Charles Gutierrez; assistant – Robert Muschamp.
BDF FC – #0 Ricky Muschamp; #4 Orland Trapp; #3 Vallan Symms; #2 Charles Grant; #21 Eugene Martinez (#18 Victor Morales at halftime 45'); #12 Ricky Rickets; #8 Clayton Fitzgibbon; #11 Raymond Ramos; #24 Robert Mendoza (#19 Jeremy Gentle at 78') ; #17 Jaren Lambey; #9 Shane Flores (#6 Trimayne Harris at 56').  Coach – Eric Gongora; assistant – Jerome Serano.
Referee – Efren Guy; assistants – Ricardo Ake and Kevin Itza; 4th official – Juan Baeza.
Upcoming revised Week 2 schedule (*note time change for Police United game):
Saturday, January 20
8:00 p.m. – Belmopan Bandits SC vs San Pedro Pirates FC  –  Isidoro Beaton Stadium
Sunday, January 21
4:00 p.m. – Wagiya FC vs BDF FC  –  Carl Ramos Stadium
4:00 p.m. – Freedom Fighters FC vs Verdes FC  –  Victor Sanchez Union Field
*4:00 p.m. – Police United FC vs Placencia Assassins FC  –  Isidoro Beaton Stadium
Week 1 PLB Standings:
(Legend:  GP – Games played; GR – Games remaining; W – Win; D – Draw; L – Loss; GF – Goals for; GA – Goals against; Diff – Goal difference; Pts – Points)
Leading Goal Scorers: