In honor of my dad and uncles (sons of Nora Parham) — we love you!
As a little girl growing up, I always wanted to be like Grandma Nora. I wanted the same hair, the same face, the same nose and mouth; I wanted to look like her. I wanted to see her when I looked in the mirror, and I wanted people to see her when they looked at me.
For me, that made my dad and my uncles happy, and I loved seeing them smile. Whenever we'd have family reunions —sssh don't tell them I said this— I'd hear them whisper to each other, "Abigail looks like mom." The other would proudly say, "da Shirley;" the other would start coughing while uttering the words, "da Rona," and the other would whisper under his breath, "da Tiffy."
Those without daughters would pick one of us girls and say we looked like our grandmother. That was a thing they came up with among brothers, but I have a feeling Uncle Earl had a lot to do with that, because he is the loud one, and he likes to bring out the fun, jokey side of his brothers, who grew up to be very respectable and mannerly, but also very, very conservative.
I understand, though, that this was way before I was even born. Sssshhh, don't tell them I said this, either. They don't know I know this. Whenever they had a daughter, they would look for their mother's features in them —whether it was the lips, the hair, the nose, the mouth, or something as simple as a mole. I knew that their doing this was just an effort to have their mom with them for as long as they possibly can. One of my uncles even named his daughter after Grandma Nora: Shirleymae Nora Parham.
I grew up not knowing much about grandma, because my dad and uncles seldom spoke about her. Others knew more about her than I did. All I knew was that she had been hanged, and although appeals were made on her behalf from people all over the country, she was taken to the gallows anyway in just a matter of 4 months.
I knew better than to bring it up to Dad for fear that I might hurt him, or fear that I would change his mood and spoil the rest of his day.
Questioning her trial was always a sensitive and delicate issue, so I never bothered asking Dad what happened. I saw him, as well as all my other uncles, suffering in silence. Dad never brought up her name in front of me unless I'd make mention of it. I'd hear other people say, "Your grandma Nora was a very beautiful lady. She played the guitar; she sewed the most beautiful dresses and wedding gowns. She was kind, humble and sweet."
Whenever I'd hear these things, I would anxiously look for a time when I could tell dad everything. I'd usually do so as he sat down to watch television.  Me: "Dad, I hear grandma used to play the guitar like you and me." Me again: "Dad, I hear grandma was the most beautiful lady in all of Belize."
Note how I rephrased it? That's because, in my dad's and uncles' eyes, she is the most beautiful lady that will ever live. Me again: "Dad, I hear she sewed the most beautiful dresses." That's when he'd crack and finally give in, saying with a grin on his face, "Yes, and she made us try them too." We both laughed, and in that moment, I knew just how much he cherished the very little memories he had with her before she was so quickly taken away. He was only 12 at the time.
I spent a lot of my childhood years around my mom's side of the family, and still, whenever we attended wakes or funerals, the older ladies from around Toledo would look at my sister and say, "da lee one she only favah ih grandma Nora." I could see dad grinning from ear to ear and his face brilliantly lit up.  No one knew what those words did for him that day. No one will ever know what it continues to do for him.
Many people knew grandma back then, and if they didn't, they heard about her and boasted of how beautiful, kind and innocent she was. Up to this day, many still utter these words.
In the year 2005, at the University of Belize in Belmopan, I was approached by a complete stranger who asked me if I was related to Nora Parham. I told him "yes, she is my grandmother". He immediately pulled out a book and asked me to sign it and went on and on about her history and how she was given an unfair trial and how her appeal fell on deaf ears here in Belize and when the pardon came from the Queen, it was already too late.
For him, she made history, as she is the first and last woman to be hanged in Belize in the year 1963. I will never be able to relate to his excitement, because for me, grandma made history, yes, but history in not being able to raise her sons. She made history in not being present for my dad and uncle's birthdays, dedications, baptisms, graduations, engagements and marriages.
She made history, yes, in not getting to meet her daughters in-law, grand-kids and great-grand-kids. She made history in not getting to see who her sons turned out to be. She made history, in not getting to be the person she was born to be.
As far as I can remember, we had our first grand family reunion when Uncle Earl first returned for a visit from the U.S. We all came together in a big upstairs house in Dangriga. During those days, I knew little about the conversations the big people were having, as I was captivated by toys, candies, cookies, and was preoccupied playing with my little cousins.
Subsequently, larger reunions were held when Uncle Earl and his family returned for vacation and/or Uncle Tony and his wife and Uncle Gilbert and his wife visited.
For the brothers who remain in Belize, they would use Christmases and birthdays as a means of getting together and seeing each other. Our last grand family reunion was in 2015. By then, I was married and I was now an adult.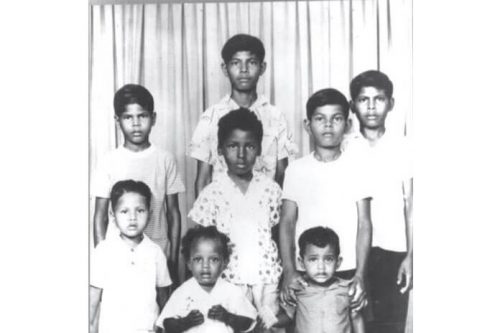 Nora's 8 sons in 1963
During the daytime, we played games, danced, shared hearty discussions and, of course, ate from the overflowing pots of love provided by my aunts. They enjoyed cooking and seeing their husbands and brothers-in-law sit down eating and conversing over good food. That was special.
That day, my dad and uncles, as usual, kept pointing out who they believed resembled grandma Nora out of us girls, trying their best to be discreet about it. They were always laughing and hugging one another almost every 5 minutes and telling tales of their childhood experiences. Note: they were separated as little boys, but it was obvious just how happy they were to be together once more. They share a bond I could never comprehend. I want to say that it stems from the tragedy of losing their mom — nonetheless, whatever it is; it is priceless.
When night approached, it was the time for the ceremony in honor of Grandma, where special songs, poems and messages were shared. We started off with the grandchildren and great grandchildren singing songs and reading poems. It went on fine until it was time for the brothers to stand up and sing a melody to their mom.
I will never forget that night. I saw Dad and my uncles break down in front of everyone. In all my 33 years, I had never seen dad cry. He couldn't even catch his breath. He couldn't get through the song and was uncontrollably sobbing.  He made me out standing in front of them behind all the tears and signaled me to go up. I'm sure if it was anyone else standing there that night, he would have called them in like manner for comfort. I failed miserably at that. I could never give him or my uncles what they longed for. No one could.
After that song, Dad went down and stayed in the back with Mom. It was time for Uncle Harry, the eldest of the sons, to recite something he wrote for his mom. Imagine having to do that after your brothers all broke down.  Nonetheless, he kept his composure and read very proudly the words in honor of her.
I believe we will all remember that night for the rest of our lives. My entire family watched Dad and our uncles sob like babies over their mom. Their grandkids looked on clueless as to what was going on, not knowing they are a part of a history that will remain with them forever. We all felt helpless that night. We could never restore the loss or relieve the pain my dad and uncles went through.
Let me rephrase that —we can never relieve the pain they are enduring still, up to this very day. Every time Grandma Nora Parham is brought to light, they relive the pain and the suffering of losing their mom when they were just little boys. Imagine being so young and having your mom taken away in such a manner.
Now imagine being old enough to comprehend what was happening at the time — so much so that my eldest uncle, Harold Parham, would offer his own life in place of his mother. I am lost for words.  Let me pause for a second…….. The Bible says in John 15:13, "No GREATER LOVE has no one than this, that he lay down his life for his friends."
Grandma Nora Parham will always be the most beautiful and most delicate flower in the eyes of my dad and uncles. They are so careful to protect and water her memory to keep her alive.
Today, Nora Parham's sons are all alive and in close communication with each other. They are respected men in their communities, they are role models for us, and most importantly they display what it means to have unconditional love toward one another. They are Harold Parham, James Parham, Kent Parham, Gerald Parham, Gilbert Parham, Anthony Williams, Dean Williams and Earl Williams. They have all perfected their careers and skills to the best of their abilities. From educators to agricultural managers, construction workers, surveyors, personal business owners, and the list goes on and on. I see them as wise, confident and brave men.
However, when it comes to their mom, they are as fragile and delicate as newborn babies. I am careful to watch my tongue around them. I am careful not to speak out and share my opinions and views about grandma in public or even among my own family members.
Despite this being a very sensitive and delicate issue, I could recall once in the past, that my aunts came together (the wives of my uncles) and thought it was time to clear their mother-in-law's name on behalf of their husbands. The entire family got together; we drafted an appeal and got support from members in our community who were willing to bring justice and clear Nora Parham's name once and for all.
With all the planning going on, we got distracted and missed the pain and suffering dad and my uncles were going through in silence. I watched as their faces darkened and sorrow took over. It was a cold and dark time for them. No one will ever know what they endured and continue to endure in the present.  We ended up putting it aside, and my aunts and mom opted to comfort them.
There was no question with regards to her innocence. My dad and uncles know her to be true and innocent. Because they know this, they believe, it's not worth the fight. After all, they are all peacemakers. If they'd see Shari and I get into a fight, dad would call me out and say, "Samantha, you shouldn't have done that. Go and apologize to your cousin."
He wouldn't even make mention of Shari or even entertain explanations as to who was right and who was wrong. Uncle Jerry (Shari's dad) would call her out as well and say, "Shari, you shouldn't have done that; you're the older one, set the example. Go and apologize to your cousin."
They treated each other and everyone around them that way. They made peace, even if it means being the bigger person and apologizing on behalf of someone else. I grew up this way too, so much so that I acted out of consideration for everyone else but myself. I've always tried to be the bigger person, even if it has meant humbling myself and giving in to someone else's opinions and disregarding mine.
I can't take it anymore, though, and neither can my siblings and cousins. We want my dad and my uncles to stop being the bigger person and to stand up for what they know to be true and right. We want them to have a voice and not to be silenced for wanting to be peacemakers. I have watched them suffer in silence all my life. Their wives know this all too well and more profoundly than any one of us could ever understand.
This is in honor of you, Dad, and uncles. We say, clear Nora Parham's name once and for all and rewrite history. The history, my dad and uncles know to be the truth. Give them the chance to talk openly, confidently and proudly about their mom to others and to their own children. Give them the chance to wear a crown on their heads whenever her name is mentioned, instead of having a spear pierce their hearts.
GIVE THEM BACK THEIR MOTHER ONCE AND FOR ALL. THE MOTHER THEY KNOW TO BE TRUE AND INNOCENT. GIVE THEM JUSTICE WHILE THEY ARE STILL ALIVE. WE SAY, RESTORE HER NAME ONCE AND FOR ALL!
Written by: Dr. Samantha Parham-Casey
Inspired by: Sons of Nora Parham and, by extension, the entire family of Nora Parham
Date written: 29th April, 2020.
Feature photo: Nora Parham