For many, many months, years in fact, a situation has been developing at the extreme southwestern corner of an empty lot at #3 West Canal Street on Southside Belize City. There is a very tall, dead coconut tree trunk which has been eaten away by termites until it is in imminent danger of falling, whereupon it would bring down the electric wires which bring current to two or three homes which sit at the end of an alley which runs off West Canal parallel to the empty lot. If and when the dead coconut tree trunk falls and hauls down the wires, there would be the danger of fire, in the first instance.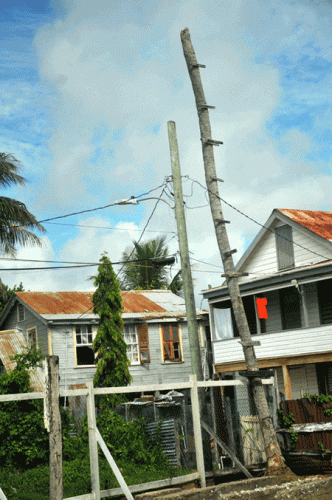 The neighbours have complained to me that the people at the electricity company claim they can't do anything about the tree trunk unless a complaint is made by the owner of the yard where the trunk is located. Well, the yard at #3 West Canal is, to repeat, an empty lot, owned by the estate of Chrystel Lynwood Straughan, nee Hyde, whose two children have lived in Atlanta, Georgia, for quite a few years.
At #1 West Canal Street, which sits at the corner of Regent Street West and West Canal, the Amandala organization sells newspaper to vendors, usually on Tuesdays, Wednesdays, Fridays, and Saturdays.  Otherwise from that, the upstairs of #1 West Canal is unoccupied. The downstairs of #1 West Canal is occupied by my wife's nephew, who often is not at home, since he works night shifts.
 Chrystel Straughan, who passed away in Atlanta recently, is my dear paternal aunt, and at Amandala we maintain the yard, with a fence and regular cleaning, because we have been allowed access to #3, next to us, for use for parking. We have made complaints to the electricity company on behalf of our neighbours, but nothing ever gets done. The problem, I believe, is what is called "bureaucracy", where there are many employees but no one is directly responsible for the addressing of such a unique situation. Since no one is responsible at the company, no one takes charge. And so, the problem just goes on and on and on …
It is because of being frustrated by bureaucrats that roots people sometimes have to make a lot of noise trying to see "the boss." There are certain situations, it seems, where only the boss can get the problem addressed.  I have taken this route of publicizing the matter, in the hope that the relevant "boss" will become apprised and take some action. It is the national electricity company which possesses the appropriate equipment and experienced personnel to tackle this tricky situation at #3 West Canal.
Incidentally, my parents and us children lived at #1 West Canal for many years after Hurricane Hattie destroyed our house, located at #3 West Canal, in 1961. When Amandala became successful in the early 1980s, my mother, who is now bedridden and lives at my younger brother's home in Buttonwood Bay, sold newspapers from the family home at #1 for almost three decades, and did a very good job of it, I can tell you.  It is only now that she has not been available for the last decade and a half that we appreciate how valuable she was to our operation.
On another note, Chrystel Straughan completed a novel a couple years ago before she died. I am thinking of publishing it in Amandala in serial form, one reason being that I cannot see how it would be published otherwise, and I believe the work is very interesting and of significant historical relevance for Belizeans. Mrs. Straughan's novel would require some editing.
On another critical note, the Belize City Council has been digging (cleaning) the aforementioned canal which runs from the Haulover Creek southwards, and they have been active recently in the area where this newspaper operates between Regent Street West and Water Lane. Cleaning of the canal was a regular occurrence when we were younger, but since the bottom of the canal was cemented some years ago, nothing of this sort has been done.
In the larger sense, there is much for us as Belizeans, and especially Belizeans of Southside Belize City origin, to analyze and discuss where our community and neighborhoods are concerned. Since the 1970s there has been a steady movement northward of upwardly mobile Southside Belizeans, at least those who did not migrate to the United States. First, we moved to King's Park (remember that?), then to West Landivar, Coral Grove, Belama, and so on and so forth.
The Southside has become an interesting, complex socio-economic landscape, and it may well be that there is something going on here which is planned at some corporate, multilateral level far above the heads of ordinary mortals like us.
In any case, the neighborhood between Regent Street West and Water Lane, wherein East Canal and West Canal Streets are divided by the aforementioned canal which flows south from the Haulover Creek, was the home of the Barrow family (which produced PM Dean Barrow and CCJ Justice Denys), the Hyde family (proprietors of Kremandala), the August family (wealthy meat entrepreneurs), the Usher and Romero families (bakery owners), and, most tragically, the Christopher Felix family, respected  blacksmiths whose grandchildren have been scattered deeper into the Southside where life is dominated by the gang culture, which is to say, civil war levels of violence.
Power to the people.