BELIZE CITY, Mon. Feb. 1, 2016–Brianna Timmons, a 3-year-old toddler, is fighting for her life in the Intensive Care Unit at the Karl Heusner Memorial Hospital after a heavy iron gate in front of the Lloyd Coffin Preschool on the Samuel Haynes Institute of Excellence compound on Mahogany Street, fell on her head, at about 7:00 Friday night.
Reports to Amandala are that the toddler escaped from her mother, who was in the library of the school (reportedly to visit her husband who works at the library), and went to the gate.
The toddler then, along with other children, began to play and "ride" the gate, pushing it forward and backwards, rolling it on its wheels, and the gate came out of its containing bracket and fell on the child.
A man who worked in the area said that he had seen the children playing on the gate and pushing it, and that some of the children were jumping over the fence, landing on the other side, and that he shouted at them to stop.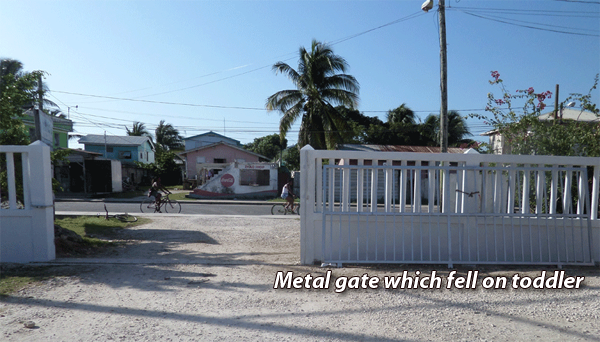 The man said that it was an accident waiting to happen, because the gate was heavy, the wheels were disproportionately small for the size of the gate, and there were no other brackets or stops on the gate.
His opinion was that there was an error in the design of the gate, and he noted that the back gate had collapsed as well, when the children were riding it, which resulted in the gate being pushed out of its single bracket.
The child was quickly taken to the Karl Heusner Memorial Hospital in a critical condition, with severe head injuries.
When Amandala attempted to speak with the mother of the child, she said that she had no comment to make, and that her only concern was the survival and recovery of her child.