BELIZE CITY, Wed. Nov. 7, 2018– On Friday afternoon, November 2, undefeated St. Catherine Academy (SCA) female football team clinched the Belize District Football Association (BDFA) Female U-17 championship at the MCC Grounds where they prevailed 2-1 in penalty shootout against Ladyville Rising Stars, after playing to a 2-2 draw in regulation and overtime. In regulation, both SCA goals were by Aaliyah Herbert (8' & 37'), while Mary Davis (16' & 25') also got both goals for Rising Stars.  The score remained the same in overtime, and in the ensuing penalty shootout, Saudy Rivera and Aaliyah Herbert shook the net for SCA, while only Lorraine Stephens converted for Rising Stars.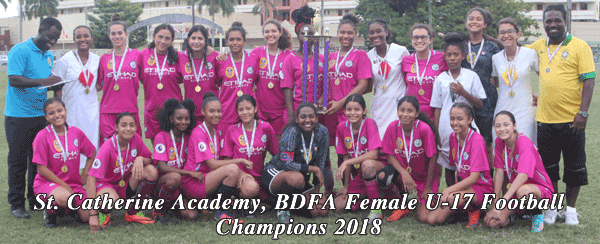 In the scheduled preliminary game for third place, Pallotti girls won by default (3-0) over Gwen Lizarraga girls.
In last Wednesday's first semifinal, Ladyville Rising Stars had clipped Gwen Lizarraga girls, 1-0, on a goal by Deynia Blake (17'). The other semifinal saw SCA girls trampling over Pallotti, 10-nil. SCA's Aaliyah Herbert finished the competition as the top goal-scorer with 18 goals.
Following the finals on Friday, FFB Vice President, Marlon Kuylen presented team trophies and individual medals to the 1st, 2nd and 3rd place winners.
The SCA U-17 girls will represent the Belize District in the upcoming FFB National U-17 Football Tournament, which reportedly commences on November 10.
(Information and pictures courtesy William Ysaguirre)