Denia Suyapa Ochoa is accused of trafficking girls from Honduras, to Guatemala and then to San Pedro, Belize
TEGUCIGALPA, Honduras, Thurs. Nov. 2, 2017–Belize is making international news, but this time, unfortunately, for its link in a human trafficking ring based in Honduras.
Honduran news outlets are reporting that teenagers from that country have been trafficked to Guatemala and Belize, where they are sexually exploited and faced with forced labor.
In the case of Belize, the outlets are reporting that the women are taken to the island of San Pedro, where in many cases they are forced to serve as prostitutes in an undisclosed bar.
The future of the ring and the continuation of its operations are not yet known, as the woman believed to be the head of its operations has been jailed.
She is a Honduran national, Denia Suyapa Ochoa. She was arrested on Wednesday by Honduras's Police Investigation Directorate (PDI) at her workplace at the Ministry of Health in the northern Honduran city of San Pedro Sula.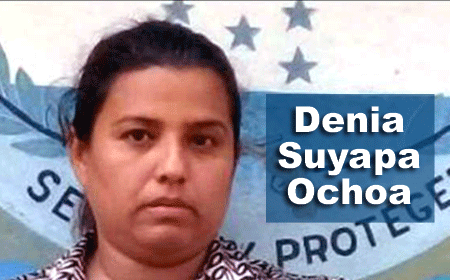 The operation that led to her arrest has been dubbed, "Storm of Fire," or "Tormenta de Fuego."
Investigations carried out by the Ombudsman's Office for the Protection of Women in Honduras revealed that Ochoa was focused on "capturing the victims so they could work in a bar located on the island of San Pedro (Belize), where they were sexually exploited and forced to perform forced labor."
Ochoa now faces charges of "trafficking in persons in the form of forced labor and commercial sexual exploitation" and other charges for transporting her victims to San Pedro Sula from where they travelled to Guatemala, and then to Belize.
In Honduras, the penalties for human-trafficking related offences are upwards of 20 years in prison.
A very influential source on the island also spoke to Amandala tonight, indicating that in previous years there have been several bar raids to ensure that everyone's immigration status was up to date.
However, to date, there have been no such raids, said our source, who claimed that the ratio of inhabitants to bars is 7:1.
According to our source, the San Pedro town council has not been proactive in addressing the matter, as they are understaffed and strapped for cash, so they focus more on collecting trade license fees and other fees from bars.
Our source further revealed that there have been many cases of human trafficking documented in San Pedro.
We could not reach the Mayor of San Pedro for a comment.
Educator and firm defender of women's rights, Dr. Candice Pitts, tonight told Amandala that "Human trafficking is one of those atrocious violations against humanity, and unfortunately one of those violations that continues to find fertile grounds in Belize."
She added, "In fact, Belize remains among the countries with the highest rates of human trafficking in the region, so much so that our greatest international partners are known to take aim at Belize for failing to aggressively combat this human rights violation."
"The recent Honduran Denia Suyapa Ochoa's human trafficking incident reveals to us that human trafficking is still very much a critical concern that permeates our society. But much like other social issues that affect mostly the marginalized among us, human trafficking is just one of those riddles that our government cannot seem to solve," she further noted.