BELIZE CITY, Mon. Mar. 25, 2019– Playoffs are 3 weeks away, and the ational Amateur Women's League (NAWL) 2019 Tournament had Week 7 games over the weekend, with 4 games on Saturday and 2 on Sunday.
All 12 teams, 6 from Group A and 6 from Group B, were in action, as the teams are vying for the top 4 playoff spots in each group.  (See standings below.)
On Saturday at the M.A. Stadium in Independence, undefeated Rumberas was held to a 2-2 draw by Altitude. Pauline Linarez got both goals for Altitude (45+' & 62'), while Rumberas got 1 goal from Ashley Rodriguez (58') along with an own goal from Altitude's Brenda Alvarado (30' OG).
Meanwhile, at the MCC Grounds, hosts Black Orchid scorched visiting Corozal Scorpions, 6-0, with a goal apiece from Shardee Lozano (39'), Aaliyah Herbert (50'), Ada Cordova (54'), Twila Chaneh (76'), Araceli Lambey (84') and Sarah Arzu (87').
The visitors were also disappointed at the Isidoro Beaton Stadium in Belmopan, where Jewel Fury Bandits bombed Dangriga Pumas by a 17-1 score. Sharing the scoring for Jewel Fury were Suswani Martinez (1', 18', 36' & 38'), Kursha Pollard (6' & 76'), Anijay Quiroz (7'), Fatima Romero (7', 10', 35', 37', 76' & 84'), Jayda Brown (23', 33' & 39') and Janivi Quirks (77'); while the sole tally for Dangriga Pumas was by Shanell Thomas (73').
The last Saturday game was at Ambergris Stadium at 7:30 p.m., where this time it was the visitors Gladiators of Orange Walk overpowering home standing San Pedro Invaders by an 8-0 score. Shaking the net for Gladiators were Kaite Jones (22', 30' 38' & 56'), Janellie Chan (32' & 88') and Maria Acosta (37'), and they also benefited from an own goal by San Pedro's Samantha Galeano (28' OG).
On Sunday at 1:00 p.m. at Norman Broaster Stadium in San Ignacio, undefeated Verdes Rebels was held scoreless in first half, and needed a late goal to secure the 2-1 victory over winless Royal Maya Hill. The Rebels got a goal each from Maricela Hernandez (54') and Tamelyn Escobar (88'), while Janelli Rosalez (70') scored the lone goal for Maya Hill.
Later in the afternoon at the Victor Sanchez Field in Punta Gorda, visiting Santa Elena Strikers got an early goal from Rosivel Guevara (2'), but the hosts, Ladies Freedom Fighters salvaged the 1-1 draw with a late goal from Leah Mariano (87').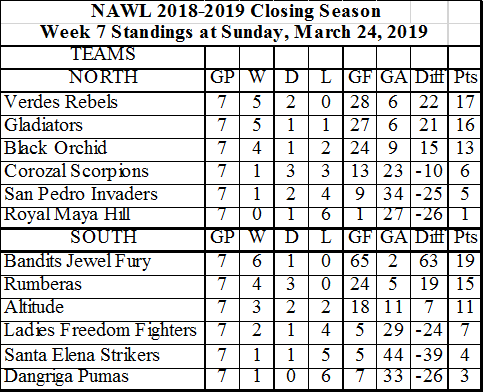 Upcoming Week 8 schedule:
Saturday, March 30
3:00 p.m. – (S) Rumberas vs Dangriga Pumas – M.A. Stadium
4:00 p.m. – (S) Ladies Freedom Fighters vs Altitude – Victor Sanchez Union Field
2:00 p.m. – (N) Royal Maya Hill vs Black Orchid – Norman Broaster Stadium
3:00 p.m. – (N) Gladiators vs Verdes Rebels – People's Stadium
Sunday, March 31
4:00 p.m. – (N) Corozal Scorpions vs San Pedro Invaders – Ricalde Stadium
4:00 p.m. – (S) Santa Elena Strikers vs Jewel Fury Bandits – Santa Elena Sports Complex