A:  Weh di Mugga tell yu afta di game?…
W:  Afta di game, man… da man…  yo know da wata side…
Part 8
A:  Yeah…
W:  If hihn ne'ev'n… hihn no play, but hihn wahn(t) wi go swim… hihn staat to jinx wi…  and tek i hand and do so da mi neck…. and pupalick (summersault) every minute…  (laughs) he is…  hey, Chalwa, he is something else…  hihn know how fi really…  dis man don't make yu sad, Chalwa…  yo no?…  dis da di bredda, mein… mi no see no man weh da man… …hey!..  listen man…
A:  Di Mugga!
W:  i da no no angel, yo no… i just ga wahn vibes weh i know how fi treat people, bredda, yo no?…  and i…  i respect man…  and i geh respect too… becaa da no no bwai kyan cohn 'round wid no foolishness, yo no… off wid di coat or… yo no?… so…
A:  i no does fight, and so…
W:  No!… but dehn call him BEMBE!… caa i wahn beat yu… yo no?…
A:  (laughs)
W:  .. from i deh da Ebenezer, yo no…  NO, i no lose no bout…
A:  Yaa, i mi solid.. wid some big bones…
W:  i strong, yo no?…  and dat da weh i tek and use fi football… i know how fi scrape good…
A:  Yaa, wid dehn wings..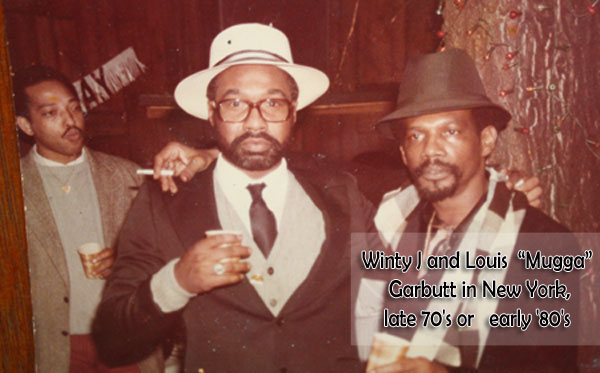 W:  i play so (holding out elbows)… yo either run into dat or..  yo no?… i gi yu…
So, we continue… wi neva do too well eena da season deh, yo no?…
A:  'Pendence neva win no season…
W:  No.. no..
A:   But dehn win some big games…
W:  Yeah… caa wi got Sunday when 3 games play, yo no…  back to back draw wid Landivar…
A:  Ahahn?
W:  And Pendence… What!?
A:  Well, unu kyan win dat.. becaa Landivar da di committee team…
W:  Well, yo no, da street man dehn di play gainst..
A:  Fi di championship?
W:  No, no..  Dehn time deh Landivar got good squad too…
A:  Yes, man..  Landivar dah mi (top ranked)…
W:  Dehn had man like Angus Vernon… Baabu (Charles Humes), dehn man deh mi sneaky… dehn dah sneaky man…
A:  Baabu wahn get one goal, and Landivar wahn win 1-nil…
W:  Sneaky man… and Keith Gardiner same way… dehn man deh got sonting bout dem… den Charlie Gardiner eena di goal..
A:  So, you mi still deh ya when Mugga gahn weh, or you gahn before..?
W:  Yes!  Yes!  Chalwa.. no..
A:  Yo mi still deh wid Pendence too?
W:  When hihn gahn weh, we da…  Milo, 1970…
A:  Oh.  Pendence neva come out again da year?
W:  No..  Pendence come out, but Cador dehn bring it out, and Lee Mole… Dehn bring out di last Pendence…  Cador and dem try wahn ting when di man gaan… 1970..  hihn and Lee Mole, and dehn still keep di name…  Cador gaan da States wahn year later…
But 1970…  Mugga gahn weh… and it was sad…  Wi know i mi gweyn, becaa when i geh i visa… da i green card i gweyn fa, so yo know da go…  yo know weh di go on… so wi know i gweyn… it was really sad for me, yo no?… and others…  caa di man was a leader…
And then, Chalwa… bout '68, when the team.. when Pamela's form… i move close to Euphrates… no close, i mi LIVE pahn Euphrates… dat da no no way from Yabra… dat da stone throw..  so i actually now cohn live 'mongst wi… and wi enjoy him…  when we go da dance, him.. yo know, hihn just…  hinh, bwai…
A:  Hihn da mi wahn basketball man too…
W:  Yes! Oh Laad, man… St. Ignatius…  Di man… di man perform Friday night fi di people a Belize (at 'Natius court)… and Sunday evening… basketball Friday night, yo no… him got the uproar… and pahn Sunday evening yo go see him da Barracks, yo no… dis nigga is not'n nice.. dis character is in a class by himself!
A:  I remember wahn game da 'Natius when di man… game di done and everybody di try tek weh di ball from di man, and i di…
W: Yo call it "goosing"..
A:  Yeah!  Di man di lie down pahn di court di dribble and dehn kyan…
W:  Fada build wahn law!… Fada build wahn law afta dat…  Fada mek wahn law..  All dis "seconds" weh just come da basketball now, dehn ting neva deh bout… caa game wahn done, so hihn no di leggo i ball… and, cho bwai… Fada build wahn law…
So di man gaan weh 1970 lef wi, man…  wi da Milo dehn time…  but dehn bwai… when we gaan da San Joaquin, as youth…  and gaan and beat di champion, 2 not'n…  same Rabby Dead (Robert Flowers)…  seh, "Wi no wahn(t) Mugga"…  hihn no know Mugga gweyn weh yet, yo no…  but lat a wi no go fi dat weh hihn di seh…  but Mugga neva wahn(t) play… caa i know i gweyn… and i do play i last game wid wi…  befo i mi come back some years (later)… cohn play wid di Roo and dehn… remember dehn mi come back sohn years after.. wid wahn team from New York.. yo rememba dat?…
A:  Yaa, a tink round 1983..
W:  Well, di last game i play befo i gahn weh.. was Milo..
A:  Pendence mi deh eena da same season deh, yo seh, wid wahn different..
W:  No.. no when i mi deh ya…
A:  Pendence neva come out da year..?
W:  Pendence neva come out day year deh, '70…
A:   Okay, just Milo…
W:  So da just Milo..  but wi know i  mi gweyn… so da like mi wahn farewell game i play… so wi still sign ahn up…  and a could always memba, Gas run into ahn… Gasoline?  (John Dougal)… mek wahn mistake and run into ahn…  caa dah Landivar wi di play…
A:  Yeah.. a memba when i knock out Gas…
W:  Yes… about 2-1… dehn beat wi 2-1… same lee Lanzie?…. mi di do wahn ting dehn time deh… Clement Longsworth…
A:  Wid Landivar…
W:  Hihn and Areas (Hilbert Craig)… yeah, hinh… i mi just come out a college… but Areas da Milo… dehn play wid Michaels together… dehn play together very good..  dat's why hihn mi end up da Red Stripe… yo no see ahn pahn di picture deh?..
A:  Areas mi deh wid Milo..
W:  Yes… Areas mi deh wid Milo… Areas da real foundation Milo…
A:  And Longsworth mi deh wid… Landivar…
W:  Landivar… so dehn mi di play gainst one another…
A:  Yaa, a memba dehn..
W:  Areas mi di strike dehn time deh…
A:   Yes, man…
W:   What!?… Areas eena di forward?!..   i drop sohn lee head pahn yu right deh,yo no… sohn lee sneaky head pahn yu.., yo no?… i had good game, man…  dehn i gaan eena da defence when I gaan weh… I cohn meet ahn di play… I come back '77, and I meet ahn di play sweeper fi em… i mi done gaan play wid Berger and all a dehn too.. dehn time deh when I gaan, no?..
A:  So, when you gaan?
W:  I gaan '74..
A:  Okay… so Mugga gaan '70..
W:  Hihn gaan '70… I gaan '74…  and wi meet up back…
A:  Who you play wid during dat time deh?..  Yo mi continue play ball?.. after Milo…
W:  No..  Red Stripe…  Red Stripe form… and Red Stripe last fi wahn two years right afta dat…   bout two years…  and den I staat to get interested..  into going to America…  mi uman gaan… so yo know how dat go..
A:  Mmmhmm…  States feva, bwai…
W:  I haf to go behind my uman…
A:  Yeah…
W:  Bout round '73, though… or maybe yu could correct dis…  wahn team form… weh Evan form… weh name Diamond A…  I was part a dat… and a always tell yu, but yo kyan memba… a play one a mi best game wid you eena a wahn midfield…  you was di right midfield… and I was di left…  wi beat Maya dem…  da mi wahn test match (pre-season friendly)…. wi gaan deh eena wahn… one a dehn big army truck… da dat wi gaan da da game eena.. fahn weh I di recall… and di team was a 4-2-4 set-up…  you on the right, and me on the left..  eena di midfield…  and wi gat Speedy and yo bredda (Migale) di go aata it…
A:  Yaa, Michael, Toupi, yaa, yaa…
W:  Speedy Henry… and Mike di go aata it… becaa di two man fast…
A:  Fast… yaa, yaa… dat mi rough…
W:  Yeah, man!….  Chalwa, we had Cristobal and..and…   weh di lee bally name weh dead, man..?…damn..  Chikito,..  no, no Chikito…
A:  Stobal mi di play wid dem, or wid we..?
W:  No!… da we Stobal mi wehn play wid…  Stobal mi fi deh pahn di… i gaan wid wi fi play wid we….
A:  i neva gaan, though…
W:  i  gaan… dehn deh pahn sideline and no come on yet.. becaa di game mi so good…    Cristobal and…. Weh Bernard bredda name… yo know Bernard weh fahn round Perdomo…?  bwai, how a kyan bring dis bredda…  but da two a dehn man weh could play deh pahn di line…  dehn no come on yet, Chalwa…  yer mi?…  dehn no need to come on… da 2-nil dehn get…  yer mi, Cristobal dehn no come on yet…  becaa dehn neva need to come on..  di game was so..
A:  Da round '72-'73 a tink..
W:  Da round '72-'73, yo no?… becaa Red Stripe mi just done…  yo no?.. but da Diamond A… and dat da di last game I play befo I gaan weh… yo no?…  I staat to tink bout da States ting fahn deh…  a geh bus '72.. a geh problem… '73 me gaan again…  turn back fahn Miami…  '74.. finally…
A:  Yo mek ahn..
W:  a get visa… so  mi gaan…
To be continued.