Former Foreign Minister Courtenay tells Foreign Minister Elrington to "stop acquiescing and accepting things Guatemala does!"
BELIZE CITY, Tues. Nov. 7, 2017–In its International Court of Justice (ICJ) education campaign, Guatemalan leaders have resorted to the use of a map which depicts Belize as a part of Guatemala and it is demarcated by means of a dotted line as "disputed territory."
Under the terms of the 2008 compromis that the Governments of Belize and Guatemala signed, referenda are to be held in both countries and the electorates have to give their approval before the old colonial territorial dispute could be submitted to the ICJ for a final juridical determination.
On Sunday, March 18, voters in Guatemala will go to the polls to vote in a referendum on this question: "Do you agree that any legal claim of Guatemala against Belize relating to land and insular territories and any maritime areas pertaining to these territories should be submitted to the International Court of Justice for final settlement and that it determines finally the boundaries of the respective territories and areas of the parties?"
Belize has not yet set a referendum date and the accompanying education program that is supposed to lead up to the referendum is slow in coming. Belizean voters will be asked to answer the same question whenever the referendum is called.
---
Courtenay's remarks were in reference to Government's non-response to a map Guatemala is using in its ICJ campaign which depicts Belize as "disputed Guatemalan territory." 
---
Speaking today to reporters after he emerged from a Caribbean Court of Justice hearing, Foreign Minister Wilfred "Sedi" Elrington remarked, "The information that I have received is that the Guatemalans, in their campaign, will be using maps of Guatemala that show Belize included as part of their territory."
Minister Elrington added, "But that has always been their position. They have taken the view that they were claiming the whole of Belize, and I've been at pains to say to the Belizean public that that is the case. Other people have suggested otherwise, but that has always been their position, so nothing has changed. What is important here is that we need to now educate our Belizeans to understand; I hope we can now come together and agree …."
People's United Party (Opposition) senator, Eamon Courtenay, a former Belize Foreign Minister, castigated Minister Elrington for his timid response to the question of the Guatemalan map depicting Belize as a part of its territory, notwithstanding the demarcation of "disputed territory."
"How can the Foreign Minister, being presented with that question, not say what he is going to do?" Senator Courtenay questioned.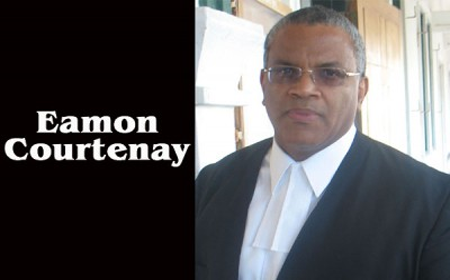 Senator Courtenay continued, "One, why hasn't a diplomatic protest been sent? Two, why haven't we engaged the OAS (Organization of American States), which has superintendency over the process, saying that is an act of bad faith?
"Three, why haven't the Government of Belize come out immediately with a press statement condemning it to Guatemala and saying that it is just wrong? Why have we not galvanized our support on the international stage and said, this is going in the wrong direction?
"And I guarantee you that if Guatemala publishes a map like that, the Belizean people are going to reject any referendum held here and rightly so. But what has the Foreign Minister said? Absolutely nothing!"
Senator Courtenay concluded his remarks: "All I will say is we need a Foreign Minister who is going to aggressively, consistently, defend Belize's position and advance what is in our interest, and stop acquiescing [to] and accepting things that Guatemala does."
Guatemala reportedly first used the map with Belize marked as disputed territory in 2013, at official OAS forums.