Features
— 31 December 2016
— by Adele Ramos
Year in Review, Part II
BELIZE CITY, Thurs. Dec. 29, 2016–During the year 2016, the Amandala newspaper covered more than 1,500 news stories, brought to you, our readers, via the mid-week and weekend editions of the paper. Some of these stories are available via our website (www.amandala.com.bz) as well. Without a poll, we are not able to say which ones were our most popular stories, but we can tell you which of them were the biggest online hits and the top 10 are listed below, ranked by the number of online reads.
As we outlined in Part 1 of this series, the two biggest national issues for 2016 have been the attempt by Guatemala to annex southern Belize, and particularly the Sarstoon and our southern maritime waters; as well as the high homicide rate with which Belize continues to grapple. As things now stand, 2016 will emerge as the year with the second highest murder count in Belize's history. The only other year which recorded more murders than the 136 recorded as of this report, was 2012, which registered a record murder count of 145.
Whereas the crime situation and Guatemala's aggression remain clear and present threats to peace and stability in Belize, a new menace to Belizean society emerged in 2016 — Zika; and it also gripped the attention of our online readers at home and abroad, as well as tourists to the Jewel, who wanted to keep the emergence of Zika, a mosquito-borne illness with potentially devastating effects especially on unborn babies as well as the elderly, on their radar.
1. Tracking Zika's emergence in Belize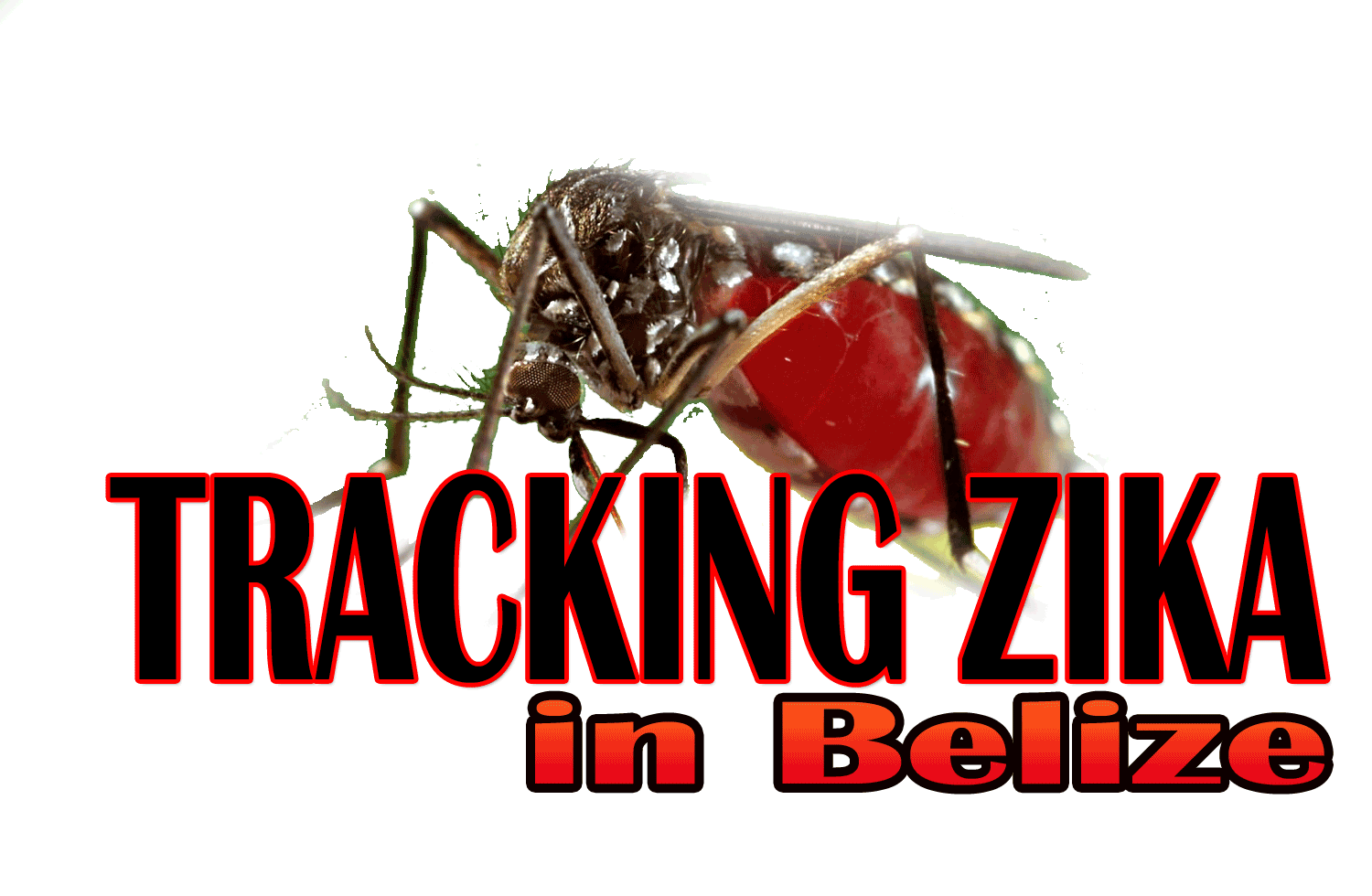 Our top story, with more than 11,000 online reads, was, "Belize may already have Zika…," underscoring how curious people were about the emergence of Zika in Belize (http://amandala.com.bz/news/belize-zika-virus-cases-confirmed-dhs/).
Cases of Zika, a disease which originated in Africa, began to spread exponentially through the Americas in 2015. The problem with Zika is that most people who contract the virus won't know—only 1 in 4 will—so it can be silently passed via sexual transmission, to their partners; and for couples who conceive, to their unborn child, possibly resulting in microcephaly and other neurological complications.
As Zika emerged to become the newest and scariest pandemic affecting the Western Hemisphere, an international public health emergency was declared, and Belize, a tourism Mecca in our region, was on the watch for imported cases. Indeed, in January, Director of Health, Dr. Marvin Manzanero, announced that although no positive Zika cases had yet been confirmed in Belize, the virus could have already been here. The US Centers for Disease Control had later reported two cases that had been linked to Belize, after travelers returned to the US, but Belize did not officially confirm its first case of Zika until May. In September, official information from the Ministry of Health said that there were an estimated 600 suspected cases of Zika. Confirmed cases were less than 50, but they included pregnant women who required monitoring for potential complications.
The latest status report provided to us by the Director of Health Services, based on the last report the Ministry of Health submitted to the Pan American Health Organization/World Health Organization, included data up until mid-December. At the time, there were 68 confirmed cases and 756 suspected cases, for a total of 824 cases. According to DHS Manzanero, to date Belize hasn't had any microcephalic cases linked to Zika, but a case of early abortion associated with Zika is suspected. Furthermore, although there have been 3 cases of Guillain–Barré Syndrome reported this year, none were linked to Zika, the DHS said.
The other stories which made the top 10
2. William Mason in hot, hot water!
Amandala reported in a news story dated July 21, 2016, on the shocking kidnapping and beheading of Pastor Llewellyn Lucas, popularly known as "Pastor Lue," whose severed head was discovered in the pan of a pickup belonging to and driven by Rajesh Ouelett, a Guyanese who came to be known in Belize as William Mason, 46, after he was facilitated with a fake birth certificate which listed his nationality as Belizean. Mason and three others are now remanded at the Belize Central Prison for Lucas' murder (http://amandala.com.bz/news/william-mason-hot-hot-water/).
Mason made many friends in high places, including among the ranks of police and Parliament. His alleged business alliance with then Minister of Police, John Saldivar, ended with Saldivar losing that portfolio, but keeping the Defence portfolio, and a temporary suspension from Cabinet ensued when documents surfaced that Mason, who had donated money to Saldivar's football team, Belmopan Bandits, also might have had a business partnership in the sporting venture.
The Belize National Teachers' Union (BNTU), as a part of its "Stand Up for Belize" campaign, had called for an international investigation into the Lucas murder, but the Government has not agreed to bring in foreign investigators on the case, in which ministerial involvement has been suggested.
3. Fraudulent pyramid scheme hurting poor Belizean women
It appears that almost everyone in Belize knows at least one or two people who have tried—or who have been asked to try—the purported get-rich-quick pyramid scheme, dubbed a women's empowerment circle or dream catchers—a seemingly innocent venture which has, sadly, resulted in at least one report of a murder and a report of an arson, according to police.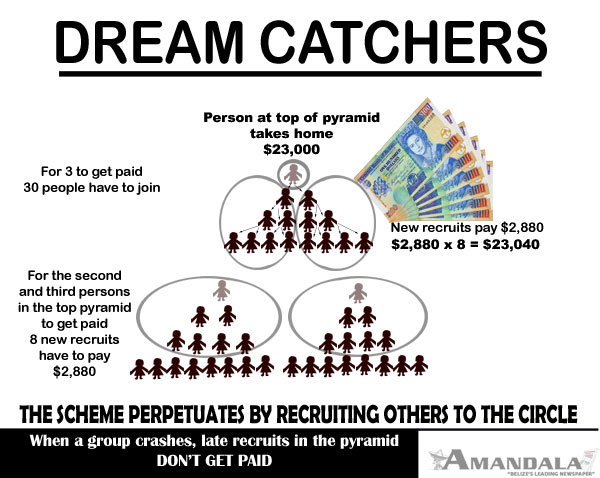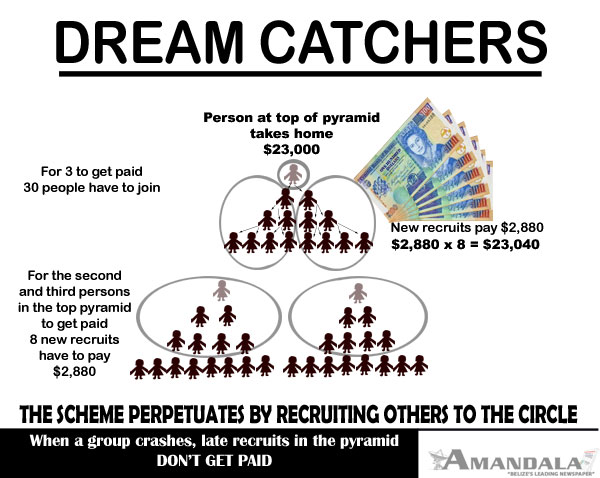 Why would anyone want to kill because of such a scheme? The answer is, over money lost after false hope was sold to unsuspecting women, and even men who invested through women connected with such circles. One "dream catcher" suggests that one woman amassed over $100,000 for herself in a case which reportedly required police involvement to keep the peace.
Back in August, we featured this pervasive but potentially fraudulent scheme in our headlines, revealing the fact that while promoters were selling the idea that a prospective participant's investment, ranging from $500 to $2,800, depending on the version of the scheme to which they were being invited, would yield dividends as much as 8 times more than a person invests, the losses would be far greater for the vast majority at the base of the pyramid. We demonstrated that if every woman in Belize (numbering roughly 185,000) were to participate in the scheme, only about 18,000 would get paid—that's about 1 in 10. However, unable to be sustained by new recruits, the fraud-prone scheme crashed sooner rather than later (http://amandala.com.bz/news/fradulent-pyramid-scheme-hurting-poor-belizean-women/).
4. Explosive Immigration audit leaked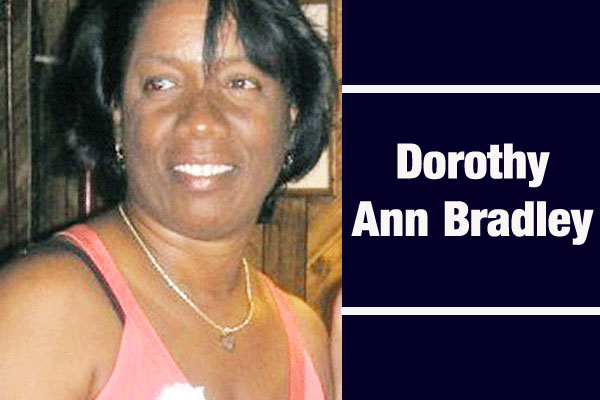 In August 2016, a damning special audit conducted by the Office of the Auditor General, Dorothy Bradley, was leaked to the media, detailing multiple cases of fraud in the issuance of Belizean visas, nationality and passports—including the high-profile case of Korean national Won Hong Kim. The leak was made in advance of a meeting of the House of Representatives at which the audits, a three-volume series, would have been tabled and made public.
The reports—which have since triggered an ongoing special investigation by the Senate following a demand from social partners—detailed how Belize has in recent years seemingly become a hideaway for hoodlums, as persons alleged to be human traffickers and money launderers were listed among those fraudulently assisted with Belize Immigration documents.
Auditor General Dorothy Bradley also called, in her set of recommendations, for a police investigation into missing files (164 of which could not be found in October 2013 for nationals of Guatemala, Honduras, China, Britain, Nigeria, Lebanon and Taiwan), allegations of fraud, and possible police collusion. As far as we are aware, no formal police investigation has yet been mounted (http://amandala.com.bz/news/explosive-immigration-audit-leaked/).
5. Justice for Jessica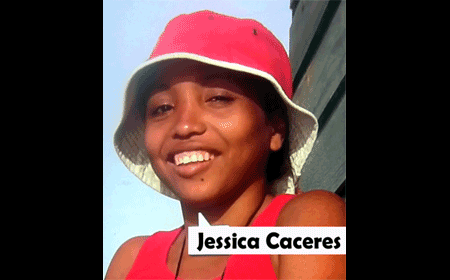 In a landmark ruling in 2014, the Caribbean Court of Justice (CCJ) had awarded Janae Matute $2 million in a medical malpractice suit, but BZ$75,000 is all that the Caceres family received back in 2002 from the Government of Belize as voluntary compensation for their daughter, Jessica, who had been infected with HIV and Syphilis through the transfusion of tainted blood at a public hospital. The case of Jessica, who had died at the age of 21 in December 2015, was highlighted by Ombudsman Lionel Arzu in his report tabled in Parliament in 2016. We dug deeper into Jessica's story, to shine the spotlight on her plight, in the hope that justice could still be seen to be served, even after her death.
Although her family settled for BZ$75,000 in October 2002, when Jessica turned 18 she sought the help of the Ombudsman's Office for a more just compensation. Since 2013, the Ombudsman has knocked at every possible door—the hospital where Jessica was infected, the Commissioner of Police, the General Legal Council, the Medical Council and the Office of the Prime Minister—but there was no notable progress in her case, he has indicated.
No individual has been held accountable for the tainted blood transfusion of 2001. Ombudsman Arzu tried to probe police on whether action could be brought under the Criminal Code, revised after the April 2001 incident, but as far as we are aware, no such case has been brought to the courts (http://amandala.com.bz/news/justice-jessica/).
6. Guatemala responds to CARICOM – the Sarstoon is ours
Guatemala's defiance on the Sarstoon is evident in the fact that even as we approach the close of 2016, it has pushed aside Belize's appeals to work out a cooperation mechanism for addressing conflicts on the river, the mid-channel of which marks the natural border between the two Central American nations.
It had long been felt that Guatemala has been bullying Belize because of the nations' relative sizes; but Guatemala took a similar hardline stance back in March against the position held by the entire 15-nation CARICOM block, demonstrating its intent to hold its ground regardless of the political power and influence held by any entity opposed to its official position.
In its support for Belize, CARICOM issued a strong statement on Friday, March 18, calling out the Guatemalan Armed Forces (GAF) for entering "Belizean internal waters" and acting in an intimidating manner towards members of the Belize Defence Force (BDF) who were at Belize's Forward Operating Base, as it was being constructed on Belize's mainland at the mouth of the Sarstoon River. CARICOM was protesting GAF aggression against BDF on March 12. But Guatemala's Ministry of Foreign Affairs issued a formal response on Monday, March 21, in which it made three assertions: (1) it claimed that "the Government of Guatemala reaffirms that the Sarstoon River is Guatemalan territory;" (2) with respect to the March 12th incident, it said that the Government of Guatemala reiterated its position, that Belizean soldiers were not provoked but were asked to follow the security protocols customarily used for the Sarstoon; and (3) in relation to the assertion by CARICOM, with respect to what it identifies as Belize's southern border with Guatemala, the Guatemala Government reiterated that it had denounced the 1859 boundary treaty between Britain and Guatemala with respect to 'British Honduras' (the former name of Belize), due to what it said was a breach of clause 7 of the treaty by Great Britain and Northern Ireland. Consequently, it said, that treaty's expiration was announced by Guatemala's Congress, via decree No. 224, on April 9, 1946.
Guatemala's statement closed by saying that consequently, their Ministry of Foreign Affairs reaffirms once more that Guatemala will continue to exercise sovereignty over the Sarstoon River, as it is now doing, until the International Court of Justice definitively resolves the territorial, insular and maritime differendum between the countries (http://amandala.com.bz/news/guatemala-responds-caricom-sarstoon/).
7. Three sisters charged for beat-down of woman in front of her children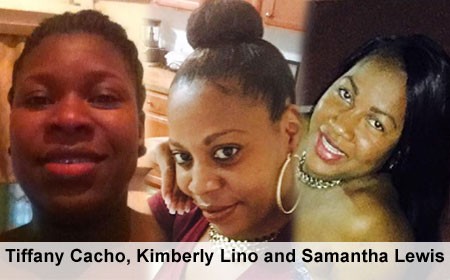 The audacity of three sisters who stormed into a woman's house and beat her in front of her children landed them in the Belize Central Prison, where they were placed on remand, except for one who met bail, after they were exposed in a viral social media video obtained by Dangriga police.
As we had reported in August, the Facebook video showed Kimberley Lino, the eldest sister, Tiffany Cacho, the second sister — 8 months pregnant at the time; and Samantha Lewis, the youngest sister, parking their beach cruiser bicycles in front of Brimimie Martinez's home and forcing their entry inside.
The three sisters stripped the victim of her clothes and began to curse, punch, slap and pull her repeatedly in front of her children, who cried uncontrollably as they ran away from the scene. Lino's son, 13, captured the assault on video.
With the vicious attack made public on social media, the police felt they had more than enough evidence for the women to face charges. They were subsequently arraigned for aggravated burglary, damage to property and harm (http://amandala.com.bz/news/3-sisters-charged-beat-down-woman-front-children/).
8. Inglewood, Calif. cops kill Belizean woman, 31
The slogan "Black Lives Matter" has been chanted all across the United States in places where African Americans, and even Black migrants to the US, are gunned down by police. Back in February 2016, Kisha Michael, 31, who identified herself on her Google+ profile as a "Belizean woman with 3 handsome boys," was gunned down in a double shooting which happened in Inglewood, California under questionable circumstances. It was reported by the LA Times in October that Kisha had actually been shot 13 times while she and her date, who was also fatally shot, were passed out in a car and posed no threat to the cops.
Affiliates of the National Association for the Advancement of Colored People (NAACP), which has been leading a "Black Lives Matter" campaign, vowed at a news conference held at the site of the shooting to monitor the investigation from beginning to end. An NAACP civil rights activist, Najee Ali, said that the question to be asked is not whether Michael had a gun or not, but whether she was a threat to the officers accused of killing her.
Kisha's identical twin sister, Trisha Michael, said at the NAACP news conference that Kisha never owned a gun and she believes that the cops are not telling them the whole story.
"What they told my mom is that they found her in the car, dead. They didn't say she got shot…. They said they found her body, and they don't know what happened and they are… investigating it," the sister recounted (http://amandala.com.bz/news/inglewood-calif-cops-kill-belizean-woman-31/).
9. William Mason speaks to Amandala from prison
"These guys are trying to frame me and I have a lot of information about them." These were the audacious words of Rajesh Oulett, the Guyanese who is also known in Belize as William Mason, remanded to jail on the charge of murder with three others, in the case involving the kidnapping and beheading of Pastor Llewelyn Lucas.
Mason gave an exclusive phone interview to Amandala from prison in which he suggested that ranking cops often solicited money from him. He also pointed to donations made to members of the ruling United Democratic Party, and one parliamentarian, Frank "Papa" Mena, Dangriga area represenative, confirmed the report but said that the money was being refunded to Mason in wake of the Lucas debacle.
It was revealed that as far back as 2014, Belizean officials had information connecting Mason/Oulette with reports from overseas which revealed alleged acts of dishonesty in a transaction with another man.
Mason, who had reputational issues before coming to Belize, told Amandala that police officials had been asking him to donate assets, such as motorcycles and buildings, to the Police Department; and although key figures in the department confirmed that the request had been made, they added that Mason never provided the vehicles or building that he had promised.
In his interview with Amandala, Mason claimed, "The people of Belize need to know, they need answers and for the citizens of Belize I am prepared to make sure they know the answers. This corruption, crimes against humanity, all these other things need to stop…. not one of these police [officers] can ever say that I have ever said no to them, including the Ministers (http://amandala.com.bz/news/william-mason-speaks-amandala-prison/)."
10. Belizean family guilty of US$300,000 scam!
On January 20, 2016, a federal jury in Las Vegas, Nevada, found several members of a Belizean family guilty on multiple felony counts, ranging from using false identities in order to steal almost $300,000 in unemployment funds, to mail fraud, aggravated identity theft, making a false statement in application for a passport, making a false citizenship claim, misusing a US passport and misusing a Social Security number (http://amandala.com.bz/news/belizean-family-guilty-us300000-scam/).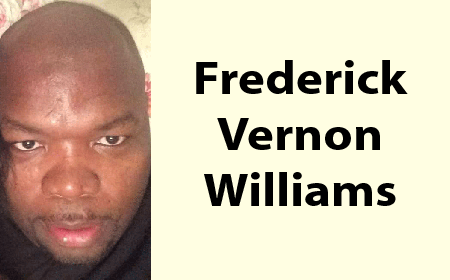 In July, we reported that the four Belizeans are facing prison terms and restitution fines. The man accused of being a mastermind in the scheme, Frederick Vernon Williams, 35, formerly of Zericote Street, Belize City, was sentenced by US District Judge James C. Mahan to 87 months (just over 7 years) in prison, plus 3 years of supervised release, and ordered to pay approximately US$297,000 in restitution, according to an announcement by US Attorney Daniel G. Bogden for the District of Nevada.
Another Belizean, Jacqueline Louisa Gentle, 27, was convicted of nine counts total, including the above charges, misuse of a US passport and misuse of a social security number. She was sentenced on June 29 to 65 months (in excess of 5 years) in prison and ordered to pay US$218,000 in restitution.
Meanwhile, Denise Allison Williams, 37, Williams' wife, and his other sister, Carolyn Shelmadine Willis-Casey, 40, a former Belize Customs officer, were each convicted of one count of mail fraud, and sentenced on June 30 to two years of probation and 30 months in prison, respectively.
Williams faced deportation from the US in 2013. The Belizeans will likely face eventual deportation from the US to Belize.
Related Articles
Share
About Author
(0) Readers Comments