BELIZE CITY, Tues. June 19, 2018– The University of Belize (UB), which opened its doors on August 1, 2000, held its graduation ceremony at the newly built Civic Center in Belize City, on Saturday, June 16. The fully air-conditioned building was reportedly the only air-conditioned structure that could house the 1,059 graduates who successfully completed their academic coursework at the university, as well as their families, faculty of the university and other guests.
In the past, UB held graduation ceremonies in February for those who completed their programs in December, and another ceremony in June for those who finished at that time of year. However, this year, they held one massive ceremony for all their graduates.
The body of graduates consists of 420 students from the Faculty of Education and Arts, 313 students from the Faculty of Management and Social Sciences, 127 from the Faculty of Nursing, Allied Health and Social Work, and 199 from the Faculty of Science and Technology.
UB was formed when five different institutions — the University College of Belize, the Belize Technical College, the Belize Teachers' Training College, the Belize School of Nursing, and the Belize College of Agriculture, were amalgamated.
In 2004, the main campus of the university was moved to Belmopan. UB also has two Belize City campuses, a campus in Central Farm, and one in Punta Gorda.
Minister of Education, Youth, Sports and Culture, Hon. Patrick Faber, was UB's guest speaker. In his short speech, Faber spoke about his own experiences as a student and motivated the graduates to make their country proud.
The school's top student, Camille Ellis, a teacher of Chemistry and Integrated Science at Edward P. Yorke for 20 years, and a mother of two children, was rewarded with a trophy in recognition of her achievement of a 3.97 GPA.
Ellis successfully attained a degree in Education Methodology from UB, and said that it required great sacrifice, time, and effort to do so. She believes it was worth it because the school has provided her with the skills and knowledge needed for her to continue on her journey to pursue her postgraduate goals. Ellis plans to attain a Doctorate in "Advanced Methods of Teaching Science in Secondary Schools."
Ellis said that she is very passionate about teaching and believes that by furthering her own education she will be better able to assist students in understanding the sciences and their role in the world. Ellis' mantra derives from philosopher Lao Tzu's famous quote, "the journey of a thousand miles begins with a single step."
To top things off, there was a wedding proposal at the end of the graduation. Two graduates, Manuel Tzul and Yasmari Barrera, became engaged after the ceremony, following in the footsteps of another engagement that occurred at last year's graduation ceremony.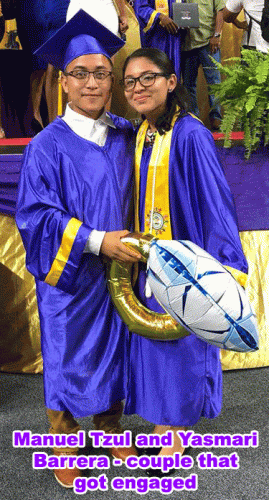 Related Articles
Share
About Author
(0) Readers Comments