ORANGE WALK—Late this evening, Cuban national Pascual Terrero Pineda, 52, from Boca Del Rio in San Pedro, and Ruperto Eulalio Reyes, 49, a Belizean from Orange Walk, were remanded to the Belize Central Prison after being arraigned in the Orange Walk Magistrate's Court for drug trafficking in connection with what authorities have referred to as the largest crystal meth bust on record in Belize.
The duo have been accused of being in possession of at least BZ$4 million worth of methamphetamine, otherwise known as "crystal meth", a widely used, highly addictive drug which was reportedly found in the back seat of a car that spun out of control and ran off the road during a police chase this past Wednesday, August 20, at around 7:20 p.m. in Orange Walk.
In the US, the drug is said to be worth $12 million
Members of the Police's Anti-Drug Unit (ADU) were on patrol in an unmarked vehicle in the Louisiana area of Orange Walk Town when they noticed a black Toyota Camry swerving from one side of the road to the other.
The officers pursued the vehicle, but it reportedly sped off and headed towards Liberty Avenue, near the Philip Goldson Highway.
Upon reaching Liberty Avenue, however, the driver lost control and the vehicle veered off the road, after which both passengers tried to flee on foot but were later apprehended after police fired several shots in their direction.
When the vehicle was searched, police said, they found a red ice cooler which reportedly had up to 30 parcels of suspected crystal meth, which weighed 54.7 kilos, or 120.5 pounds.
According to US law enforcement authorities, the drugs have an estimated street value of as much as $12 million in the United States, which is where the illicit cargo may have ultimately been headed.
S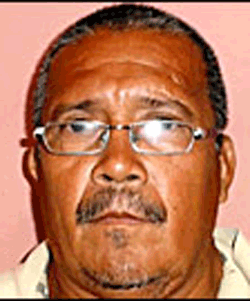 amples which were sent to the National Forensics Laboratory have since confirmed that the product is indeed methamphetamine, a stimulant with long-lasting effects on the body, which is morphed into rock-like crystals, then heated and either smoked, snorted or injected by users.
Pineda and Reyes (appearing in the photo to the right) were charged with one count each of trafficking a Class B drug, and due to the nature of the offense, the case was treated as indictable and therefore no plea was taken.
Both men have been remanded to prison until September 30, 2014.
Related Articles
Share
About Author
(0) Readers Comments