BELIZE CITY–Belize was reportedly the only country in Central America which experienced a decline in murders in 2013, but the preliminary statistical report released today by the Belize Police Department indicates that 2014 has seen a substantial increase in murders, with data up to December 19, 2014 showing a 22% increase in murders over 2013.
This translates to a murder rate of 34 per 100,000, the third lowest rate since 2008. Our historical chart dating back to 1993 indicates that the lowest murder count of 32 was recorded in 2003, when the per capita rate was only 14 per 100,000. The Ministry of National Security says that it aims to reduce the figure to 8% by 2020.
Whereas murder incidences were up 22%, the arrest rate was 24% lower than it was in 2013, with 34 arrests being made so far this year compared to 45 in 2013.
Furthermore, the statistics indicate a whopping 62% increase in incidences of rape, with the number of such incidents increasing from 26 to 42. The incidences of theft were up by 18% from 1,011 to 1,192.
Meanwhile, there was a fall in the incidences of robberies (from 296 to 294 – 0.7%) and burglaries (from 890 to 821 – 7.8%).
The police report indicates that overall, major crimes rose 6% for the year up to December 19, 2014 – from 2,395 in 2013 to 2,548. Overall, arrests were down 15% from 769 to 651.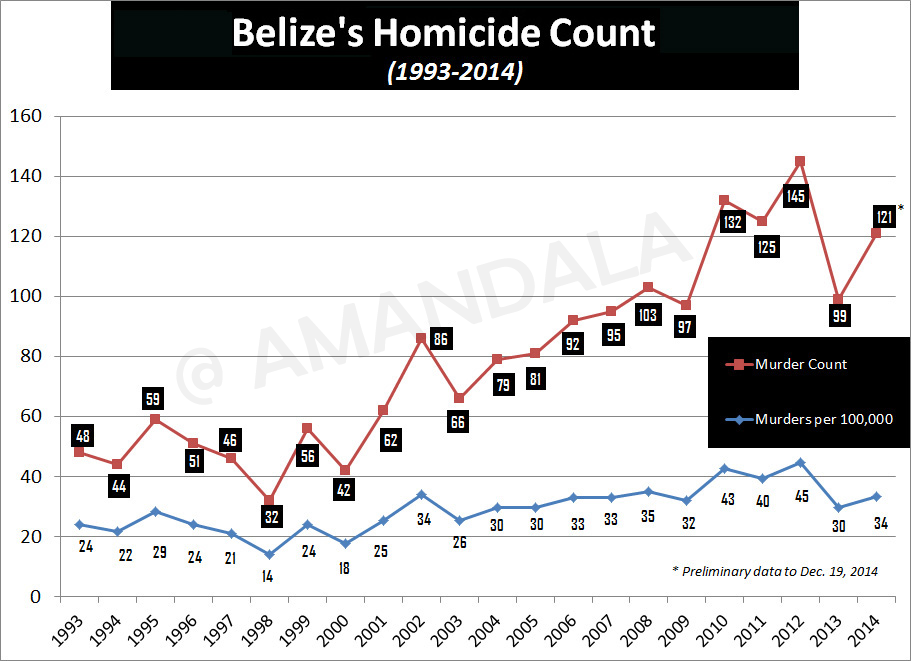 Related Articles
Share
About Author
(0) Readers Comments