Features
— 27 March 2015
— by Adele Ramos
BELIZE CITY, Wed. Mar. 25, 2015–The year 2015 started off with a price ease, according to data just released by the Statistical Institute of Belize (SIB). Whereas 2014 ended with an inflation rate of 1%, February 2015 is recording a low inflation rate of -1.2%, the same as January 2015, according to data released this morning by Angelita Campbell, Statistician II.
The SIB uses a basket of 260 goods to determine price changes. Looking at the major categories, Campbell explained that prices in the miscellaneous goods and services grouping were up by 1.3%, due primarily to increases in health and transport insurance costs, while prices for housing, water, electricity, gas and other fuels were down 0.7%, with butane prices falling from a high of $125.19 for the 100-pound cylinder last year to an average of $93.14 this year. She said that there was also a decrease in electricity prices by about 2-3 cents per kilowatt hour.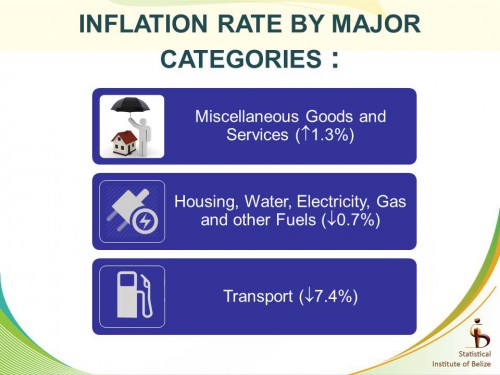 Prices in the transport category were down substantially by 7.4%, due to a decrease in the fuel index of 21.4%, with fuel prices down by over 3 bucks per gallon this February as compared to last February.
Food prices were down about 1%, with meat prices up by 1.8% but eggs down by 18.3% this February, (down from $3.62 to $3.13), vegetable prices down by 11.6 % (with cabbage prices down by about a third), and the price of fruits down by 4.2% (with pineapple prices down 12.8% and watermelon 33.1%).
Dangriga was the only municipality to record higher inflation – an increase in the price index of 0.5% – due to an increase in prices in the clothing and footwear and restaurants and hotels categories.
Belize registered the second lowest inflation rate in the Central American region, topped by El Salvador, which recorded a rate of -1.1%.
Whereas inflation was down, Belize's imports are up by 12.6%, totaling $314.5 million for January and February 2015 – an increase of $35.2 million over the same period last year, according to Tiffany Vasquez, Statistician II. On the export side, all Belize's major agricultural exports – sugar, bananas, citrus and marine products – had increased by an overall figure of roughly $6 million, but a massive $20.7 million drop in crude oil exports eroded those gains, resulting in an overall decline in exports of $12.3 million.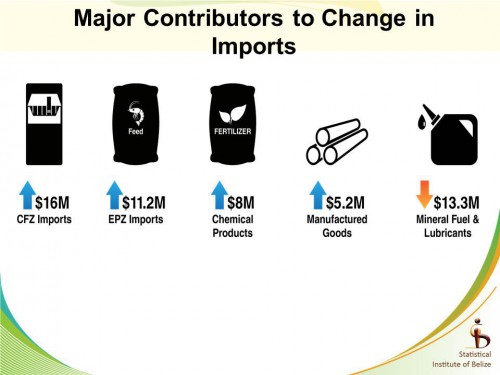 Belize's trade gap – the difference in value between the merchandise Belize imported versus what it exported – continues on its upward trend, registering an expansion of nearly 40%. For the first two months of 2015, Belize had imported $172.9 million worth of merchandise but exported only $50.1 million worth, whereas last year, it had imported $141.2 million worth but exported $53.3 million worth of merchandise.
Jefte Ochaeta, Statistician I, reported today that the preliminary GDP estimate for 2014, gleaned from the quarterly reports of GDP during the year, is 3.6%. Detailing Belize's economic performance for the 4th quarter in the year, Ochaeta said that GDP had grown by 1.6% relative to the same period in 2013, since the GDP is estimated to have grown to about $2.7 billion at constant prices, an increase of almost $100 million.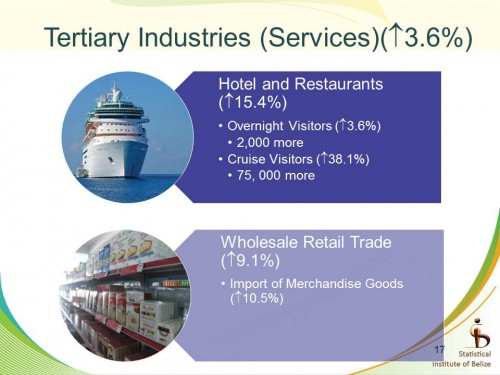 He explained that economic growth in 2014 was mainly due to increases in primary activities: agriculture, tourism and retail trade. Although climate changes led to a halt in orange production during that period, grapefruit production was up by 50%. Sugar, which began with strong performance during the first half of the year, performed well overall in 2014 when compared to 2013, and Ochaeta said that the same positive trend in sugar is expected to continue in 2015.
The final GDP figure should be available around August of this year, after the SIB gets all the input it needs from third parties to determine the revised figure, Ochaeta told us.
Related Articles
Share
About Author
(0) Readers Comments