BELIZE CITY, Mon. Feb. 20, 2017–Although Belize discontinued widespread use of Dichloro-diphenyl-trichloroethylene (DDT) for mosquito eradication two decades ago, it is believed to still be in the environment, as well as in the bodies of people who had been exposed over the years. The potentially hazardous chemical—which can also be passed to babies in breast milk—has been stockpiled in Belize for more than 35 years. In fact, when a regional assessment was done in 2005, Belize had the second biggest stockpile of all Central American countries, next to Guatemala, but it has been unable to dispense of the DDT until now.
Latest reports are that the hazardous waste, amounting to roughly 24 tons, is to be shipped to France for final destruction, since Belize does not have the requisite facilities to dispose of the waste through high-heat burning in a controlled environment.
Developed in the 1940s, DDT was used as an insecticide in fighting mosquito-borne diseases such as malaria, but it was banned in the US due to reports that it causes adverse environmental and health effects, including adverse effects on human and wildlife reproduction. The worry about DDT is that the synthetic chemical does not break down easily. It is said to linger in the environment for decades and can travel via air for long distances. It also builds up in fatty tissue and may also cause cancer, among other health problems.
Scientific studies have found residues from DDT and its derivate compounds in soils in Belize more than a decade after use was discontinued. DDT was used to kill mosquitos in southern Belize between 1957 and 1997, with applications to interior walls and ceilings, according to research by Michael Somerville, University of West Florida, Environmental Studies Department, who documented the finding. Somerville said that widespread use of DDT ceased in Belize after 1997.
The amount of DDT headed for destruction is almost equal to the DDT used on an annual basis between the years, 1985 to 1994, according to information sourced by researchers from Belize National Malaria Eradication Service in 2003.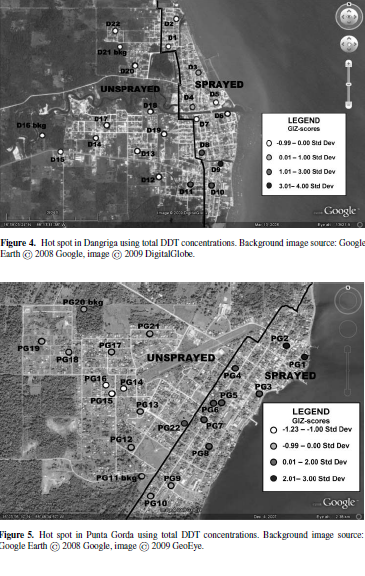 Environmental authorities will next investigate whether there has been contamination at storage sites in Belize City and Belmopan, as there is always a risk of contamination wherever chemicals are stored and used.
Chief Environment Officer Martin Alegria told Amandala that the DDT was used for malaria control. Belize sourced DDT under a regional initiative where it was being cheaply manufactured in Mexico. However, there were also pressures to get rid of DDT, and Belize found malathion to be an economical alternative.
Meanwhile, though, Belize was left with a stockpile of DDT, some dating back to before Independence, at what was the Fort George Customs House. Alegria said that the chemicals were in a mess and it had to be repackaged, after which it was transferred to the former premises of the Belize City Hospital. It was later transferred to what is now the Western Regional Hospital in Belmopan, which is where the DDT was stored until it was recently moved to San Ignacio for eventual destruction overseas.
Director of Health Services, Dr. Marvin Manzanero, told Amandala that the DDT was removed two weeks ago. The wastes are being held at the old transfer station in San Ignacio, Cayo, pending shipment to France. The disposal is being done in tandem with the Pan American Health Organization (PAHO), the Department of the Environment (DoE) and the Solid Waste Management Authority, which operates the transfer station at which the wastes are being held.
The focal point for the Ministry of Health, Senior Public Health Inspector John Bodden, told our newspaper that the DDT was donated by the Mexican Government to assist Belize with mosquito control. Bodden said that the pesticide fell into disuse shortly afterwards.
The UN Global Environment Facility (GEF) is providing the $200,000 required, through the Basil Convention, which governs the transboundary movements of hazardous wastes and their disposal to have the POPs removed to France. We understand that the Greek company engaged, Polyeco, is awaiting the approval of a transboundary shipment permit from authorities in Guatemala, via which the chemicals are to be shipped overland through Costa Rica and Panama, and then to Spain and France for final destruction.
According to Bodden, Belizean authorities have been trying to dispose of the DDT since the late 1990s, but there were some coordination problems.
We note that although DDT has been banned in the USA since 1972, it is not banned in Belize and in fact, restricted use of DDT use is still allowed.
Through the current effort, Belize is also trying to dispose of roughly 6 tons of other chemicals, together characterized as persistent organic pollutants (POPs), including Freon types that deplete the ozone layer and polychlorinated biphenyls (PCBs) sourced from both the public and private sector.
Last week, the Department of the Environment led the training of 44 Belizeans to assist with future monitoring. Alegria said that this is to avoid repeating what has happened with the DDT problem, by addressing problems as they arise.