Headline
— 19 June 2015
— by Rowland A. Parks
BELIZE CITY, Thurs. June 18, 2015–The decision of Supreme Court Justice Dennis Hanomansingh not to impose a prison sentence on Wilbert Cuellar, who was convicted on December 12, 2011, along with Darwin Diaz, for the attempted murder of Josue Chay, triggered an appeal from Director of Public Prosecutions, Cheryl-Lynn Vidal.
Justice Hanomansingh had expressed dissatisfaction with the jury's verdict and decided to use his "inherent jurisdiction" to not send Cuellar to prison on December 19, 2011, the day the court had set for sentencing the two convicted men.
Diaz, however, was not so fortunate. Hanomansingh sentenced him to serve 12 years in prison.
DPP Vidal's challenge to Justice Hanomansingh's decision to not impose a prison sentence on Cuellar was heard in March 2014, and the Court of Appeal had ordered Hanomansingh to impose an appropriate sentence on Cuellar.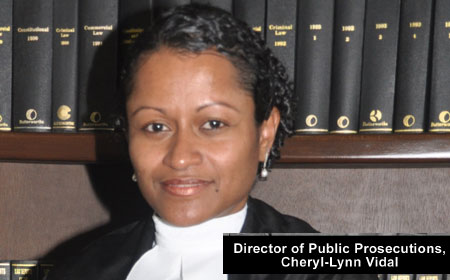 Despite the Court of Appeal's directive for the judge to sentence Cuellar, Hanomansingh decided that the three months that Cuellar had spent on remand was enough, and so he sentenced him to the time already spent on remand—three months.
That sentence did not sit well with DPP Vidal, who filed another appeal against the judge's sentence of Cuellar, because, in her view, three months was not an appropriate sentence for a serious offence such as attempted murder.
The second appeal was argued in the Court of Appeal yesterday, Wednesday. Cuellar, however, did not attend the hearing.
DPP Vidal expressed concern with the action of the judge and how it was unfitting for the criminal justice system.
The judge should have known the law and the proper sentence to impose, the DPP submitted.
Michelle Trapp-Zuniga, Cuellar's attorney, however, conceded that the three-month sentence for the attempted murder conviction was lenient; therefore, she provided the court with a sentencing guideline.
The Court of Appeal has reserved its decision on this issue for a date to be announced.
In the evidence presented during the trial, Cuellar had allegedly picked up a cement block and hit Chay, intending to knock him out. Diaz then chopped Chay on the arm and in the head. The incident had occurred in the Orange Walk District when Diaz and Chay had gotten into an altercation at a football field.
Related Articles
Share
About Author
(0) Readers Comments