BELIZE CITY, Mon. Oct. 30, 2017–On Sunday afternoon four men were shot on the Southside by a gunman on a bicycle. Fortunately, the injuries they sustained were not fatal. Police say that the men were socializing at #10 Neal Pen Road at about 3 p.m. on Sunday when a gunman rode up and opened fire. Cameron Moreira, 18, was shot once in the buttocks, once in the left elbow and once in the right hand; Godwin Flowers, 28, was shot once in the right upper arm and once in the left thigh; Darren "Nose" Dawson, 32, was shot once in the right upper arm and once in the left thigh; and Gerald Tillett, 67, was shot once in the left thigh.
Police say that Moreira, Flowers, and They say that they have a description of the suspect, who is presently being sought.
Our archives reveal that in August of last year, Moreira, then a high school student, was shot in the leg on Neal Pen Road, while seven years before, in 2009, Darren Dawson was shot in the back while on that same street.
Sources close to Amandala have indicated that the senior citizen who was injured in the crossfire, Gerald Tillett, is the father of Gerald "Shiny" Tillett and Shelton "Pinky" Tillett, both reputed bosses of the George Street Gang (GSG), who have been killed.
According to Senior Superintendent, Marco Vidal, Sunday's shooting was the result of ongoing gang rivalry.
"I can say that the incident is gang-related," he said.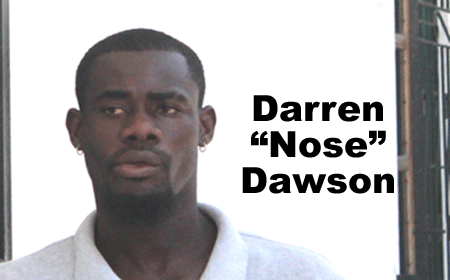 He added, "You have to understand that in a number of these areas there are rivalries that exist, and it didn't arise as of recent. It can be that there have been feuds over a period of time, and they seek the opportunity to avenge certain incidents. So in this case, as I said, this is a gang rivalry."
When asked if the Police Department is expecting retaliation, Vidal told the press, "As with all rivalries, we do expect that there will be some form of retaliation, and for that purpose we will then put measures in place to ensure that we can apprehend those persons when they try to commit crimes."
There have been a record-breaking 12 murders on the Southside of Belize City this month. Since July, when Vidal became the commander of the Southside, there have been 29 murders in a span of only four months.
Senior Superintendent Vidal today told the press that the body count isn't his fault, but simply the result of an increase in the marijuana trade involving the imported and costly "kush", which is a strain of Cannabis indica.
"I take no culpability for this, for the simple reason that it has been explained for some time now that these incidents have arisen as a result of an internal eruption of the gangs who have, for whatever reasons, decided that they should sell drugs and expand the sale of drugs, and when we have the expansion of the sale of drugs, obviously people will arm themselves." Vidal said.
"And with people arming themselves, they will protect turf or they will try to gain other turfs," he added.
According to Vidal, when there is the loss of marijuana shipments, "Persons will have to pay and when they can't pay, there will be deaths."