BELIZE CITY, Mon. Dec. 5, 2016–Guatemalan police and naval authorities reportedly landed a major drug bust this past Saturday which resulted in the confiscation of 1,637 kilos or 3,608 pounds of cocaine valued at 172 million quetzales (or roughly BZ$45 million) in what they have identified as "international waters."
However, a report carried by Prensa Libre, which includes a map of the location, shows the location as the Sapodilla Caye range in Belize, and specifically the Sapodilla Cayes Marine Reserve, indicating that the bust actually occurred inside Belizean territory. We were able to plot the coordinates, which place the incident inside Belize's territorial waters—not inside "international waters," as Guatemalan authorities have said.
Oscar Davila, Guatemala's vice minister under whose portfolio anti-narcotics falls, told the press that the incident occurred in "el Mar Caribe" (the Caribbean Sea), at 162 nautical miles. Media reports said that it is 122 nautical miles from Izabal, an inland location — details which also support reports that the bust happened inside Belizean waters. Davila suggested that the bust was made in waters near the confluence of Honduran and Belizean waters.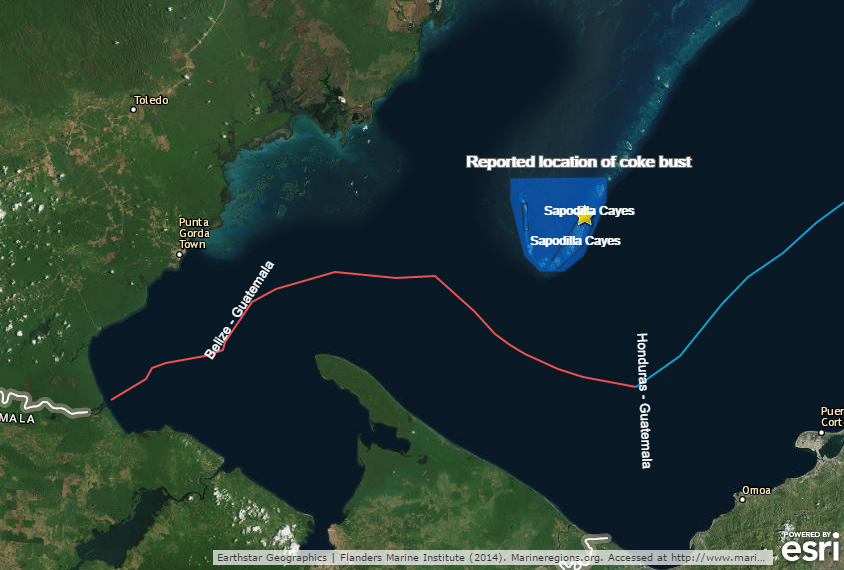 The yellow star shows location identified by Prensa Libre
Speaking with Amandala this evening, Felix Enriquez, Chief Executive Officer in Belize's Ministry of Defence, said that Guatemalan authorities did contact Belizean authorities to indicate that they were chasing the narco-trafficker. Felix said that the incident arguably happened inside Belize, although the Guatemalans did not say that; Guatemala's General Perez also told Belize Defence Force Commander David Jones that it happened in "international waters."
The Belize Coast Guard was also dispatched after the alert from the Guatemalans; but the Guatemalans got them, Enriquez told us.
News of the bust went viral on social media on Saturday and Sunday, with several posts by Guatemalan police as well as Guatemala's Public Ministry, which reported that four Hondurans had been detained: Walter Orlando Portillo Portillo, 34; José Miguel Andrade Saldivar, 26; Jeyson Julian Avila Suazo, 21; and Zablo Amilcar Portillo Portillo, 42.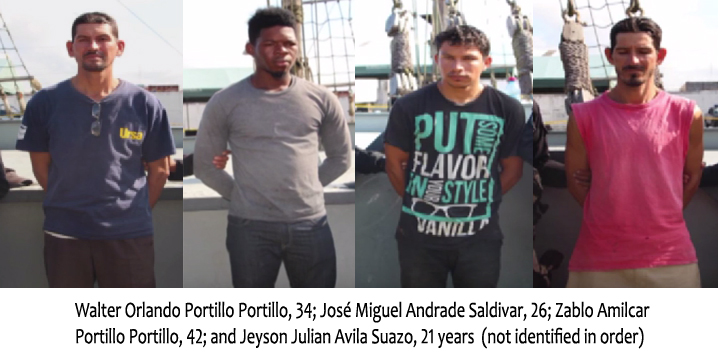 Some of the cocaine (997 kilos in 50 packages) was found aboard a boat which the men were reportedly traveling in, and some packages (640 kilos in 32 more) were found in the sea after another boat reportedly fled the scene leaving some of its cargo behind. It took more than 12 hours to process the scene, Guatemalan authorities reported. The drugs were landed at a naval base in Izabal, Guatemala.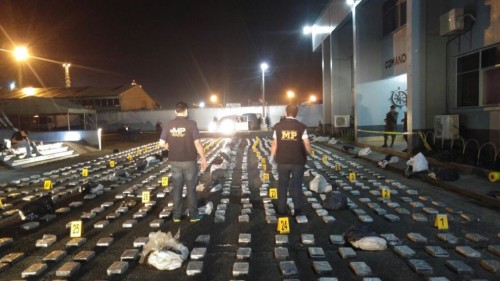 The 2016 International Narcotics Control Strategy Report (INCSR) issued by the US State Department said that, "Belize is susceptible to the transshipment of illegal drugs due to its position along the Central American isthmus between the United States and drug producing countries in South America."
It added that large stretches of unpopulated jungles on the border with Guatemala and a relatively unpatrolled coastline that includes hundreds of small islands and atolls make it difficult to conduct interdictions.
According to the US Drug Enforcement Administration (DEA), the drug routes are predominantly maritime and via air.
"Due to Belize's unique geography, maritime craft are able to avoid law enforcement detection by moving at night and using the hundreds of cays (islands) to conceal their movement," the report added.
According to CEO Enriquez, Belize has agreements with Mexico and the US under which those authorities are allowed to pursue narco-traffickers inside Belizean waters, but no such agreement exists between Belize and Guatemala. He suggested that this is something that needs to be worked out to establish a protocol.
Enriquez told us that he is happy that the perpetrators have been caught. The bust, he said, has put a major dent in the operations of the narco-traffickers.
The last major drug bust reported in Belize's jurisdiction happened in November 2010, when the infamous drug plane landed on the Southern Highway with a delivery of 2,604 kilos valued at nearly $100 million.