BELIZE CITY, Mon. Apr. 18, 2016–On Thursday, April 14, the World Health Organization (WHO) added Belize to the list of countries with local transmission of Zika, after a report by the US Centers for Disease Control (CDC) that an American woman had contracted Zika in Belize; however, Director of Health Services (DHS), Dr. Marvin Manzanero, told Amandala that the Ministry of Health has not yet signed on to confirm that status because it is still conducting its epidemiological investigations and awaiting the results of tests by the Caribbean Public Health Agency (CARPHA).
Today, the US Centers for Disease Control (CDC) issued a "level 2 alert" travel notice for Belize, calling for "enhanced precautions" to avoid transmission through mosquito bites or sex. The CDC says that "Local transmission of Zika virus infection (Zika) has been reported." It explained that, "Local transmission means that mosquitoes in the area have been infected with Zika virus, spreading it to people."
Meanwhile, Belizean authorities are conducting field and laboratory investigations to ascertain whether the case of the American woman with Zika reported by the CDC is indeed linked to Belize, as the CDC has suggested. The DHS may call a press conference later this week, depending on the outcome of the tests from CARPHA.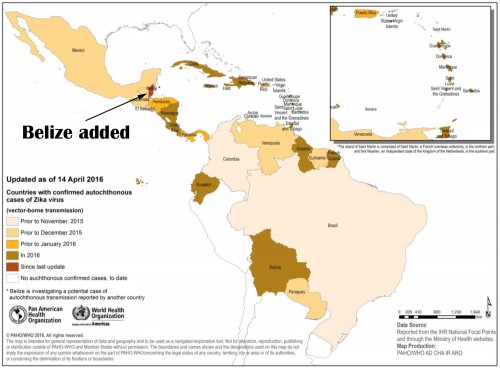 Three previous samples sent for Zika testing were cleared in February, when the Pan American Health Organization declared an international public health emergency due to Zika, which had been spreading rapidly across the Americas since 2015.
Two samples taken from Punta Gorda and Cayo were sent to CARPHA in Trinidad last week for testing. CARPHA has confirmed receiving them and the results are expected in the next few days. Meanwhile, the Ministry of Health is preparing today to send off 5 more samples, all from Stann Creek, for testing by CARPHA.
Additionally, field surveillance is being done in areas such as Hope Creek, Mullins River and Sarawee to determine if there are any more cases that warrant testing overseas, since Belize does not have the capability to reliably test for Zika. The DHS cautions that whereas rapid testing is being done in the private sector, those tests have not been officially validated for use.
Heightened concerns about Zika on the home front emerged on Thursday, April 7, 2016, when the Belize Ministry of Health reported that it had been advised by the CDC that an adult female, whose name and particulars had not been released to the Belize Ministry of Health, had tested positive for Zika. The woman had an onset of fever and rash on March 23, 2016, four days after returning from a short visit to Belize. There was no evidence of sexual transmission or any travel history outside of Belize, the report said.
In doing its field surveillance, the Ministry of Health also learned that in an unrelated case, a Belizean had taken ill from Zika in February while in El Salvador. A month later, that person returned to Belize and subsequently, other family members in Belize reported rash and fever – two of the primary symptoms of Zika. However, it is believed that a person with Zika is not contagious beyond a month—the window period prescribed for blood donations from travelers to places with Zika or other persons exposed to Zika.
Unlike the suspected case of Zika in Cayo, the person in Punta Gorda from whom a blood sample was taken for testing at CARPHA had no travel history. The same is true for the persons in Stann Creek from whom blood samples were taken. The persons tested in Stann Creek and Punta Gorda are, however, linked with the US traveler. One theory is that, if the results return positive, the US visitor could have given the virus to the locals.
The Ministry has also been in contact with private sector facilities which also have Zika on their radar. Last week, a private facility was on alert when a case of Gullian-Barré Syndrome was detected—but that case has been linked not to Zika but to the flu, with which it is more commonly associated. Gullian-Barré Syndrome is said to lead to a rapid-onset muscle weakness caused by the immune system, damaging the peripheral nervous system, and it can lead to paralysis, although some patients recover.
Manzanero said that since the Ministry of Health has been monitoring the situation, there have been three reported cases of Gullian-Barré Syndrome in Belize since February—none of them found to be linked to Zika. Those cases, all said to be serious, were documented in Cayo, San Pedro and Corozal. Manzanero told us that one person has recovered; and one is reportedly still being treated at a public hospital, while the third had been treated at a private facility.
Of note, though, is that Belize has recorded no new cases of Chikungunya, while dengue cases have been declining, said Manzanero, who said that the decline could be associated with the dry weather. (Today, Barbados is reporting a drop in Zika cases due to drought.)
Manzanero said that the Ministry of Health continues its vector control efforts against mosquitoes which are the carrier of the three diseases—dengue, Chikungunya and Zika. Last week, they were doing their rounds in Toledo, where they distributed bed nets to women in Pueblo Viejo and Jalacte.
However, he notes that in the case of Zika, avoiding mosquito bites is not enough, since humans can be vectors too. The virus is now said to be sexually transmitted, and husbands who go to the fields and are exposed to mosquitos can contract the virus and take it home to their wives. This, Manzanero said, could pose a major challenge.
In its last official release, dated April 11, the Ministry said that it continues to implore the community to take measures to minimize the breeding sites and population of mosquitoes that primarily transmit the disease.
"Pregnant women and women considering getting pregnant are especially asked to take precautions and try to avoid mosquito bites. Pregnant women are also encouraged to attend regular prenatal clinics in order to monitor their health and their baby's development," the release said.
Earlier this month, it had been reported by the New England Journal of Medicine that a Finnish woman, 33, who had visited Belize, as well as Mexico and Guatemala, with her husband last November, when she was 11 weeks pregnant, had aborted her 21-week-old baby after testing positive for Zika and later seeing signs of damage to the baby's brain. A link to Belize was never confirmed.
Zika has been linked to a rise in microcephaly case in the Americas, particularly in Brazil, where 4,000 cases are now blamed on the disease.
"To date, 35 countries and territories have confirmed local, vector-borne transmission of Zika virus in the Region of the Americas since 2015," said PAHO/WHO in its April 14, 2016, update. It added that, "Belize is investigating a potential case of autochthonous transmission reported by another country," meaning the USA.
Related Articles
Share
About Author
(0) Readers Comments