General
— 15 May 2015
— by Adele Ramos
BELIZE CITY, Tues. May 12, 2015–Today was reef report card day for Belize, Mexico, Guatemala and Honduras, and according to Roberto Pott, Belize Coordinator of Healthy Reefs for Healthy People, who unveiled Belize's score at a press conference held at the Biltmore Plaza Hotel in Belize City this morning, while the health of Belize's reef has been improving since 2006, it is still categorized as "poor," primarily because of morass growth in some areas and because the biomass of commercial fish species, such as groupers, has not yet recovered from heavy fishing.
For the other two indicators used to assess reef health, coral cover and herbivorous fish, Belize received a "fair" rating.
Together, the 4 neighboring countries listed above, whose reef system make up what is referred to as the Mesoamerican Reef System, received a reef health index (RHI) score of 2.8 of a possible 5, but Belize's RHI score was lower, at 2.5. The data indicate that almost 70% of Belize's reef is in poor to critical condition, while the other 30% or so is in fair to good condition.
Click image to access PDF version of the report card
Assessments done at 94 sites across the country, including sites at Lighthouse Reef, Glover's Reef and the Turneffe Atolls, revealed that 21% of these areas are in critical condition, 47% in poor condition, 28% in fair condition and 4% in good condition.
Pott said that although the condition of commercial fish species in Belize is still poor, he believes that a turnaround is possible. He stressed that the marine protected areas continue to serve as an important tool for improving the health of Belize's reef. According to Pott, 20% of Belize's territorial seas are under protective status but only 3% are fully protected from fishing.
In detailing the challenges being faced with commercial fish stocks, Pott said that of 700 groupers counted for the study, only 4% of them had a size of over 40 centimeters (for sustainable harvesting). He noted that in areas which were fully protected from fishing, there were ten times more snappers and groupers than in other areas.
Pott also spoke of the other factor for which Belize received a low score: morass growth on the reef. He said that this continues to be a concern and he pointed to the need for attention to be given to how agricultural run-off continues to impact the reef.
The 2015 Report Card for the Mesoamerican Reef, published by Healthy Reefs for Healthy People, said that forest fires resulting from forest destruction linked with Hurricane Richard of 2010 could have resulted in high nutrient loading into the sea, which caused an algal bloom, which, in turn, resulted in deterioration in the health of the reef.
The report says that the growth of algae on the reef has increased 60% since the 2011 survey, and it notes that the situation was especially critical at sites such as Lighthouse Reef and Glovers Reef.
Jennifer Chapman of Blue Ventures, one of Healthy Reef Initiative's (HRI) partner organizations, pointed to seven recommendations for action. She said that these are seven realistic and achievable things that we all can do and must do to protect the reef. She asked those gathered at the report card launch to pledge to work towards achieving at least one of them.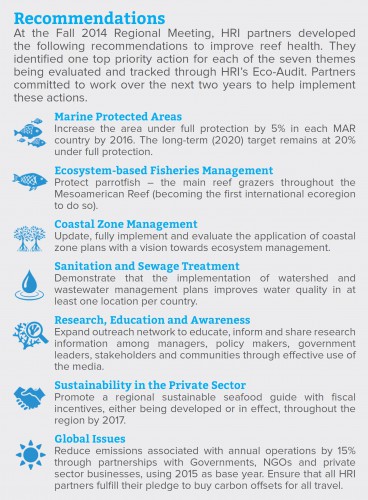 Fisheries Administrator Beverly Wade said that it is important for stakeholders to take stock of the gaps that exist, as well as the successes, but also to look at where they need to go to improve reef health. She urged advocacy to support the passage of three key fisheries legislation: the Fisheries Bill, the Finfish Bill and the Mangrove Bill.
Wade also said that they are also looking at the expansion of no-take areas to help restore reef health, and they are encouraging sustainable fishing practices and alternative livelihoods for fishers as well.
In a video presentation on the 2015 Report Card, Dr. Melanie McField, Director of Healthy Reefs, said that over 60 agencies have forged an alliance committed to improving the health of the reef. Looking at the regional picture, she said that 34% of the reef sites assessed (248 sites in 45 protected areas) were in fair condition, which, she said, is a 7% rise since the last report. Of the sites assessed, 17% were in a critical condition and may not be able to recover, which, she said, was down by 7% since their last report.
Related Articles
Share
About Author
(0) Readers Comments