General
— 05 May 2018
— by Albert J. Ciego
SANDHILL, Belize District, Mon. Apr. 30, 2018– Anthony Maurice Somerville, 38, a construction worker of Hattieville, was a passenger in the pan of a vehicle travelling from Orange Walk to Belize City around 1:00 Sunday morning, when the driver of the vehicle observed a checkpoint at the Boom-Hattieville Road junction with the Philip Goldson Highway, at Mile 13.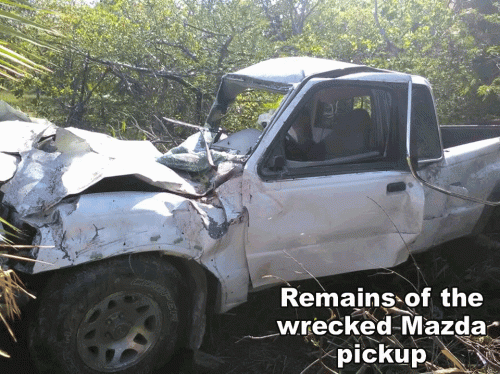 Reports to us are that the driver spun the vehicle around and headed back toward Orange Walk when he saw the roadblock. As the driver was trying to get away, however, the vehicle overturned. Somerville was thrown out of the vehicle, which landed on top of him. He suffered massive injuries to his head and body and reportedly died on the scene.
The police had pursued the fugitives for about four miles when they came upon the Mazda pickup, overturned on the right side of the road in the bushes at Mile 17 on the highway.
Two other men and a woman were trapped in the wrecked vehicle. ASP Alejandro Cowo, Commander of Crimes Investigation, said that the police had to call members of the National Fire Service to rescue them. The rescue team had to cut open the vehicle with a power tool called the Jaws of Life.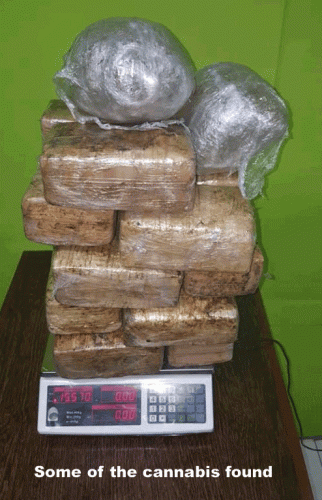 The occupants of the vehicle were identified as Jermaine Michael Sanker, 23, of Corozal Town; David Donovan Morrison, 38; and Diana Elizabeth Sutherland, 20, both of Belize City.
All four were taken to the Karl Heusner Memorial Hospital, where Somerville was declared dead, and taken to the morgue. Diana Sutherland, who had two broken legs, was declared to be in a stable condition; and Jermaine Sanker, who also had two broken legs and a fracture to his left hand, was also declared to be in a stable condition.
David Morrison, who sustained severe injuries to the head and body, was declared to be in a critical condition.
Police had searched the area near the overturned vehicle and they found 17 packs of compressed cannabis. At about 6:00 yesterday morning, a further search was conducted near the area of the crash site, and 5 more packs of compressed cannabis were found, bringing the total to 21.
ASP Alejandro Cowo said that the three persons who survived the accident have been arrested and charged with drug trafficking, and they are under police guard at the hospital. They will be arraigned for the offences when they are released.
ASP Cowo stated that Somerville's death will be treated as a road traffic accident. He said that they had not known that there was cannabis in the vehicle when they gave chase.
Related Articles
Share
About Author
(0) Readers Comments