BELIZE CITY, Mon. May 15, 2017–After a nil-nil finals game 1 at Norman Broaster Stadium the week before, defending Premier League of Belize (PLB) back-to-back champions Belmopan Bandits SC, sporting a Closing Season-long undefeated record, defended their home turf at the Isidoro Beaton Stadium on Saturday night with a late goal by right defender Ian Elvis Gaynair, a.k.a. Yellow, a perfectly placed header near the left goal post, off a corner from the right side, that gave the Bandits a 1-nil victory and the championship against a formidable Verdes FC.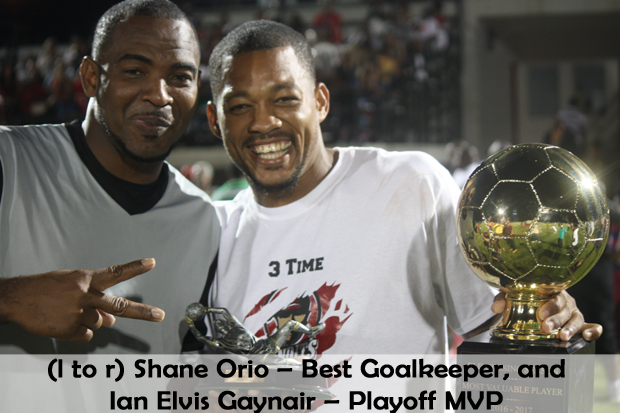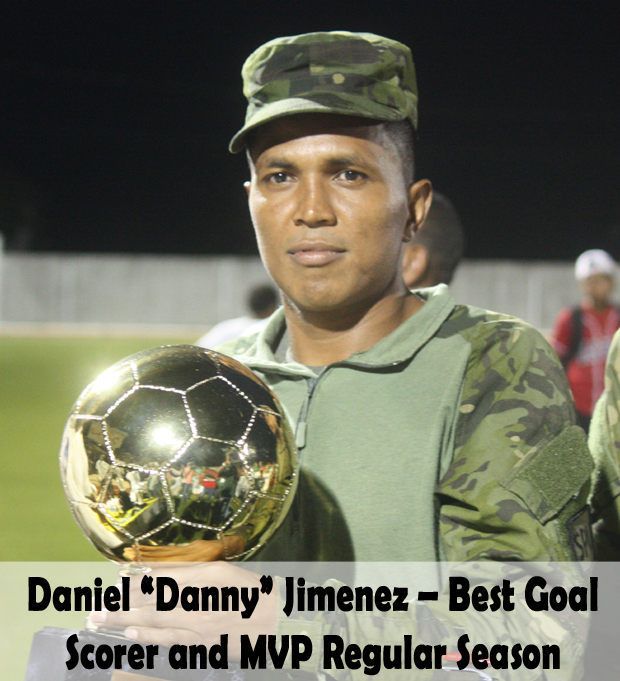 The Bandits controlled the tempo of the game, playing cautious and patient, satisfied with sweeper Elroy Smith advancing the ball slowly to near half-field and taking long salvos inside the Verdes goal area, where the tall Bandits attackers – Aloisio Teixeira and Jerome "Jarro" James had the height advantage over the Verdes sweeper Victor Cruz Mejia and stopper Rodney "Shamir" Pacheco.
Verdes defended well, but, aside from a number of long Bandits' shots that sailed over the cross bar, they also dodged a couple close calls from Bandits strikers, the most scary being in first half when Jairo Rochez got a break-away, but who was rejected by Verdes goalie Yusef Guerra on a shot from well inside the eighteen; and in second half when Bandits rookie insert, Highking Roberts unleashed low cannon from thirty yards out that Guerra just managed to divert away from goal to concede a corner instead.
Though refusing to "stretch" their own forces upfield in challenging the Bandits' outlet pass in their half of the field, Verdes was still able to mount a number of dangerous offensive thrusts through the penetrating dribbles of striker Gilroy "Bredda" Thurton, and a few solo runs all the way into the Bandits eighteen by midfielder Jarret Davis.
Bandits midfield, genius Denmark Casey controlled the tempo of the game from his position, like the director of an orchestra, and serviced the Bandits forwards and midfield with ample opportunities; but the Verdes defence and goalkeeper were up to the task, when the Bandits' shots were not wide of the mark or sailing high. In the end, with time winding down, and weary legs holding on in the Verdes defence, it was the height advantage, which had plagued them all game long in front of the goal area, that may have proved the difference; as Bandits' tall right defender, Ian Gaynair advanced on a corner from the right side by midfielder Elroy Kuylen, and executed a header to the left corner with precision, as he has done on one more than one occasion in recent memory, including on the international stage. Through a crowded field in front of the Verdes goal, the ball found its mark high in the left corner, just inside the goal post; 1-nil, Bandits, with just a minute remaining in regulation. Desperately in need of a tying goal, Verdes scrambled to insert the legendary veteran, Orlando "Leechi" Jimenez, who has performed miracles before; but the Bandits also tactfully used up some of the 4 minutes of injury time with their own final substitution; and soon referee Christopher Reid was blowing the long whistle, and the Bandits celebration began.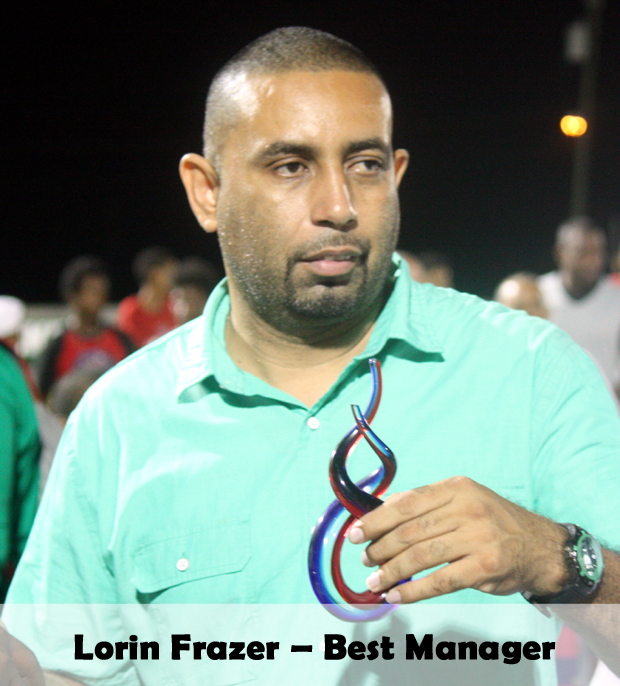 Goal – Ian Gaynair (89' Belmopan Bandits)
Belmopan Bandits SC: #1 Shane Orio (goalkeeper); #17 Tyrone Pandy; #8 Elroy Smith; #7 Ian Gaynair; #11 Khalil Velasquez; #5 Elroy Kuylen; #27 Amilton Filho (#14 Alexander Scott at 91'); #24 Denmark Casey; #15 Jerome James (#3 Norman Anderson at 72'); #9 Jairo Rochez; #12 Aloisio Teixeira (#4 Highking Roberts at 57'). Coach – Kent Gabourel.
Verdes FC: #22 Yusef Guerra (goalkeeper); #16 Everal Trapp; #18 Victor Cruz Mejia; #30 Cristobal Gilharry; #6 Rodney Pacheco; #7 Nahjib Guerra; #10 Jarret Davis; #14 Darrel Myvette (#2 San Mendez at 42'); #8 Ricardo Jimenez (#49 Orlando Jimenez at 92'); #9 Gilroy Thurton; #15 John King (#11 Jahron Myvette at 54'). Coach – Marvin Ottley.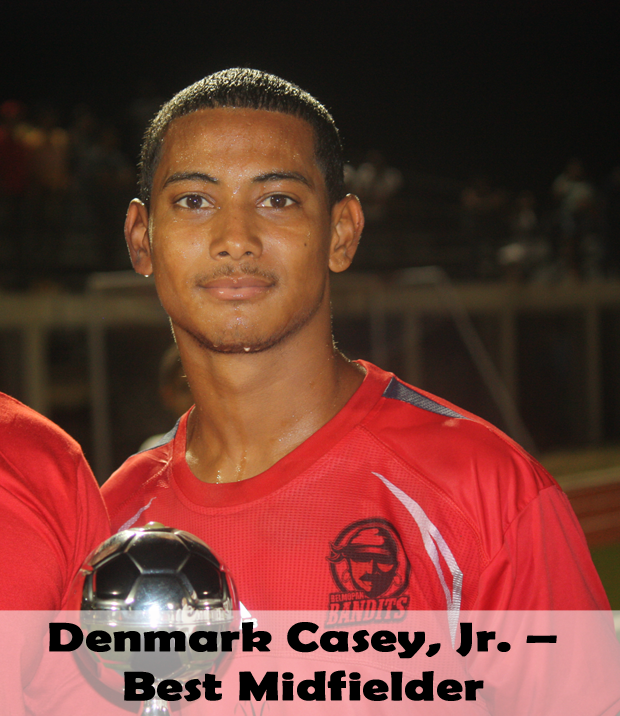 Referee – Christopher Reid.
3-peat again?
A look back on the PLB champions list in the new millennium shows that this is the second 3-peat run of the Belmopan Bandits. We need to do further research to find if any team has gone undefeated through regular season and the playoffs, the way the Bandits did to win this Closing Season.
Their first 3-peat was PLB 2013-2014 Opening Season; PLB 2013-2014 Closing Season; and #2014-2015 Opening Season.
This, their second 3-peat, included PLB 2015-2016 Closing Season; PLB 2016-2017 Opening Season; and PLB 2016-2017 Closing Season.
Prizes and awards
Following the game, PLB President Ian Haylock delivered a check for $10,000.00 dollars to the champions, Belmopan Bandits SC; and one for $5,000.00 to sub-champs, Verdes FC.
Team trophies and individual awards were then distributed. Individual awards, previously announced, were for regular season; but the Playoff MVP was announced after Saturday night's game, and it was Ian Elvis Gaynair, who scored the winning goal.
The awards list included: Best Goalkeeper – Shane Orio (Belmopan Bandits SC); Best Defender – Elroy Smith (Belmopan Bandits SC); Best Midfielder – Denmark Casey, Jr. (Belmopan Bandits SC); Best Young Player – Rene Leslie (Placencia Assassins FC); Best Goal Scorer & MVP Regular Season – Daniel Jimenez (Police United FC); Best Coach – Marvin Ottley (Verdes FC); Best Manager – Lorin Frazer (Verdes FC); Fair Play – Wagiya FC; and Playoff MVP – Ian Gaynair (Belmopan Bandits SC).
Related Articles
Share
About Author
(0) Readers Comments