Headline
— 21 September 2017
— by Adele Ramos
No-confidence resolution accuses CJ of "misconduct" in delivery of 28 judgments on the bench
BELIZE CITY, Tues. Sept. 19, 2017–The Bar Association of Belize has passed a resolution on the longstanding controversy over the extensive backlog in undelivered judgments from the bench of the Chief Justice of Belize, Hon. Kenneth Benjamin. According to the Bar, 28 judgments are outstanding, and if the Chief Justice fails to deliver any of them according to the schedule which he had sent to them on September 14, 2017, they invite his immediate resignation.
The Bar says that parties have had to wait two to five years for the delivery of those judgments, which have now been programmed to be delivered between now and December 2017. Among them are the Ramon Cervantes and Gaspar Vega case; litigation between Consolidated Water and the Public Utilities Commission for the supply of potable water on San Pedro, and the challenge of Glenn Tillett to the Belize Social Security Board and its former chairman, Lois Young.
The resolution issued by the Bar on Friday, September 15, after a meeting of its members, says: "the Chief Justice's failure to discharge his constitutional duty to afford litigants a fair hearing within a reasonable time constitutes misbehavior in office."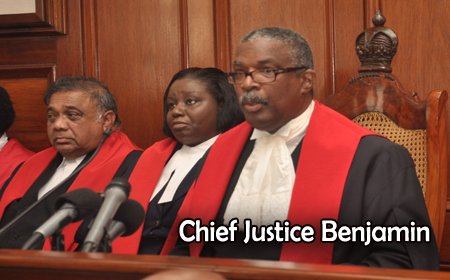 The Bar notes that the Caribbean Court of Justice, Belize's highest appellate court, had warned that inordinate delays deny parties access to justice but furthermore undermine public confidence in the administration of justice in Belize.
The resolution goes on to say that "the Bar Association of Belize has lost confidence in the Hon. Chief Justice's ability to perform and discharge the functions of his Office."
If he does not comply with his newly proposed schedule, the Bar says, and fails to resign as a result, they will file a complaint with the Judicial and Legal Services Commission seeking his removal from office on the ground of misconduct due to his failure to deliver judgments for periods ranging from 2 to 5 years, for cases on which he has sat.
Related Articles
Share
About Author
(0) Readers Comments