Features
— 21 March 2014
— by Adele Ramos
"…we cannot abandon continuing to engage with the Guatemalans, whether we believe or don't believe they are acting in bad faith, because we have thousands of Belizeans who live on that border, who share that border with Guatemala, that interact on a daily basis"
This morning at the House of Culture in Belize City, the 30-member Referendum Commission met to discuss the Belize-Guatemala territorial differendum, and this afternoon, key Government officials, including chairman of the Commission, Ambassador James Murphy; Coordinator of the Referendum Unit, Ambassador Stuart Leslie; and Chief Executive Officer in the Ministry of Natural Resources, CEO Alexis Rosado, met with the media to update the public on plans to tighten cooperation between both countries.
CEO Rosado, who heads the Belize delegation on the Belize-Guatemala Joint Commission installed earlier this year at the launch of a new roadmap, told the press that Belize remains committed to finding a legal solution to the problem, and they are trying to find a way to ensure that the public information campaign is continuous.
He said that they are also gathering data, building a great research library, and assisting in every way possible to move things to the next phase of confidence-building negotiations.
However, there is the question of whether this new wave of collaboration will bring a definitive end to the territorial dispute between the countries, since Rosado maintained today that Guatemala has still not said exactly why it decided to unilaterally pull out of the referendum slated for last October, when electorates in both countries were to vote on whether they agree that the dispute should be adjudicated at the International Court of Justice (ICJ).
Ambassador Stuart Leslie, Coordinator of the Referendum Unit in the Ministry of Foreign Affairs, said, "…we cannot abandon continuing to engage with the Guatemalans, whether we believe or don't believe they are acting in bad faith is, because we have thousands of Belizeans who live on that border, who share that border with Guatemala, that interact on a daily basis, that are driving commerce, they are going to doctors. We have to continue as a country, as a responsible country, and as a Foreign Ministry that is responsible for a great part of the territorial integrity of Belize, we have to continue to engage with our neighbor like all other countries that have a dispute. We cannot walk away from the table, 'cause if you walk away from the table what happens to those people at the border?"
According to CEO Rosado, the parties are looking to strengthen cooperation on multiple fronts, such as a review of deportation procedures to expedite the exchange of nationals serving time in the other jurisdiction – such as Guatemalan prisoners in Belize.
Another facet of their work should address the recognition of Belizean degrees and diplomas by Guatemalan institutions. The CEO noted that Belizeans often have challenges getting their paperwork accepted in Guatemala, and improved recognition would also benefit those Guatemalans who come to Belize by the busloads to attend schools here.
A third facet of the program involves the return of stolen vehicles.
We asked the CEO to address concerns by some Belizeans that the bilateral agreements between Belize and Guatemala tend to work more in favor of Guatemala. He disputed this view, saying that in the case of prisoners, for example, Belize would save on the cost of housing Guatemalan prisoners by having them return to their home country to serve their sentences there.
Trans-border crimes
In the recent months, there have been multiple foreign and local press reports of transnational criminal rings, allegedly involved in the smuggling of tobacco and alcohol as well as drugs and illegal arms—rings which are said to operate across the porous and un-demarcated Belize-Guatemala border. Furthermore, the reports of incursions by Guatemalans into Belizean territory, for illegal logging, hunting, gold panning, and other such activities, are unceasing, and some Maya farmers in Toledo have expressed concern for their personal safety, since, they say, the encroachments by armed Guatemalans are being made further inland.
We asked Ambassador Rosado how these concerns are being addressed in the context of the new road map by Belize and Guatemala.
He said that the rule of law has to prevail and any such crimes are intolerable, whether they are perpetrated by nationals or non-nationals.
Rosado conceded that there are still concerns about encroachments inside Belize's protected areas, and it is among the law enforcement issues which concern the Belize Defence Force, Immigration and Police authorities here, as well as co-managers of the national parks.
Rosado said that where criminal activities happen which affect both countries, such as trafficking in drugs and humans, these are serious issues that require that Belize and Guatemala cooperate, and that is part of what will be addressed by the Joint Commission.
On the agenda for the upcoming Joint Commission meeting is a proposal by Guatemala for police authorities in Melchor de Mencos in Guatemala and Benque Viejo Del Carmen in Belize to expand their formal collaboration.
Rosado said that security issues remain "a very high priority."
Rosewood pillaging
In response to a recent bust of illegally harvested rosewood, a Belizean forestry official told our newspaper that indications were that illegal harvested rosewood was being smuggled to Guatemala, via Belize's western border, for shipment to international markets in China.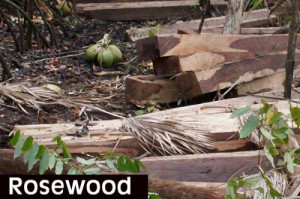 We asked Rosado today whether this is being factored into the talks with Guatemala. He said that the problem of the illegal hardwood trade is not just a problem in Belize or Guatemala and it is an area where both countries will have to find ways of collaborating. He noted that Petén, Guatemala, has suffered serious deforestation over the years, and so the Guatemalans can, likewise, identify with problems being faced in Belize with illegal logging inside the Chiquibul, reported by Friends for Conservation and Development.
Ambassador Rosado informed us that there is a move for increased collaboration between forestry officials in Belize and Guatemala, and a meeting is scheduled for both parties to advance working on a draft proposal for cooperation on the environmental front.
He said that the problem right now is that there are no structures in place, and no systemic way of collaborating—a problem which, he said, the Joint Commission is trying to address.
"We will have to start to develop a habit of cooperation. We have to cooperate in order to be able to manage the problem," said Rosado.
He added that the criminal networks take advantage of the problems on the border and as a result, "people get rich" from such activities, especially when no formal cooperation mechanism is in place.
Financing issues
According to Ambassador Rosado, governments are covering the cost of their own delegation's participation in Joint Commission activities. The work carried out by Ambassador Leslie and his team under the Referendum Unit/Commission is partly funded by the international community (the Group of Friends) via the Organization of American States (OAS).
Rosado did indicate that financing for the OAS Office on the Belize-Guatemala border has been strained, and the EU had frozen funds earmarked to assist with the execution of the simultaneous referenda, to which Belize and Guatemala committed under the Special Agreement of December 2008, to allow their electorates to vote on whether the territorial dispute should be taken to the ICJ.
Road to the ICJ?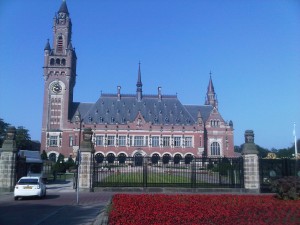 At today's press conference, Ambassador Rosado said that Guatemala never placed on record reports that its government had an issue with Belize's referendum threshold of 60% voter participation, which had been identified as their reason for abandoning the planned referendum.
However, Belize Foreign Affairs Minister Wilfred "Sedi" Elrington had told the media last March that Guatemala was asking Belize to amend its referendum law, because Guatemala had major issues with the 60% voter participation threshold set by Belize—and if Belize is prepared to amend its referendum law, then Guatemala would be willing to agree to a new date.
At the start of today's session with the press, Ambassador Stuart Leslie shared the results of a March 2013 poll of 1,500 participants, carried out by Precision Data. Leslie reported that 67% of those polled said they would participate in the referendum, while 18% were still undecided. Of those who said they would participate, 47% of them said they would vote "yes" and 35% said they would vote "no." An estimated 18% said they were undecided.
Leslie said that the indication from that poll was that the public education campaign for the ICJ was effective and people were responding to the issue in a very good way.
He said that the team has been mandated by the Referendum Commission to continue efforts to educate Belizeans on the issue.
They have also indicated that a program would be brought on-stream to fully integrate this in the curriculum of schools, from the elementary to the tertiary level.
The officials indicated that to date, they have shared information with 122 schools, 6 agencies and organizations and 3 media establishments, apart from holding a public forum at the Bliss Center for the Performing Arts. The education campaign, they said, will continue in the months ahead.
Some citizens have questioned why Government officials refer now to a claim, rather than specifying, as before, that it is an "unfounded claim" by Guatemala. In response to this concern, Rosado said that it does not really matter whether they use the adjective "unfounded" or not – he was firm that the claim "cannot withstand scrutiny at the ICJ."
In January 2014, Belize and Guatemala signed a roadmap at the OAS headquarters, setting out a 12-month program of activities to culminate with a subsequent review to determine the possibility of holding the simultaneous referenda in 2015.
Rosado also told us that the Joint Commission meets again on March 30, 2014, in Antigua, Guatemala.
The Foreign Ministers of both countries are due to meet in June, to review the work of the Commission and again in December, to look at the whole structure that has been put in place and to make recommendations on the way forward.
Related Articles
Share
About Author
(0) Readers Comments