BELIZE CITY, Mon. June 6, 2016–Today at the MCC Grounds, the finals were held for the Belize District Primary Schools Football Competition 2016; and when it was over, St. John Vianney had emerged as female champions and San Pedro RC as male champions.
Below are the teams that played today and their respective titles coming into the finals:
MALE: St. John Vianney (1st place Belize City); Hattieville Gov't (1st place Rural); Belize Elementary (2nd place Belize City); San Pedro RC (2nd place Rural).
FEMALE: Belize Elementary (1st place Belize City); Ladyville Evangelical (1st place Rural); St. John Vianney (2nd place Belize City); San Pedro RC (2nd place Rural).
Females played 15-15 (15 minute halves), while the males played 20-20; and the tournament followed a simple knockout format, with no third place games played.
Here are the results for the games played today:
In the female opener, San Pedro RC clipped Belize Elementary, 1-0, on a goal by Erica Pop.
The male opener saw San Pedro RC get the 2-0 win over St. John Vianney, with both goals coming from Ian Pou.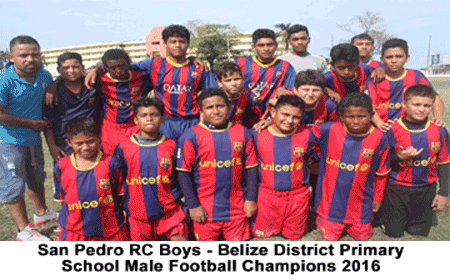 In the second female encounter, St. John Vianney edged Ladyville Evangelical, 3-2 in extra time. Shaking the net for St. John Vianney were Shantae Williams with 2 goals and Jaydi McKenzie with the other; while Dahlee Tyrell netted both goals for Ladyville Evangelical.
The second male match-up saw Hattieville Government winning in a penalty shootout, 4-3, over Belize Elementary. Scoring for Hattieville Gov't were Jaheed Baptist, Enoch Rhaburn, Lebron Robinson and Jermaine Garnett; while Jonah Chebat, Jared Mena and Ajani Vaughn scored for Belize Elementary.
The female final was scoreless in regulation, where San Pedro RC dominated, but was unable to score, thanks to fine goalkeeping by Cristie Jefferies of St. John Vianney. They were even tied in penalty kicks, 2-2, after 5 penalties were taken, so it continued in a sudden death penalty shootout, where St. John Vianney eventually prevailed, 3-2, after the seventh kick was taken. Scoring for St. John Vianney were Starlett Faber, Cristie Jeffries and Shanice Woods; while Jeinna Galves and Erica Pop scored for San Pedro RC.
The male final was a keenly contested affair, but in the end the difference was the outstanding goal scoring exploits of 14 year old Ian Pou, who netted all 3 goals for San Pedro RC, to give them the 3-2 win, over a game Hattieville Government School, who got a goal each from Jermaine Garnett and Jaheed Baptist.
The females with the most goals in today's tournament were Erica Pop of San Pedro RC, Dahlee Tyrell of Ladyville Evangelical and Starlett Faber of St. John Vianney with 2 goals each. For the males, Ian Pou of San Pedro RC had the unique distinction of netting all 5 goals for his team in the District Finals, to lead all scorers in the tournament..
Belize District champions, St. John Vianney females and San Pedro RC males will be representing the Belize District at the National Primary School Football Championships in Belmopan on Thursday and Friday of this week, June 9-10.
(Ed. Note: Luckily for the Sports Council organizers of today's event, among the fans at the MCC was Dr. Jose Luis Espat, who promptly volunteered his services when San Pedro RC Girls midfielder Karen Medina suffered an apparent double hand fracture after a fall during the female championship game. Dr. Espat was able to stabilize the injury and advise Sports Council personnel, who immediately transported the child to the Karl Heusner Memorial Hospital for treatment.)
Related Articles
Share
About Author
(0) Readers Comments