Like the legendary Miguel Brothers of the 1960s and 70s Belizean cycling dynasty, the Jenkins sisters became a household name in Belizean softball during the same period. It appeared that there were four of them that played the game with extraordinary talent; but only two made the honor role as the best among their other siblings.
It is typical that families that dominated a sport in terms of ranking among the best were fostered by their natural family heritage. It becomes a kind of domino effect that sparks one family athlete to become like the other. It is a kind of chain reaction that explodes into that competitive spirit to be good and then better than the best. This analogy can only be the best way to describe family athletes like Cynthia and Genevie Jenkins of Belize's Softball Hall of Fame.
The legendary Cynthia Jenkins, being the oldest of four family athletes, became a softball star in the 1960s before her younger sister Genevie. Cynthia appeared on the Belize softball scene in the early 1960s when other great Belizean softball players like Brenda Johnson, Pat Bennett, Sonia Buller, Isolene Heath, Consuelo Dougal and many more were Belizean softball superstars. Though they were not necessarily the first to accomplish greatness in the game, those like Cynthia stood on the shoulders of Belizean women of softball called the "Loyolans" of the 1950s Belize softball era. She might have never even known any of these Belizean softballers that paved the way for her and her 1960s peers, but Cynthia still became a star of her time.
Genevie represented those legendary Belizean softball players of the 1974 "Gold Medal Team" that won gold for Belize in the 1974 Central American & Caribbean Games in Santa Domingo. Along with many others like the legendary Beverly "Bunny" Rhamdas, Elaine Smith, Linda Lewis, Isolene Heath, Pat Bennett, Brenda Johnson and others, this classy Belizean national selection that won gold for Belize can be dubbed as Belize's best softball team in the entire history of the sport.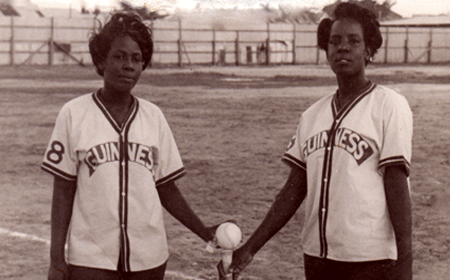 The historic photograph shows that the sisters played for the popular Belize City softball team "Guinness" at different periods in Belize' softball history. Guinness had won many national Belizean softball tournaments in the late 1960s and early 1970s under the brilliant coaching style of Coach Collet Gill. It appeared also that both of the sisters played together on Guinness sometime before the migration of Cynthia to the United States.
Though we here at Belizean Legends wish to highlight the other softball sisters, Gretel and Jenny Jenkins at another time, the most prominent of the Jenkins sisters, Cynthia and Genevie became two of Belize's most outstanding champions in softball in Belize during the 1960s and 70s.
(Photo through the courtesy of Cynthia Jenkins)