General
— 12 March 2016
— by Adele Ramos
BELIZE CITY, Thurs. Mar. 10, 2016–In commemoration of Mesoamerican Reef Day 2016 and as a highlight of Reef Week, the 2016 Eco-Audit of the Mesoamerican Reef was launched this morning at the Radisson Fort George Hotel in Belize City. It was a particularly momentous occasion for Belize, which again leads with the best results in the audit and which also has the largest portion of the reef system under its national jurisdiction.
Roberto Pott, Belize coordinator for the Health Reef Initiative, which is responsible for coordinating the audit in collaboration with over 60 partners, pointed out that there has always been a debate and even criticism over the talk of a Mesoamerican reef as opposed to the Belize Barrier Reef. The Belize reef system enjoys international acclaim as the largest in the hemisphere and it has since 1996 been designated as a World Heritage Site.
However, its proximity to and connectedness with reefs in neighboring countries—namely Mexico in the north and Honduras and Guatemala in the south—underscores the need for a more regional approach to tackling threats to the reef.
"Some of these issues are trans-boundary; some of the nutrients that we see coming into our waters are coming from across the border and then we are starting to see fishers coming from across the border, so if we get our partners from across border lines to start dealing with the same issues, it will be in Belize's interest," Pott argued.
The eco-audit looks at regional progress on achieving 28 management recommendations across 7 key themes which cover areas such as marine protected areas, fisheries, sanitation, and sustainability in the private sector.

Roberto Pott on Mesoamerican Reef concept from Amandala Press on Vimeo.
Dr. Melanie McField, director of the Healthy Reef Initiative, said that the overall regional score for 2016 is 62%. This represents an improvement over the score in the last audit in 2014, which stood at 57%, as well as the first eco-audit in 2011, for which the region received a score of 54%. Although the regional score has improved, only 3 of 28 recommendations have been fully implemented.
"We don't want this to take the next 20 years and at the rate it's going, that's what it's going to take," said McField.
While the strongest regional performance was seen with research, education and awareness at 88%, with Belize earning a maximum of 100%; the lowest regional performance was seen with sanitation and sewage treatment at a dismal 47%, and Belize earning 60%.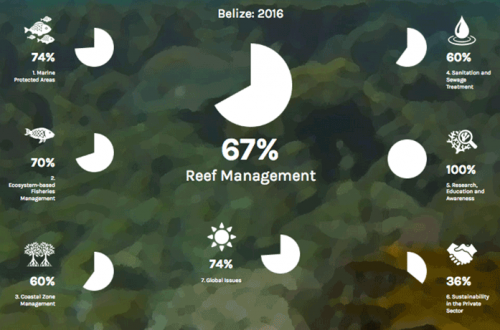 We asked McField: who needs to act to address the challenges in dealing with sewage and sanitation? She said that the solution would be the establishment of a taskforce with some of the conservation groups, and entities such as the Environmental Research Institute (University of Belize), the Department of the Environment, Public Health authorities and the Belize Water Services Limited.
"They've all got to come together and look at what can be done in what time frame," she said, underscoring the need to get the key players who can make things happen around the same table.
McField said that sometimes it boils down to money. In Belize, proposals to establish infrastructure to improve sewage and sanitation have been met with financial obstacles—just as in Honduras. In certain countries, changes in political administrations have also slowed down the implementation of the recommendations.
Dr. Melanie McField from Amandala Press on Vimeo.
Of note is that Belize attained the highest score at the national level, at 68%. Mexico was second with 64%, Honduras third with 60% and Guatemala last with 54%.
McField said that while Belize was only able to record improvements in 4 areas for this eco-audit, as compared with 9 for Honduras, the country should see an even better result at the next eco-audit due in two years, because of a decision to roll out managed access programs in fisheries and the recent adoption of a coastal zone management plan.
The main area where Belize lags behind is in fostering sustainability on the private sector front. Pott said that he has heard from the private sector that they don't get the support they would like from Government, although businesses are supposed to benefit from tax breaks for green energy investments. The industry says that the incentives are not enough and they might argue that they can do similar investments at a lower cost for the initial set-up. He pointed to projects by hoteliers in places such as Yucatan, Cancun, who, he said, have shown the willingness to make the investment because of the huge gains in the long-term. Belize, he said, should follow suit. He hopes that incentives will come on-stream to foster private sector participation.
Whereas Belize's best score—74%—is for the establishment of marine protected areas, Pott noted that areas under protection should be expanded. While 4% of coastal areas are locked off from fishing, that needs to be improved to 10%, which, he said, is needed to be able to restock fisheries.
"I am hoping that we get there…" he commented.
"I don't want us to become complacent. There is a lot of work to be done but it's looking promising. We'll probably get a good grade next report card," Pott said.
"We really have to grab the shovels and start digging in…," he urged.
Related Articles
Share
About Author
(0) Readers Comments