BELIZE CITY–The Corruption Perceptions Index (CPI) 2014, captioned "Clean growth at risk," was released today by Transparency International and again Belize has been excluded from the rankings (the government chose not to participate), so there is no telling how Belize measures up to its regional counterparts which have been ranked on the international scale.
According to the CPI report, "More than two thirds of the 175 countries in the 2014 Corruption Perceptions Index score below 50, on a scale from 0 (perceived to be highly corrupt) to 100 (perceived to be very clean)."
Generally speaking, countries in the Americas scored poorly, and the report said that 68% of countries scored lower than 50%, versus 66% last year, 2013. The average score for the Americas, although being only 45%, is still higher than the average global score, which is 43%.
Venezuela and Haiti have been ranked the most corrupt countries in the Americas, with a score of 19% and a ranking of 161 of 175, while Canada has been ranked as the least corrupt with a score of 81% and ranking of 10 of 175. Barbados is second to Canada with a score of 74%. Mexico was given a score of 35% and a ranking of 103 of 175.
Belize participated in the rankings under the Musa administration (2003-2008), but it has not been ranked on the scale since September 2008. During that period, the country's index and rankings fell substantially. While Belize was ranked 46th of 133 participating countries in 2003, it was ranked at 109th of 180 participating countries five years later, in 2008.
In 2003, Belize's index was 4.5 out of a possible 10 and it was ranked at #46 of 133, and it had regressed over the years, to 3.8 in 2004, 3.7 in 2005, 3.5 in 2006, 3.0 in 2007 and 2.9 in 2008. Its ranking fell from #66 in 2006, to #99 in 2007, to #109 in 2008 – the last year the country was ranked on the index.
Belize's online profile published by Transparency International reports a ridiculous score of "-0.077677797" under a section captioned "Control of corruption." However, Belize was among 4 countries of the Americas ranked this year. The data indicate that only 31 of 35 sovereign states in the hemisphere were ranked.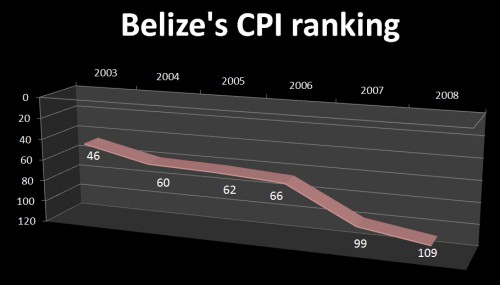 "The 2014 Corruption Perceptions Index shows that economic growth is undermined and efforts to stop corruption fade when leaders and high level officials abuse power to appropriate public funds for personal gain," said José Ugaz, the chairperson of Transparency International.
"Corrupt officials smuggle ill-gotten assets into safe havens through offshore companies with absolute impunity," Ugaz added. "Countries at the bottom need to adopt radical anti-corruption measures in favor of their people. Countries at the top of the index should make sure they don't export corrupt practices to underdeveloped countries," he said.
In a press release, Transparency International said that the CPI is based on expert opinions of public sector corruption.
It added that, "Countries' scores can be helped by open government where the public can hold leaders to account, while a poor score is a sign of prevalent bribery, lack of punishment for corruption and public institutions that don't respond to citizens' needs."


Related Articles
Share
About Author
(0) Readers Comments