Features
— 23 January 2016
— by Adele Ramos
BELIZE CITY, Wed. Jan. 20, 2016–The callous murder of American digital media producer Anne Swaney last week while she was vacationing in Belize for the second time, has sent shockwaves through what has been a very vibrant industry in Belize—one which saw record numbers particularly in the overnight sector in 2015—and stakeholders are hoping that the senseless killing of a woman who made Belize her preferred destination—like so many other US nationals—does not cause other tourists to shy away from coming to The Jewel.
The US Embassy in Belize has refuted reports that the US State Department had issued a travel advisory for visitors to Belize after Swaney's murder. In pledging to work with law enforcement agencies to improve visitor safety, the BTB said, "As always, the safety of guests visiting your businesses, our cities and our country remains our top priority."
In its 2015 tourism recap released today, the Belize Tourism Board (BTB) noted the US market holds the biggest share in the industry at 63.1%, with the European market being second at 12% and the Canadian market third, at 7% in what ended as a robust year for Belize's tourism market.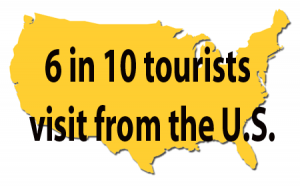 With more traffic coming to Belize in 2015, overnight tourism grew by 6.2%, with almost 20,000 more tourists visiting for more than a day, said the BTB. That's up from 321,220 visitors in 2014 to 341,125 tourists in 2015, according to further information which the BTB supplied to Amandala upon our request.
Added to those overnight numbers were 957,975 cruise passengers who ventured to Belize last year – a slight dip from 968,131 tourists in 2014.
The onset of winter in North America—Belize's primary tourism market—means that more visitors have been coming to Belize during those months, with an upsurge in numbers recorded for November and December 2015. The BTB reported "a strong increase in visitor traffic in the latter months of the year," with the bulk of the increase in overnight tourism recorded during the last 4 months of the year, compared with the same time in the previous year, 2014.
In fact, according to the BTB, "The month of December saw 39,977 overnight visitors to Belize, which is the first time in history that a month in overnight arrivals has approached 40,000."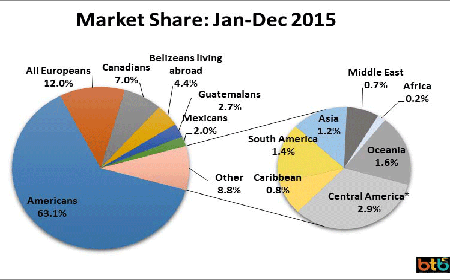 Similarly, positive news was reported in the cruise tourism sector for the end of 2015, which saw an increase in November of 9.2% (81,113 passengers) and in December of 1.6% (143,598 passengers).
New flights and a new cruise tour in 2015 also helped to boost tourism arrivals.
The BTB notes that, "2015 also marked the beginning of South West and COPA Airlines' flights to Belize in October and December respectively, boosting overnight arrivals through the international airport. Since the first flight of Copa Airlines in December, South American visitors has increased 50.3% when compared to 2014.
It added that, "For 2015, there was only 1 call cancellation in the last quarter of the year amounting to a total of 3,070 less passengers arriving to Belize. Finally, in December, Belize received the newest Cruise line – the MSC Divina."
Related Articles
Share
About Author
(0) Readers Comments