BELIZE CITY, Fri. Feb. 12, 2016–CARICOM Ministers who hold the environment portfolio in their respective countries met at the Belize Biltmore Plaza Hotel today to discuss one of the hottest topics on the international front—climate change, but also to use the momentum gained at the international COP 21 climate change forum in Paris last year to launch actions on the ground to help the Caribbean adapt, while putting in place measures to mitigate impacts already being visited upon our region by a changing global climate.
"Addressing climate change to increase our resilience to its unavoidable impacts has never been more urgent…" says Dr. Omar Figueroa, Belize Minister responsible for climate change

While there are some pundits who argue that climate change is a fallacy, others are adamant that it is real. Today, Minister James Fletcher, chairman of both the CARICOM Task Force of Sustainable Development and the Regional Coordinating Committee on Climate Change, spoke of eroding coast lines and climate variability, such as prolonged droughts; coral bleaching due to warming oceans; and ocean acidification, as well as negative impacts on wildlife. He also pointed to the theory that rising public health crises, such as Zika in the Americas, may also be linked to climate change.
"We can turn climate change into a positive rather than the negative that it looked like 12 months ago," Fletcher asserted, in speaking with the media after the meeting's opening ceremony.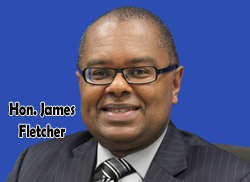 Fletcher, who is also St. Lucia's Minister of the Public Service, Information, Broadcasting, Sustainable Development, Energy, Science and Technology, said that the region has to put in place robust mechanisms to deal with climate change.
"We have to get our regional institutions to work together, since it will affect every sector," he said, pointing to food and security, public health, and water as some examples.
He underscored, though, that "a lot of work has to be done on the international front," but there are also actions Caribbean countries can take domestically, since local actions, too, exacerbate climate change, such as how we deal with plastics.
One example of an action which countries can take is building reservoirs and encouraging rain water harvesting to address water storage issues; another would be strengthening bridges and roads. To do that, though, the region must have access to climate financing.
In his welcome remarks at Friday's meeting, Dr. Omar Figueroa, Belize's Minister of State with responsibility for Environment, Sustainable Development, Protected Areas and Climate Change in the Ministry of Agriculture, Forestry, Fisheries, Environment, and Sustainable Development, said that climate change poses an "existential threat" to our region.
"Thus, we must continue this gargantuan task so as to prioritize climate change issues both nationally and regionally as we build a coalition of the willing," Figueroa said.
He added that, "Addressing climate change to increase our resilience to its unavoidable impacts has never been more urgent…. As a Caribbean community, we have declared our recognition that climate change represents an urgent and potentially irreversible threat to our societies; as such, we have no alternative but to address these issues without delay."
Whereas the global commitment is to provide financing to fight climate change, the developed countries are also expected to curb their emissions.
"It doesn't make sense just continuing to give us money if you will continue to emit greenhouse gasses at the level at which you've been emitting," Fletcher told the press. "There is a point to which the money can't help, so if you're going to have a climate that by the end of the century would have warmed up by 4 degrees Celsius, I don't know that there is any amount of money that you can give to a country like the Maldives… or maybe some other island in the Bahamas, because these islands will disappear."
He said that while countries have committed to "intended nationally determined contributions (INDCs)," the aggregate effect, even with those in place, suggests a 2.7 degree rise in temperature by end of the century.
"That's not good enough [because] for SIDs, anything above 1.5 will be catastrophic…" he said. "Anything above that… becomes a vicious cycle that we can't win."
Figueroa told the media that CARICOM has just emerged from the Paris meeting with an agreement that most countries are pleased with, and the task now is positing the region to take advantage of what the agreement offers.
CARICOM could not ask for a better opportunity than now, with Heads of Governments meeting in Placencia from February 16-17, with climate change high on their agenda, he added.
He noted that the developed countries, whose industrial activities have been said to be largely responsible for fueling climate change, have pledged US$100 billion annually, funds that should finance projects and programs to help combat climate change and its impacts.
However, at the opening of the meeting, CARICOM Secretary-General Irwin LaRocque, who highlighted access to climate financing as a main focus, noted concerns that sometimes the Caribbean leaders have to "jump through hoops" to access this kind of financing, and "sometimes the conditionalities shift and the goalposts shift."
"I think we have to prepare ourselves to be able to access that financing," LaRocque stressed, adding that the CARICOM agency, the Caribbean Community Climate Change Center (CCCCC), based in Belize, has been accredited to access funding directly from the Green Climate Fund. He also acknowledged the participation of the Caribbean Development Bank in Friday's Ministerial forum.
Dr. Kenrick Leslie, Executive Director of CCCCC, said that the Ministers present at the meeting, along with their advisors, have been tasked with putting together a document to present to the Heads of Government "to ensure that what we achieved in Paris will not fall on the wayside."
LaRocque affirmed that the region's heads will be waiting for Ministerial recommendations to put into action.
Figueroa said that while Belize has its own set of unique challenges and opportunities when it comes to climate change, there are also similar challenges experienced on the regional front. The Caribbean has been negotiating as part of AOSIS (Alliance of Small Island States), which, he said, puts us in a better negotiating position," he explained.
Ambassador LaRocque lauded the success achieved through the region's climate change dialogue.
"We demonstrated to ourselves as a region and to the world what we can achieve when we pull and pool our resources together. The sum of our voices is much larger than the sum of us who were there and I think the Caribbean continues to demonstrate that it has the intellectual fortitude and the capacity to do so, and I think we have set, you have set a new high, a new bar, for the rest of the sectors of our integration arrangement to follow," he said.
Related Articles
Share
About Author
(0) Readers Comments