Features
— 26 January 2016
— by Adele Ramos
BELIZE CITY, Thurs. Jan. 21, 2016–Director of Health Services (DHS), Dr. Marvin Manzanero, told News 5 earlier this week that Belize may already have the Zika virus (Zik-V), although Belize is not currently listed among the countries to which the emerging disease, originating in Africa, has spread.
Speaking with our newspaper today, Dr. Manzanero explained that although no cases have been confirmed in Belize, because a Zika infection may only cause mild symptoms in some persons, such as a mild fever and rash, it may go unreported and undiagnosed—particularly since there is no facility to test it in Belize. Information published by the Pan American Health Organization (PAHO), in an infographic, indicates that "1 in 4 people with Zika infection develops symptoms"—signalling that most people won't know that they have it.
According to the DHS, samples from anyone suspected of having the Zika virus would likely be sent to the US for testing, and it may take 10 to 14 days to get the results. By that time, he said, the symptoms would have already disappeared.
Of note, though, is that there may be rare complications associated with Zika, and babies born to mothers who contract the virus may suffer major birth defects, as has been reported in the case of Brazil, which has reported thousands of affected newborns.
This week, the US Centers for Disease Control (CDC) announced that there would be guidelines for screening pregnant women for Zika.
And on Monday, Jamaica, which, like Belize, has no reported cases, issued a health advisory calling on women to delay pregnancy for the next six to twelve months and urging those already pregnant to take extra precaution to prevent being bitten by the mosquitoes, given the possible link between Zika virus infection and microcephaly—an abnormal growth of the brain and stunting of the growth of the head of the fetus arising from infection in the first months of pregnancy, said a report carried by the Jamaica Information Service.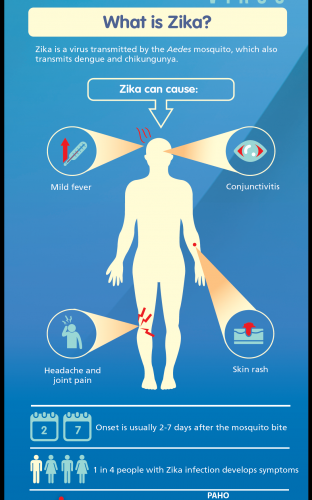 Jamaica Health Minister Horace Dalley said: "The Zika virus is inching closer and closer to Jamaica, as several of our Caribbean neighbors have reported cases," adding that "…the unborn baby is at high risk if the mother is infected in the first few months of pregnancy."
Furthermore, the Jamaica government has allocated J$200 million (or roughly BZ$3 million) for Zik-V preparedness activities across the island.
When we asked DHS Manzanero about advisories for women in Belize, he replied that his advice would not just be for women, but for everyone in the community—to take the necessary precautions to fight the vector, the Aedes egypti mosquito, which transmits the disease.
Last November, Belize issued an advisory after 5 cases of Zik-V were confirmed in CARICOM. At the time, the countries were not identified.
The latest PAHO report indicates confirmed Zik-V cases in 4 CARICOM countries: Barbados, Guyana, Haiti and Suriname, as well as 4 Central American countries: Guatemala, Honduras, El Salvador and Panama.
The week started with 20 countries in the Americas having confirmed cases since the wave of Zika infections began in 2015, and today, 3 new cases were confirmed in Florida, adding the USA to the list—even as the US CDC issued a travel advisory for nationals visiting countries where Zika infections have been found.
Related Articles
Share
About Author
(0) Readers Comments