BELIZE CITY, Thurs. Oct. 20, 2016–Uproar over the Government's decision to allow a Panama-flagged 250-foot vessel to explore Belize's waters for possible petroleum deposits and threats by a group of angry, vocal Belizeans to form a barricade around the vessel forced the Government of Belize to halt operations this afternoon, with a promise to "suspend" those seismic surveys for consultation, despite resounding calls that Belize should not even entertain thoughts of offshore drilling, perceived to be a threat to the country's tourism and fisheries industries.
Tourism stakeholders argue that tourism is the only thing holding this country together, amid the recession.
On Wednesday, tourism stakeholders called out the Government for proceeding with the seismic surveys without consulting them, and they furthermore urged the Government to stop the vessel, which was due to remain here for the next 3 to 4 weeks.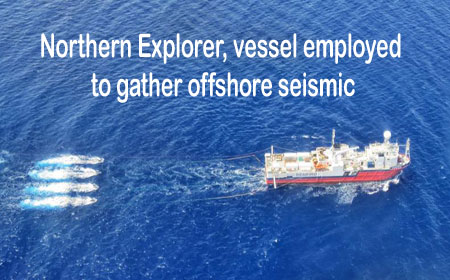 In response to concerns from the sector, the Belize Tourism Board (BTB) organized an information session at the Sunbreeze Hotel Conference Room, San Pedro, to hear presentations from Dr. Colin Young, Chief Executive Officer in the Ministry of Economic Development, Petroleum, Investment, Trade and Commerce; Chief Environmental Officer Martin Allegria, and Director of the Geology & Petroleum Department – Andre Cho.
When the session commenced after 10:00 this morning, Cho was the first speaker to present, and he could not finish his presentation because the stakeholders were adamant that they wanted the vessel to stop operating in Belizean waters.
Notably, women and high school students were today among the most vocal stakeholders, some of whom felt betrayed by the Government.
One student said the Australia reef, although it is reputed as the largest in the world, is already "dead." "How are we going to preserve jobs?" she said. "… It's BS!"
The people, most of whom are from San Pedro but some of whom traveled from communities such as Caye Caulker, Hopkins and Placencia, sent a resounding message that not only do they not want the Northern Explorer in Belizean waters; they do not want offshore drilling.
Belizeans have an overwhelming national consciousness of how dependent they are on our natural resources, and there has never been any wavering, said Janelle Chanona, vice president of Oceana in Belize, a member of the Belize Coalition to Save Our Natural Heritage, which has also called on the Government to rescind its decision.
Ninety-six percent of Belizeans who participated in an organic poll done by volunteers with no political party mechanism, said no to offshore drilling, Chanona recollected.
"What we have witnessed again is a demonstration of people power," she said, adding that what happened today is testament that Belizeans have never wavered on this position.
"Why wasn't [the plan to survey offshore] put to the public — answer the question instead of skate around it," a female stakeholder told Cho.
He said that they had had prior presentations with stakeholders, perhaps referring to a recent meeting held earlier this week.
"All we want is a law passed that there will be no offshore drilling done!" said a woman who traveled from Placencia for the forum. She explained that she did not blame the public officers, whom they felt had been led "like lambs to the slaughter." "You're here taking the lick for the people we elected," she commented.
"My anxiety level is going up," a woman said, as she rose to her feet during Cho's presentation.
"The boats are out there doing something I don't really understand… Is there any way to just stop the activity for now, because it will serve everybody better," she appealed.
As she continued her appeal, she was joined with chants from other stakeholders, demanding that a halt should be put to the activity "now!"
Tourism Minister, Manuel Heredia, tried to steer the dialogue forward, and he assured the audience that their sentiments would be conveyed to Prime Minister Dean Barrow, and that they would get a response later today; but the people were adamant, and eventually, they gave the minister an ultimatum to return to the Lion's Den with an answer by 2:00 p.m., threating to create an international incident by stopping the vessel themselves if the Government refused to do so. They also suggested boycotts against the Government.
"It is putting our livelihoods at risk; we do not want it," one audience member blurted, unconvinced by assurances from Cho that the activities are happening in Belize's deep offshore.
"The teachers went on strike because of bad governance… the people of this country are sick and tired of it and that is why you cannot make a presentation!" a male stakeholder said.
The Minister said that when he arrived at 2:10 p.m., they were just discussing what would be the final decision, and he urged for them to be given a little time.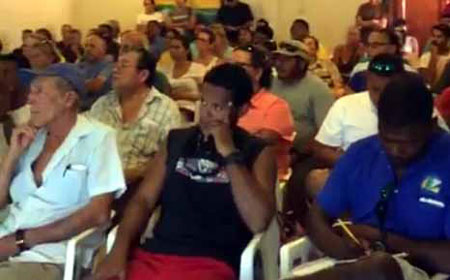 "How long do we wait?" the people asked, agitated, as they threatened to mobilize a crew to go by boat, with the minister in tow, to go stop the vessel.
They later agreed with Oceana that the news delivered by the minister was sufficient comfort for now, but warned that they would continue to monitor the vessel and the offshore to ensure that the vessel has indeed stopped seismic activities, as instructed.
At 2:26 p.m. today, the Government of Belize issued a press release, saying that seismic operations in offshore Belize have been "suspended" for consultations; which did not give much comfort to those who feared that the Northern Exploration might be waiting to resume operations in Belizean waters down the road.
"People realized very quickly that seismic has an end-game and the end game is oil. Seismic is not just done for regular data; it's done for oil data. And they realized that very quickly and so… I think they didn't even want to hear anything. They pretty much were adamant that they don't want oil," said Amanda Burgos of the Belize Audubon Society.
"Why do this test if there will be no offshore drilling? What's in the future?" asked another woman, who had supported the petition against offshore drilling.
Whereas Cho told the San Pedranos that seismic surveys do not kill reefs and do not harm dolphins, another woman, who said her father is an oil and gas geologist, insisted that seismic surveys do affect marine life, including dolphins.
Although Government officials have described seismic surveys as non-intrusive and low impact, Melanie Paz, chairlady of BTIA's San Pedro branch, told the Government officials that there had been reports today of divers reporting hearing what sounded like thunderclaps while diving, raising the concern that this seismic survey is being initiated during the tourism high season.
This morning, the diver reported to friends via social media that, "…I experienced firsthand the sound of airgun blasts underwater. Diving on the east side of Turneffe just a little north of Cock Roach Cut I heard what sounded like thunder. The day was overcast, so it didn't seem strange that there might be a storm building nearby. Shortly after, there was a second thunder clap, then another and another. I looked around at the other divers to see if they noticed anything unusual. Suddenly it struck me that what I was hearing wasn't thunder, but the sound of the seismic airgun blasts." The diver said that she reluctantly ended her dive after the experience.
"I'm sure that diving is one of the key reasons why San Pedro is the number one tourist destination in Belize, and to put it in jeopardy by approving a seismic testing program without consultation, without letting the public know, it's very unfair," Paz said.
John Burgos, executive director of the BTIA, told our newspaper that the seismic survey was approved last week and days later, the ship, the Panama-flagged Northern Explorer, was already in Belizean waters.
"We are asking for good governance, for transparency and accountability," he said, pointing to the need to get people involved and informed.
The move to venture into Belizean waters comes after the Gulf of Mexico was surveyed under a regional project dubbed Gigante, under which TGS-NOPEC Geophysical Company (TGS) did extensive surveys of the US portion of the Gulf, with some multibeam surveys already done in portions of Belize to map the seabed. The seismic surveys are more specialized, and look deeper for the prospects of petroleum deposits offshore. SeaBird Exploration, a global seismic data acquisition provider, announced that it would acquire 2D long-offset survey in Belize for the same project, starting mid-October 2016.
Nadia Bood, Mesoamerican Reef Scientist and Climate Change Officer at World Wildlife Fund (WWF), said that the sound waves put into the marine environment can have significant impacts which can expand up to hundreds of miles. She said that oil exploration, including seismic surveys, can have vast impacts on marine species and also cause the die-off of the Belize Barrier Reef, which has World Heritage Site status.
Roberto Pott, the Belize Coordinator of the Healthy Reef Initiative, said that, "It seems like all of this is rushed! There should be more time spent on gathering data and making an effort to collect more so that when these surveys are done, it reduces the chances of it having the type of negative [impact] it could have."
He also questioned whether there are any contingency plans in place to counter adverse impacts of the seismic surveys.
"It feels as if we are not doing the right groundwork before we get into this type of work, especially when it comes to seismic surveys," Pott told the press on Wednesday.
Candy Gonzalez, co-founder of the Belize Environmental Law and Policy Organization (BELPO), another coalition member, said that when Belize's environmental regulations were introduced in 1995, an environmental impact assessment was required for oil exploration, but the law was amended in 2007 to say that one "may" be required.
Our records indicate that this was the same year that then Minister responsible for petroleum, Florencio Marin, Sr., issued a series of offshore contracts. Those multiple contracts were inked on October 12, 2007, and the change to the environmental laws had already been made that March.
However, Gonzalez said that there has been a lobby at public consultations for oil exploration to be moved back to the schedule that requires an EIA. She said that "…every project, program or activity shall be assessed with the view of the need to protect and improve human health, living conditions, the need to preserve the reproductive capacity of ecosystems as well as the diversity of species."
Chanona said that when Cabinet meets next Tuesday, it plans to discuss Oceana's proposed Clean Oceans Bill, in which they are asking for 8 things, including a formalization of the moratorium on offshore drilling, as well as a firm commitment that the moratorium won't be lifted unless a binding official referendum is held on the issue of whether Belize should permit offshore oil exploration.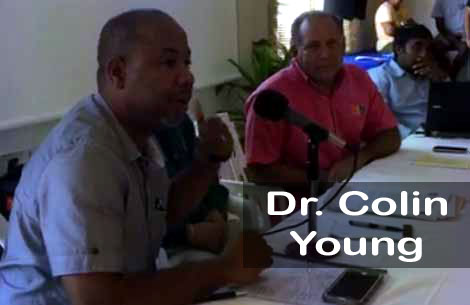 CEO Young said that the United States Government and the Mexican Government are doing seismic research, for which there is no data. Government decided that it would piggyback on this regional project.
The company's venture in Belize is billed at over US$3 million, and at today's meeting, those tourism stakeholders and other Belizeans who attended the BTB forum questioned why a company would spend that kind of money if they knew they would not get it back. While the company is fronting the cost, it is believed that it would recoup its investment by selling the data to oil-seeking companies, which then could open up the prospect of them seeking oil in offshore Belize.
There will be no drilling until the Government takes that position, and from the point of view that this company is deciding to spend its money up front, if the government and people decide there will be no offshore oil exploration, then they lose out, Young told stakeholders today.
(Images from BTB session courtesy Ambergris Today.)