BELMOPAN, Mon. July 10, 2017–The single round-robin regular season is fast winding down in the Belize National Over-40 Football Tournament 2017, and after Week 6 games this past weekend, Benque Vets FC have taken the standings lead and a sure spot in the Top-4 semifinal playoffs. Two Belize City based teams, Kulture Yabra and Pickstock Lake have a backmatch in hand, but Pickstock Lake is definitely out of playoff contention. (See standings below.) There are many possibilities in the final week of Group Stage, as 6 teams are still in the scramble for 3 remaining playoff spots. Pickstock Lake can only be a spoiler, as they are still in the hunt for their first win of the season.
On Saturday afternoon at the MCC, home standing Pickstock Lake remained winless, as visiting San Ignacio Quintas left with a 2-1 victory, courtesy of goals by Byron Gonzalez (33') and Nestor Valle (89'); while Karl Wellington (70') got the lone goal for Pickstock. And on Saturday night at the Isidoro Beaton Stadium in Belmopan, it was the visiting San Pedro Veterans coming away with the 2-1 win over Belmopan Veterans, with Jacinto Pinelo (25' & 71') netting both goals for San Pedro, while Mario Cerna (93') scored in injury time for Belmopan.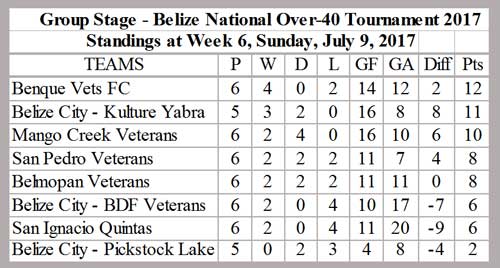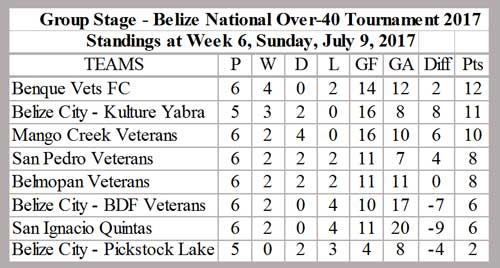 Sunday afternoon at the MCC saw the home team again on the losing end, as BDF Veterans fell, 5-2, to visiting Benque Vets FC, who opened a 5-nil lead with 2 goals from Josue Canales (25' & 30') and 1 apiece from William Henry (37'), Pablo Manzanero (55') and Rafael Gamez (65'); before BDF narrowed the gap with a goal each from Erwin "Bird" Flores (70') and Mark Loredo (76'). Meanwhile, down south at the M.A. Stadium in Independence, visiting Kulture Yabra played to a 2-2 draw with home standing Mango Creek Veterans. Kulture got a goal each from Maurice "Magic" Francis (55') and Kevin Rowland (65'); while both Mango Creek goals were by Benigno Espinoza (36' & 88').
One week (Week 7) of Group Stage games remains, along with a (Week 1) back-match between Kulture Yabra and Pickstock Lake, and then it is on to the Top-4 home-and-away semifinal playoffs.
Week 7 and backmatch schedule (tentative):
Saturday, July 15
4:00 p.m. – Benque Vets FC vs Mangro Creek Veterans – Amin Hegar Field
7:30 p.m. – Belmopan Veterans vs Pickstock Lake-I – Isidoro Beaton Stadium
7:30 p.m. – San Pedro Veterans vs BDF Veterans – San Pedro Stadium
Sunday, July 16
4:00 p.m. – Kulture Yabra vs San Ignacio Quintas – MCC Grounds
Wednesday, July 19 (back match)
7:00 p.m. – Kulture Yabra vs Pickstock Lake – MCC Grounds