BELIZE CITY, Sun. June 28, 2015–A couple dozen fans turned out this afternoon at the CET gym to support the Boxing Federation of Belize's (BFB) ongoing effort to rejuvenate the sport of boxing in Belize. BFB President, Moses Sulph, while expressing appreciation for the volunteering effort of doctor in attendance, Dr. James Williams; referee Roberto Ordonez; and judges Roberto Ordonez, Jr., Elton Anderson, Leshawn Pollard and Francis Henkis; made a call for more corporate and government support to the Federation, which is doing its best with very limited resources. "We need equipment," said Moses, lamenting the fact that a pair of boxing gloves was recently stolen from the gym.
After the singing of the national anthem, the ringside bell was tolled ten times in memory of recently passed veteran Belize City boxer, Henry Gill; and then the action began.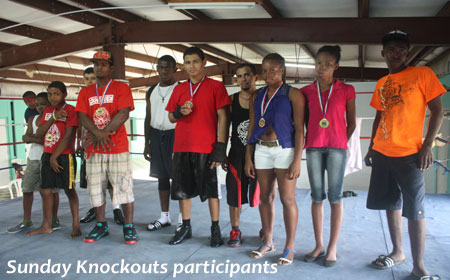 In the opening bout, 13 year old Kendis Gentle (4-0) won by decision over, 12 year old Densfield Williams (0-0), who was competitive in his boxing debut. In the second bout, Amir Rudon won by decision over Akeem Avilez in a spirited encounter. The third fight was interesting, as it showed the difficulty that is sometimes experienced when making one's debut in the ring. At the 160 pound weight, Dennis Wright, in his first outing, was very intimidated, and kept covering up from the punches by his opponent, Ruben Vancolbier, who already had one bout under his belt, and Wright's corner threw in the towel in the second round. Sisters Monique Tucker and Sassany Tucker then provided the audience with an exhibition of female boxing, where the older Sassany artfully "pulled" her punches against her younger sister, while they both demonstrated their offensive and defensive skills in the sport. Despite the use of head gear in all contests, the last male bout, between two more experienced boxers, Giovanni Rudon and Javier Esquiliano, had to be halted in the second round, after Esquiliano experienced a persistent, nose bleed.
The next event on the Belize City boxing calendar will be a "Boxing Expo" on Saturday, July 11, at Wing Stop, Mile 3 ½ on the Philip Goldson (Northern) Highway.
Related Articles
Share
About Author
(0) Readers Comments