BELIZE CITY, Thurs. Mar. 5, 2015–Belize City Mayor Darrell Bradley was returned to office today, having garnered a higher percentage of the mayoral vote than he did when he was first elected to serve as the City's mayor back in 2012. This time, he received 11,833 votes – 63% of the mayoral votes, up from the 56% portion he received three years ago.
Bradley ran unsuccessfully back in 2003, when the slate of the Opposition People's United Party led by David Fonseca, was returned to City Hall. Although he was the second most popular UDP candidate in that election, Bradley did not join the UDP slates of 2006 and 2009. It was not until 2012 that he offered himself for municipal office again, setting for himself a track record that saw him emerge victorious at the end of Wednesday's poll.
Speaking with Amandala today, Bradley said, "We are very pleased with the outcome and very grateful to voters for their continued confidence."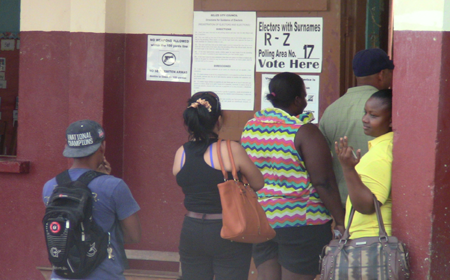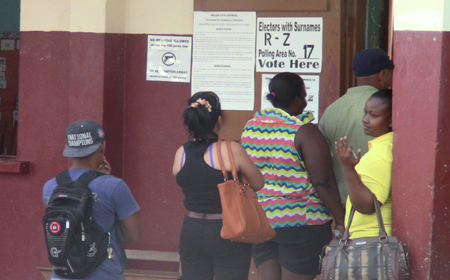 He expressed his thanks not only to his party colleagues who helped him to garner the win, but also to the staff of the Elections and Boundaries Department and to the public officers assigned to work on election day, for conducting professional elections.
Mayor Bradley also spoke well of his rivals, Yolanda Schakron of the People's United Party and Ernesto Torres, an independent candidate, who, he said, conducted themselves with a great degree of civility and political maturity during the process.
We caught up with all three mayoral candidates for Belize City on voting day yesterday. We spoke with Bradley after he voted at the YWCA, and he told us that he was "quite optimistic" about being returned to office.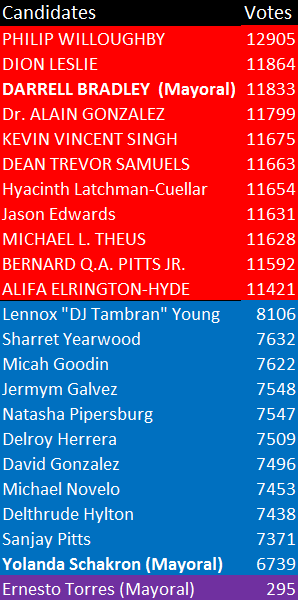 What is different this time around? Bradley said that the first time he ran for mayor, the UDP had challenges because of problems stemming from previous administrations of the UDP City Council. He said that this time, he ran on his own track record, and he noted that character and integrity have been the seal of his office for the last three years.
We have heard criticisms levied at Bradley's administration, claiming that his Council had largely neglected the Southside of Belize City; however, the UDP slate won in most of the Southside constituencies, some by as many as 5 times the slate of the Opposition People's United Party.
Bradley said that any claim that his Council has neglected the Southside is nothing but a "political gimmick," as he can point to significant infrastructural works on Central American Boulevard, as well as East and West Collet Canal. He said that they also painted and refurbished homes, and a lot of streets were fixed in the Lake Independence division, between Mahogany Street and the Haulover Creek.
These works notwithstanding, Lake Independence voted for Schakron and the PUP slate. The ground commander in that division was Cordel Hyde, PUP standard bearer for Lake Independence, who party leader Francis Fonseca said proved what the PUP knew – that Hyde is the champion for Lake Independence.
In that division, Schakron and her slate received more votes than Bradley and his slate. We met the PUP mayoral candidate on the ground in the Pickstock electoral division, adjacent to Lake I.
Schakron said that the toughest part of her campaign was seeing the great challenges people are facing, some of them because of joblessness. She believes that the Council should be more involved in addressing the crime situation in the City, especially on the Southside, and that counseling as well as more positive outlets should be provided for the youth.
The youngest member of Schakron's team is Micah Goodin, 21, a student of Galen University, who has interest in both law and education. Goodin was assigned to the Fort George electoral division, and we caught up with him near St. Mary's Primary School, one of the polling stations in that division. At the time, the division was showing a very dismal voter turnout – in fact, the most dismal for the City, at 41%.
We watched Goodin as he negotiated with a 39-year-old entrepreneur who had no intention of going out to vote. This was not a cash negotiation. Goodin convinced the voter, a father, to support him because his intention was to change the status quo for the benefit of young people, like the voter's children. The voter was in fact offended by the pittance he says voters are given for their votes by persons who tend to exploit their office for a lot more.
He said that he would hold Goodin accountable: "He made promises to my children that he will make certain things happen and I am going to hold him to that," the voter said. "If he does not, when the time comes again, don't come knocking at my door," he added.
Goodin won't get that chance—at least just yet, since his slate was not elected to office on Wednesday. However, he seemed to us to be genuinely committed in continuing to seek public office. Goodin was previously set to challenge the UDP's Patrick Faber in Collet – another division in which the slate of the ruling United Democratic Party won by a substantial margin over the PUP slate.
All indications are that he will be back on the ballot. Schakron told us that she also does not intend to give up.
"I really believe we need change, and I really want to be a part of that change," Schakron said.
Ernesto Torres, an independent candidate for mayor, told us that many voters pledged their support for him. He expected to make a better showing at the polls than he did the last time, but he again got about 2% of the mayoral votes cast by city residents.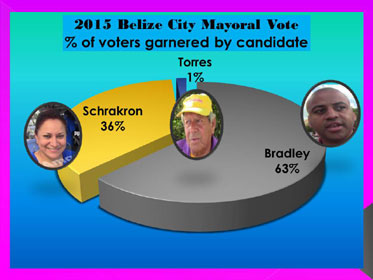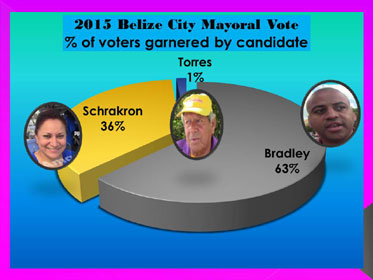 Bradley and his party have been asking voters to support them as they continue the infrastructural transformation of the City and other parts of the country.
Bradley acknowledges the need for the City to give attention to more streets, as well as proper drainage. He said that voters have seen that they have built 140 streets and they are hopeful they will get additional work done.
When we spoke with the mayor today, on the first day of his second term as mayor of Belize City, he told us that he was back at work this morning—even after a late night waiting for the election results—continuing to tackle pressing matters. The Council is faced with a $2 million debt judgment for sanitation, and Bradley said that this is something they will have to deal with come Monday.
Elected with Bradley are UDP councilors Hyacinth Latchman-Cuellar, Alifa Elrington-Hyde, Jason Edwards, Dr. Alain Gonzalez, Dion Leslie, Bernard Q.A. Pitts, Jr., Dean Trevor Samuels, Kevin Vincent Singh, Michael L. Theus, and Philip Willoughby – who received the most votes for the UDP, with 12,905 casting their X's for Willoughby.