BELMOPAN, Tues. Mar. 22, 2016–Four political heavyweights—Leader of the Opposition, Hon. Johnny Briceño, and four-term People's United Party area representative for Lake Independence, Hon. Cordel Hyde, on one side of Parliament, and the two men contending for the deputyship of the ruling United Democratic Party: Patrick Faber, UDP member for Collet, and John Saldivar, member for Belmopan, on the other side—opened the national budget debate this morning with arguments over whether Government spending had really been improving the lives of Belizeans.
Spending on national security, economic growth, joblessness, and PetroCaribe spending were some of the topics discussed. There was much debate over the Marion Jones Sporting Complex—which Hyde described as "the mother of all public fleecing." That project is still incomplete 12 years after it was initiated and its tab is to the tune of $25 million, according to the Opposition.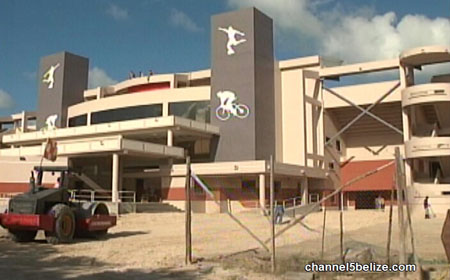 Briceño and Hyde said that the Barrow administration has spent $8 billion dollars over the past 8 years, yet there are persistent problems with unemployment and poverty. The minimum wage is still $3.25 an hour, the exact place where the People's United Party left it in 2008; crime is completely out of control and the economy is anemic, Briceño added.
The Opposition Leader said, "…this budget is a letdown. UDPs, PUPs and all of us have all been let down," and it has "nothing to make our people on the margins hope for a good year."
According to Briceño, Barrow's 8th national budget contains no meaningful plan for jobs or for an improved investment climate; and it contains no blueprint for the social upliftment of those Belizeans living below an acceptable standard. It will not result in a reduction in poverty, it will not create jobs, and it will not grow the economy enough to bring support for the struggling middle class, he added.
Briceño went on to review some of the main points of Barrow's budget presentation: the year 2015 saw a meager 1.4% economic growth, well below the projected 2.5%, and the Government overspent by more than $143 million, said Briceño, charging that "spending seems out of control."
The Government spent PetroCaribe money "bonanza style," over what Barrow called an emergency with a small "e," Briceño said, alleging that money had been squandered on "feel good projects and tacos."
The Prime Minister "whopped us" with fuel taxes to the tune of $50 million before the budget and then proclaimed that this budget has no new taxes, Briceño went on to say.
"The real picture is that Belizeans will take a hit—and an even bigger licking next year when the step-up on the Superbond is due," he went on.
He said that there are tens of thousands of Belizeans without jobs: "Over 39,000 Belizeans who want to work will not be able to get a job and thousands of new graduates will join the workforce this summer," he said.
Briceño said that only $1 million out of $1 billion in the national budget is earmarked to alleviate poverty, and the food pantry budget is being cut by $100,000 from $2.8 million to $2.7 million.
According to the Opposition Leader, the budget allocates for the constituency assist program – $0, back to school assistance – $0, and the Mother's Day program – $0.
"Sorry folks, this is not an election year," said Briceño, who added that "we are already in a recession – one with no end in sight…"
Briceño said that when he signed the PetroCaribe agreement some years ago, the role was to assist with the development of Belize. He said that this administration had spent many millions from PetroCaribe on "frivolous cheer programs instead of strengthening the economy," and on flat screen TVs and pibil.
Briceño said that when the PUP left office in 2008, the unemployment rate was 8.4% — lower than what Barrow announced in his budget presentation on March 8 this year. Inside the Commercial Free Zone in Corozal, 1,500 jobs have been lost since 2008, and 260 jobs were lost this year in the papaya industry with the decision by Fruta Bomba to abort operations in Belize, he said.
Although he had very strong criticism for Barrow's 2016/2017 budget, he did propose areas for the Opposition and the ruling party to collaborate, such as poverty reduction, the complete rollout of the national health insurance scheme, economic growth and crime reduction.
"We are prepared to take to the streets, if this government will work with us, to develop a plan to stop the killings," said Briceño, who also offered collaboration in addressing the Belize-Guatemala issue.
"Make no mistake about it, Mister Speaker! We will work with the government on finding a peaceful and lasting solution to Guatemala's unfounded claim to Belize… clear in the understanding that we will never surrender 1 square centimeter of what we know to be rightfully Belizean territory—be it land, sea or river—and we are going to protect every square centimeter of our territory," he said.
Hon. John Saldivar, the UDP member for Belmopan, who is also Minister of National Security, spoke next. He told Parliament that the allocation to his ministry has increased each and every year since the UDP has been in Government. He said that the budget for the Ministry of National Security has moved from $132 million to $141 million in the current budget. Out of last year's budget, he said, they were able to grow the Police Department by 320 new police officers, the Belize Defence Force (BDF) by 160 soldiers and the Coast Guard by 94 seamen, and they will add over 100 more police this year, 50 more seamen and 80 more soldiers.
While he did not mention completing the Forward Operating Base at the Sarstoon during the budget year, he said that they will complete the base at Hunting Caye during this financial year and will commence groundwork for a patrol base at northern Ambergris Caye.
He announced that they will acquire, for the first time in the history of Belize, two 100-foot patrol crafts which are valued at over US$10.2 mil, so that the Coast Guard will be able to properly police and manage the exclusive economic zone, over 200 miles out from Belize's coast.
Additionally, he said, over $2 mil will be spent on training for pilots to operate three helicopters which the Belizean military has acquired.
In responding to the Opposition's comments on the state of the Belize economy, Saldivar conceded that there has been a decline in the country's GDP to "a mere 1.4% for 2015," down from "a very impressive 4.1% in 2014."
He said that while those on the other side of the floor are quick to point to a slowdown in the economy, a decrease in the GDP growth is in no way indicative of trouble with the productive sector. While there was a steady decrease in oil production and prices, resulting in "heavy revenue loss," they were still able to grow the economy, he noted.
"I don't know if he noticed, but unemployment today is the lowest it has been in the last 5 years," said Saldivar.
He said that the 2008 unemployment figure which Briceño quoted has to be clarified by the fact that there was bloated spending and borrowing back then, which, he said, was unsustainable.
The unemployment rate has been declining, said Saldivar, pointing to a rate of 12.9% in 2013, 11.6% in 2014 and now down to 10.1%. "That is sustainable," he said.
Saldivar said that because PetroCaribe has slowed down, the Opposition believes that the ruling party won't figure out a way to continue the development, but, he said, "…we will figure out a way to find money apart from PetroCaribe" and all the Opposition needs to do is to watch them do it over the next four years, he added.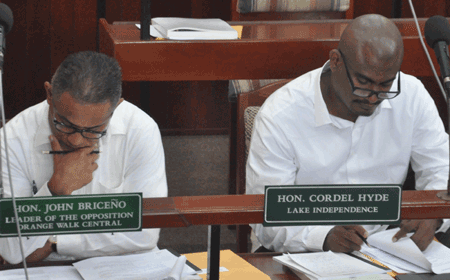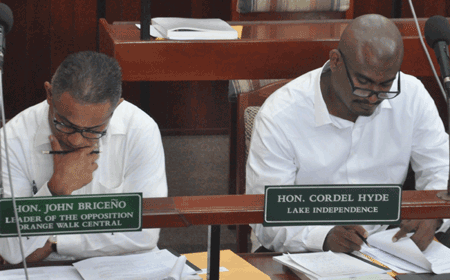 Lake Independence area representative, Hon. Cordel Hyde, of the People's United Party, spoke next. In his presentation, he said that the Marion Jones Stadium represents "the mother of all public fleecing," and there seems to be no end in sight. The budget calls for more millions for Marion Jones, as if the $25 million already spent was not enough, Hyde said. Not another dollar should be spent on Marion Jones until a full accounting is given, he suggested, insisting that, "Someone needs to tell us what's going on there."
Hyde also noted that although the budget for the Ministry of National Security increases annually, every year, the Ministry of National Security spends less—something which, he said, also needs to be explained.
He also expressed concerns about the provisions for soldiers, whom, he said, are fed corned beef and white rice three times a day and at other times, tilapia three times a day. Soldiers are complaining that they don't have boots, they don't have bullets, and their uniforms are faded: something is amiss here, said Hyde.
He said that $40,715,972 had been budgeted in 2015 for defense but only $38,780,839 was spent – almost $2 mil less than budgeted. He called on the Government to ensure that the BDF gets "every red cent" of the $41 mil approved, and while they are at it, to throw in a few million dollars more.
Hyde charged that while the government says that they are pro-poor, they are about keeping Belizeans poor. Roughly 175,000 Belizeans are classified as poor and their lives won't improve with the budget, said Hyde. He said that the Ministry of Human Development, Social Transformation and Poverty Alleviation, tasked with addressing poverty, has been allocated a mere 3% of the entire budget to fight a poverty rate hovering near 50%. That's how many Belizeans cannot afford $10 a day to feed themselves. The Government, he said, will spend more on new vehicles, streets and drains which will be built by "a handful of contractors who can do no wrong…"
An estimated $15 million has gone to feed the poor under this administration while $1.5 billion has been spent on infrastructure. "That says it all right there," he added. Government will spend 6 times more on vehicles than the Ministry of Education will spend on the entire school feeding program: $3.3 million versus $573,000, he detailed.
Hyde, a former Minister of Education, said that while he gives the Government credit for the $300 high school grant to students, it is not enough.
"There is no excuse why secondary education cannot be free in this country," he suggested, pointing to the fact that the sister Caribbean nation of Barbados introduced free high school education in 1955.
While Faber, who is the Minister of Education, Youth and Sports, did not specifically address calls from the Opposition to offer free secondary education to Belizean students, he spoke of plans to make early childhood education mandatory. Currently education is only mandatory at age 5.
He also replied to criticism of the fun day he had held for constituents last year, when it had been reported that he had spent $50,000 on a beach party in Corozal with drinks, pibil and tacos.
"Pibil is not caviar," Faber retorted. He said the decision to entertain his constituents "did not diminish the margin [in the general election of 2015]." "In fact, it increased the margin," said Faber.
The Opposition criticized the Barrow administration for $44.7 million in PetroCaribe spending for the last quarter in 2015, a portion of which the Government said was spent on relief from the flood which inundated the City last year.
Faber defended the spending of $1.9 million on flood relief. He said that homes in his constituency were under water and he had requested over half-a-million dollars—not for flat screen TVs as the Opposition had alleged—but to buy decent mattresses for his constituents, because their mattresses had been soaked, and to provide warm meals, blankets and very basic materials for flood victims.
"Every dime allotted in Collet was spent on the people and their needs," he said, taking umbrage with suggestions from the other side that he had pocketed Government funds.
"I didn't get any money… I don't walk around with the Government's money in my pocket – maybe you did so, because that was your practice," Faber rejoined, when challenged.
The PUP's member for Fort George, Rt. Hon. Said Musa, said Faber, the "wannabe PM," could not concentrate on today's budget so he harped back to the budget of 2006, making him feel that Faber has an obsession with him.
(Faber had spent a good portion of his presentation reviewing the state of affairs when Musa presented his 2006 budget, which, he noted, marked the 8-year mark of Musa's administration, akin to Barrow's current 8-year milestone this year. At the time, Faber said, Government imposed a salary freeze, while the Barrow administration will this year pay its third salary adjustment. Faber saluted the Prime Minister/Minister of Finance, for the raise approved for teachers. They work hard and are deserving of those rewards, said Faber. He also said that 28 cents of every dollar would be spent on education.)
"He [Faber] spoke for 1 hour and 20 minutes and it was a lot of hot air," Musa said.
Musa, who himself took a lot of heat for his administration's financial policies during the period 1998-2008, went on to lambaste the Government for its spending, saying that the Government had been on a spending binge like a proverbial drunken sailor—taxing, borrowing and spending millions more.
The PetroCaribe loan funds have been squandered and so too has $160 mil in budgetary support from Taiwan, which has been providing roughly $20 million every year to Belize, Musa said.
"This government, from the time they came into office in 2008, has not been able to present a single balanced budget — no surplus and this one is one of the worst," Musa charged.
Orange Walk East area representative for the UDP, Hon. Elodio Aragon, Jr., said that while the Opposition had indicated that $25 million had so far been spent on the Marion Jones Sporting Complex, the Government's records show that $17.5 million had been spent thus far.
Aragon said that the project began when the PUP was in government, and the current administration cannot account for the rest of the $25 million which ex-prime minister Musa had mentioned as the running tab for Marion Jones.
"We can only account for the $17.5 million [spent] under the UDP government," Aragon said.
The PUP's Freetown area representative, Hon. Francis Fonseca, said that the national budget does very little to advance the well-being and interests of the Belizean people and nation.
"It exposes the lie and it exposes the danger of years of enjoying the PetroCaribe and the oil bonanza with no plan for the future. It is one thing to enjoy that party if you have a plan for the future, but it's a sad, sad occasion when you are engaged in that spree – and don't use that opportunity to plan for the future," Fonseca said.
He said that while Barrow had captioned his budget "stability in times of change," that is code language for "tighten your belt."
"The party is over, hard times are here and hard times are coming. That is the reality," Fonseca said.
The budget debate is set to resume tomorrow, Wednesday, March 23.