General
— 25 November 2017
— by Rowland A. Parks
LADYVILLE, Belize District, Fri. Nov. 17, 2017–The body of a British woman who worked as a volunteer at the Liberty Children's Home in Ladyville was found decomposing inside an apartment she rented on Perez Road, Ladyville.
Michelle Anison, 46, was late in paying her rent and was not answering her cellphone, so her landlady decided to pay her a visit at home.
When the landlady arrived at apartment #6 and called out for Anison, she did not get a response. Upon checking further, the landlady was overwhelmed by a foul smell coming from Anison's apartment. Upon entering the apartment, the decomposing body of Anison was discovered lying face-up with multiple stab wounds in the body.
Anison's personal identification documents were missing, as well as her Nissan SUV.
Anison has been living in Ladyville for about five years. She lived alone, but was also known to be friendly with a wide cross-section of village residents.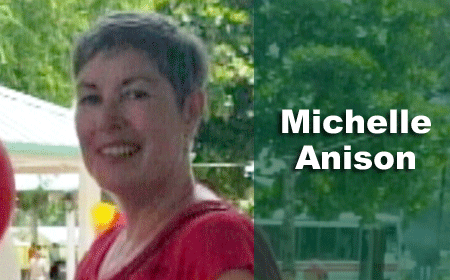 Anision was last seen alive last Monday, said Assistant Superintendent of Police, Alejandro Cowo, at a police press briefing today, Tuesday.
Cowo said, "Upon inspection of the body, it had several stab wounds in the chest and in the neck area. The information we have is that the last time she was seen alive was on Monday, sometime after 10:30 in the morning."
Cowo added, "Her vehicle is up to now missing, and other belongings are also missing."
When he was asked if there had been forced entry to her house, Cowo replied, "There was no forced entry into the apartment, and so far, we have four persons that were detained. One was detained yesterday, and we are presently conducting interviews with them so as to see what kind of evidence we can get."
Cowo said police had gotten information that Anison had been out socializing with villagers.
"Yes, we have gotten information that she is a very friendly person, and that she was out with the villagers, socializing with them. But the important thing from the information we got is that she had never taken anybody to her house to socialize. All the socializing that she did was outside in the establishment, but not at her house. We are looking at some individuals that we believe was close to her …"
Anison's body was buried immediately after it was found due to the advanced state of decomposition it was in.
Related Articles
Share
About Author
(0) Readers Comments