Latest
— 30 May 2018
— by Albert J. Ciego
SAN IGNACIO, Cayo District, Sun. May 27, 2018– Well-known tour guide operator Carlos Panti, 47, also known as "the Caveman," of San Ignacio, was driving his vehicle to San Ignacio from Benque Viejo Del Carmen, on the George Price Highway, when he lost control of his vehicle, which overturned in front of Logs Cabin.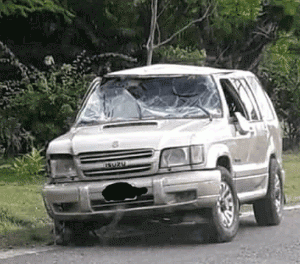 When the vehicle overturned, Panti was thrown out and suffered head and body injuries when he landed on the pavement. He died almost immediately.
Police found Panti lying face-down on the pavement, about 10 feet away from his vehicle, with massive injuries.
Carlos Panti was known as "the Caveman" because of his vast knowledge of the caves. He used this knowledge to educate tourists when he took them to explore the ATM caves in San Ignacio. Panti would educate them about the caves, the medicinal properties of the jungle plants, Mayan history, and about many other things, including the geology of the area. Many people went to San Ignacio just to go on his tours.
Related Articles
Share
About Author
(0) Readers Comments