Headline
— 15 July 2017
— by Micah Goodin
ORANGE WALK TOWN, Orange Walk District, Thurs. July 13, 2017–Last Thursday, a Belizean man who lives close to the Belize-Mexico border was busted by police and BDF officers with close to 100 BDF uniforms. He was temporarily detained by police and released without any charges.
Our newspaper grew concerned when we learnt that the man enjoyed cozy relationships with senior BDF officers, who enjoyed cozy relationships with ruling UDP politicians.
Last Thursday, a Mexican national on his way to Mexico from Orange Walk Town was also busted with a bundle of BDF uniforms. When officers inquired where he had gotten them, he pointed to the Orange Walk residence of Sarco Torres. Police went to Torres' house, where they found close to a hundred uniforms, and BDF boat engine parts inside his home. He and two men at his residence were detained.
While in police detention, Torres contacted BDF Major, Jermaine Burns, the brother of UDP Belmopan City Councilor, Jacklyn Burns, a long-time loyalist of Defence Minister John Saldivar. Amandala has obtained copies of their text messages in which it was made apparent that certain parties did not expect BDF soldiers to be in Orange Walk at that time.
After a brief detention, Torres and the other men were released from police custody.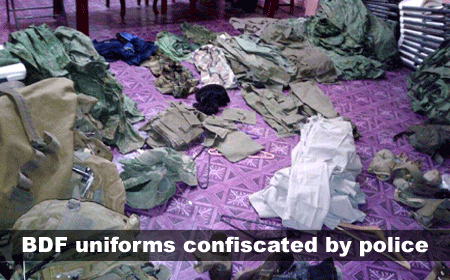 Information to Amandala is that the Ministry of Finance had gathered 1200 unserviceable BDF uniforms. Sources at the Ministry of Finance say that Torres was one of the men contracted to dispose of uniforms the BDF had written off, but instead he chose to salvage some. It is not yet known if other persons engaged in the disposal also took the opportunity to salvage some of the uniforms.
In the past, possession of those uniforms would have led to criminal charges but during his press conference in Belmopan on Friday, Commissioner of Police, Allen Whylie, told the media that that practice was done away with.
"In the past, I can recall, we used to charge people for being in possession of uniforms, but I was told that there was some challenge to a case that we had many years ago and the practice had ceased in terms of charging for those things," he said.
When the media asked if he suspected that the salvaged uniforms would be transported to Mexico, Whylie said, "I think you are asking me to speculate in terms of what the items were doing up there or how they got up there. I would be very concerned if equipment of a military nature from Belize, like the uniforms, would get in the hands over the border of any perhaps criminal elements."
Experts on the narcotics trade say that Mexican drug cartels have developed a reputation for wearing military paraphernalia during their execution of some extremely heinous crimes.
BDF Commander David Jones has not yet commented on this matter. His CEO has indicated that he was waiting on the results of police investigations, even though the police have indicated that no crime was committed by Torres.
We understand that the US Embassy is looking into the affair of the salvaged uniforms.
Related Articles
Share
About Author
(0) Readers Comments