BELIZE CITY, Mon. Apr. 10, 2017–Wednesday 12th April 2017 marks the 220th year since the forced arrival of the Garinagu to the shores of Central America. Europeans coveting the Eastern Caribbean Islands my people happily inhabited for millennia, stole it. The Garinagu, having survived hurricanes, earthquakes, fire, drought, pestilence, illness and conflict; found themselves at war for our home islands. We lost that war to forces driven by greed, God and country.
Those greedy predatory Britons then imprisoned the just over five thousand surviving Garinagu on barren Balliceaux to die in an attempted genocide. The just over twenty-five hundred survivors of that attempted genocide were the ones shipped and, landed on Roatan, Honduras on Wednesday 12th April 1797. (The Gregorian calendar was only 214 years old, having been introduced in October 1582. Greedy Great Britain had only been using the Gregorian calendar 45 years).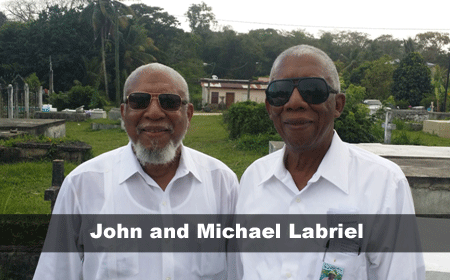 This story is really about my 90-year-old stepmom, Elena "Edith" Labriel, better known as "Tita," "Ms Eds," "The Ideal Lady" (maker of a sweet, cold, refreshing drink on hot days), and "Grama Ta," who died in NYC, Monday, 13th March 2017. She was mother of a big sister and a big brother to me. Great cookshop cook Crecencia "Julia" and, the fastest St. Peter Claver School track and field runner I ever saw, John "Baby John" Petillo. Julia worked at Meches' Cookshop adjacent to the big screen cinema, Cine Caribenia, on Front Street Punta Gorda Town. The fastest runner I rubbed elbows with, Baby John, ran with his palms open, using his open palms to improve his body's aerodynamics. Tita's surviving son, my brother Elvis "Pressh," is the baby of Grama Ta's three children. He is a radiologist at Montefiore Medical Center in New York City. Montefiore M.C. is a teaching hospital for the Albert Einstein College of Medicine.
What I didn't know until April 2017, is that Tita had very many siblings, including three brothers: Michael, John and Wellington Labriel who attended St John's College. Two of whom competed with Amandala Publisher Evan X "Power" Hyde in elocution (the skill of clear and expressive speech, especially of distinct pronunciation and articulation) at SJC.
I caught up with Dangriga resident, retired Electro-Mechanical Engineer Michael; and his brother, NYC resident, Labour Union Organizer, John at Mount Olivet Cemetery in Peini (PG). These brothers clearly remember that elocution competition and the baseball games played at SJC in the early 1960s. They follow the work of X Hyde in the Amandala. They also follow the work of labour unions in Belize, including the BNTU's ongoing battle. John Anthony seems unwilling to retire from the frontline battle between labour and capital, organizing labourers, for them to get their fair share of the capital produced by the union of land and labour. It's a never ending struggle; especially when capitalists' share is growing by leaps and bounds at the expense of labour and land, aka the environment.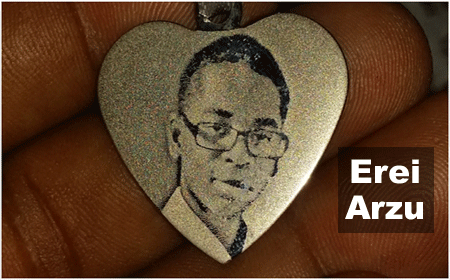 My stepmother, Elena "Tita" Labriel, born Friday, 13th August 1926, was the eldest child to her parents, Canuta Martinez and William Labriel. She was mother of Cresencia "Julia" Petillo (deceased), John "Baby John" Petillo (deceased), and Elvis Arzu.
She was grandmother to Anthony Munoz, Roy Lawrence Guttierrez (deceased), Shawn Lozano, Sheraine Petillo-Nicholas, Erei Arzu (deceased) and Emenigi Arzu.
Great grandmother of 12; great great grandmother of two.
Elder sister to Michael, John, Wellington, Lucy, Rodney, Victor, William, Cesar, Myrna, Herman, Hector, Benjamin, Leticia, and Myra.
Aunt, grandaunt, great grand aunt, cousin, friend and good neighbour to many.
The celebrant at the Thursday, 6th April 2017 funeral service was Fr. Andres Vall-Serra, SJ at St. Peter Claver Church; first reading by Hazel Cayetano, second reading by Indira Labriel; collectors Mark Arzu, Howard Labriel and Anthony Munoz; offertory procession by Shawn Lozano, Aisha Castro, Shardee Gamboa and Sheraine Petillo; eulogy read by Senior Counsel Philip Zuniga.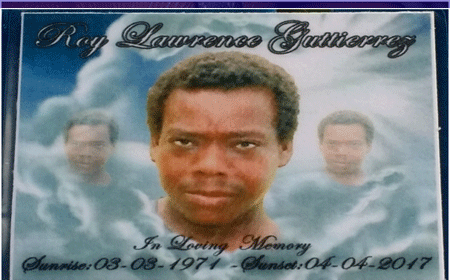 My nephew, 16-year-old Erei Arzu, died following an unforeseen collapse and short hospitalization, on Sunday, 2nd October 2016 in NYC. He would have celebrated his 17th birthday, Wednesday, 12 April 2017. His cousin, 46-year-old Roy L. Guttierrez died Tuesday, 4th April 2017 following a struggle with illness in Peini. Thursday's funeral was for my brother's mother and her two grandsons.
The wake for proud Garifuna woman Edith Labriel, and her two grandsons was lively. Vocalist Lascelle Martinez, his keyboard and guest vocalists rocked. However, around 2:30 a.m. Joseph "Fancy Joe" Lewis took the "mic" and gave a television broadcast worthy, four song set, featuring what appears to be roller skating dance moves.
May 90-year-old Elena "Edith" Labriel, and her two grandsons, Roy and Erei, rest in peace.
Julie C. Arzu
@jcarzu
KREM RadioTechnician, Board Operator for Belize Musicians Past and Present