by Santino "Chief" Castillo
BELIZE CITY, Thurs. Feb. 22, 2018– Today, 27 riders lined up and took off from Leslie's at 6:00 a.m. Joining us was Belizean Dwayne Wade from Chicago, who came to feel the power of our Elites; and, boy, did he feel them. Due to the repairs before Barton Creek Bridge, we had a lead-out to the bridge, and changed the route by going to the Junction at Boom Village and back to Hattieville for the finish. This gave us 24 race miles.
As has been happening recently with the Elite riders, the start was brutal; and since it was a tailwind, they drove it hard, with our top speed reaching 35 m.p.h. Within 5 miles, riders were getting dropped. Team Smart then put two of their guys in the break, namely Joshua Fuller and Phillip Leslie. A mile before Hattieville, Brandon Cattouse and Kaydine Pinelo bridged across; and by the time we reached Hattieville, the carnage was clear to be seen, with the chase peloton reduced to about a dozen riders. However, despite many big names in this chase peloton, the front 4, of which 3 were Smart riders, were more cohesive and determined. Brandon being the sportsman he is, gifted the race to his two domestiques, Joshua Fuller and Phillip Leslie, who took 1st and 2nd, respectively, and even the 3rd place to Kaydine Pinelo taking the 4th and final position in that front group. Their time was 52 minutes 10 seconds, for a smoking average of 27 m.p.h.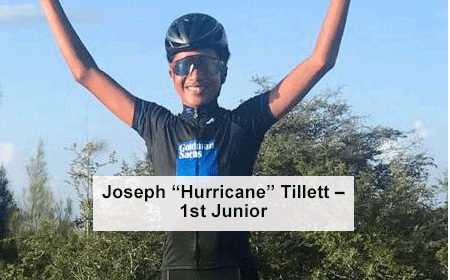 A minute and 35 seconds later, what remained of the peloton arrived in a time of 53:45, which was an average of 26.5 m.p.h. Winning that sprint for 5th and first Junior was the youngster Joseph "Hurricane" Tillett. Coming in 6th was yours truly, the Chief, winning both the Weekend Warriors A & B prizes; 7th was my teammate, Warren Coye; 8th was Chris Andrews; 9th was my other teammate, Leroy Cassasola; and rounding out the top 10 was Kent "Bob" Gabourel, who did the yeoman's work in the chase group.
Thanks, guys; and see you next Thursday again.
(Sports Ed. Note:  Weekend Warriors Chairman, Jerome Williams informed us that Dwayne Wade, the guest rider mentioned in the Chief's introduction above, is the younger brother of Jerome and Elston Wade, no strangers to the cycling family.)
Related Articles
Share
About Author
(0) Readers Comments