BELIZE CITY, Sun. Apr. 22, 2018– Good night, Football Family!
The City Boys 10 & Under Grassroots Tournament 2018 concluded on Saturday, April 21, at the Yabra Field with the 3rd Place & Championship games.
In the 3rd place game, Reality Youths drew, 1-1, with Poor & Famous in regulation. Reality Youths then won in penalties, 3-2, to secure 3rd place.
The championship game was a blowout, as City Boys Jr. won, 5-0, over Ladyville Rising Stars.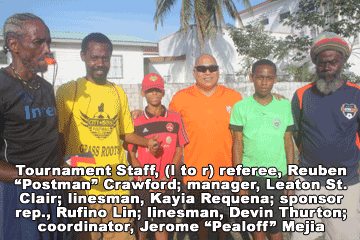 TROPHY/AWARDS CEREMONY
Individual awards distributed were:
Most Goals – Jareth Tablada (Ladyville Rising Stars)
Best Goalkeeper – Tyrone Linares (City Boys)
Best Midfielder – Khyree Stevens (Ladyville Rising Stars)
Best Defender – Kenyon Barrow (City Boys)
Best Coach – Richard Nunez (Reality Youths)
MVP Playoffs – Calvin Thurton (City Boys)
Team trophies were:  3rd Place Trophy – Reality Youths; 2nd Place Trophy – Ladyville Rising Stars; 1st Place
Trophy – City Boys Jr.
Thanks to:  Sol Belize Ltd. and representative Mr. Rufino Lin; National Sports Council and Director, Mr. Ian Jones; all parents & fans.
Stay tuned for City Boys Grassroots 2019!!!
Grassroots Football for All….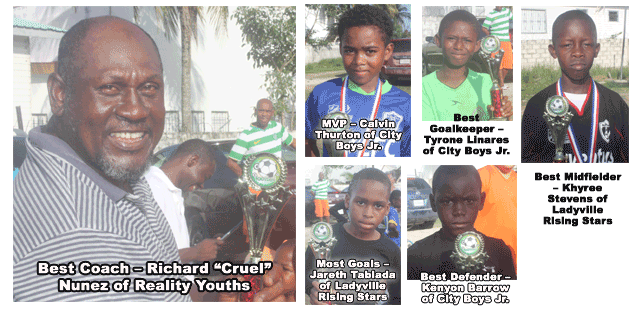 (Amandala Sports Ed. Note:  According to tournament manager Leaton St. Clair, aside from uniforms and equipment donated from Yabra sponsors in the U.S., all the tournament trophies were donated SOL Belize; FFB donated the footballs; and the National Sports Council covered the operational costs of the City Boys 10 & Under Grassroots Tournament 2018, which kicked off on February 10 and was concluded on Saturday, April 21.)