General
— 02 December 2017
— by Rowland A. Parks
BELIZE CITY, Tues. Nov. 28, 2017–Last Tuesday, Clinton Arthur Davis, 53, did not return to his family and home at Mile 5 on the George Price Highway. On Friday, his badly decomposed body was discovered about 150 feet from the entrance of his property. A piece of stick was stuck down his throat. An autopsy was performed on his body in Burrell Boom, and the body was then transported to Mile 13 on the George Price Highway, where it was buried.
His family is planning to hold a memorial service to bring closure to his tragic end.
In the meantime, police are continuing their investigation of the murder of the real estate agent, who, his family has confirmed, was involved in a dispute with a family member over the property on which he has been residing for over three decades.
In their press briefing on Monday, November 27, police would only say that they have detained a number of persons for questioning, but no one has been charged with Davis' murder.
"One (person) was recently detained this morning and he is being questioned in regards to some information that we had received that might lead to clarify what happened on that date," Assistant Superintendent of Police, Alejandro Cowo, the officer in charge of Crime Investigation Branch, Belize City, said at the press briefing.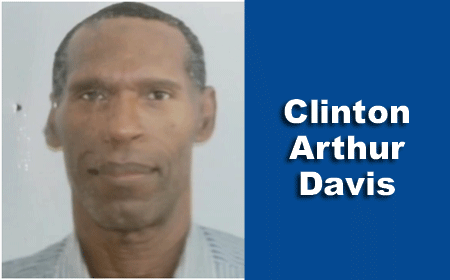 ASP Cowo was questioned about information that police had received about a body that was thrown in the sea in the area near the Old Belize marina. He confirmed that police had indeed been told that a body was thrown in the area, but when they went to the area, they did not locate a body.
"Well, the information we got was that he heard some argument there, and so he called the police. That is all the information that the person provided," ASP Cowo told the media.
He also confirmed that there was a dispute involving Davis over the property he called home.
"Yes, it is something that we believe is a land dispute. One of the brothers had made a complaint about two months ago. He was sent directly from the Lands Department to the Police Department so they can follow it up," ASP Cowo stated.
Davis' brother had been detained in connection with the police's investigation of his murder, but he has since been released.
"Well, he was detained on Friday and he was questioned, but he had to be released because we didn't have any direct evidence to link anything to him," ASP Cowo said.
Today, Tuesday, Davis' wife of 32 years, Alice May Elizabeth Davis, 53, and his daughter, Leanne Davis, 22, spoke to Amandala.
Mrs. Davis said that her husband went to Belize City to buy food for their home.
"My daughter went to the city and she told me she saw daddy and he told her that he didn't get the eggs and something else. She said he told her that he was going to buy those and then he would take the bus and come back, and that was it. I never saw him again. He never did come home," recounted Mrs. Davis.
Leanne said she last saw her father around 5:00 p.m. in the Pound Yard area.
"We spoke and he told me that he bought stuff for tea and he was going to head home," she said.
Referring to when she returned home on Tuesday night, Leanne said, "my father wasn't here. I asked my friends if they saw my father. They told me that they didn't see him. They told me that I should let my mother file a missing person report, but she never got the chance to do that."
Leanne added, "The Friday when they found my father was when we saw the two police vehicles on our property."
Mrs. Davis explained that her husband's body was found 150 yards from the entrance to the property, but on the property itself.
"We were serving food when the officers came onto the property and my daughter was the first one to come and tell me, 'Mommy, you know they find daddy,'" Mrs. Davis said.
Mrs. Davis said that on Tuesday night, the same night her husband failed to return home, "some officers came out here and said that someone was floating in our waters. And I told them that we didn't see anything out here floating. I took them to the fence by the Old Belize side of the property and some of them asked to borrow a flashlight. We didn't have any flashlight, so they used their cell phones' flashlights. But they didn't see anything. They went over there, and didn't find anything, so they left."
Mrs. Davis explained that she walked out to the entrance of their property to check to see if her rope was tied at the entrance. When she got out near the side of the road, another police vehicle was approaching their property, but the first vehicle was already leaving, and the officers told their colleagues in the second vehicle that "it wasn't here."
"The officers told me to wait for a day or two more before I make a missing person report," Mrs. Davis said, adding, "I told my daughter to put out a message on her Facebook page."
Mrs. Davis explained that perhaps they did not smell the decomposing body of her husband due to the direction in which the breeze was blowing. "We didn't see anything, not even a 'Jan Crow' [a vulture]," she said.
Mrs. Davis said her husband had a brother with whom he had a tumultuous relationship.
"We go to court; they bound them over to keep the peace. They come here on some Sunday to clean that piece of land over there before they were bound over to keep the peace," she said pointing to the western portion of the property.
Mrs. Davis explained that the land was given to her husband by his mother when it was leased land from the government. "He developed it and paid the purchase price for the title," she said.
Leanne said the police picked up some evidence from the scene where her father was found.
"They picked up a walking stick that doesn't belong to my father, and a spear gun," Leanne said.
Leanne spoke about a young man who had threatened her father who had come to the property with her uncle on several occasions.
"Police have him detained right now for questioning," Leanne said.
The person she referred to has already been released by police.
Related Articles
Share
About Author
(0) Readers Comments