BELIZE CITY, Thurs. Feb. 25, 2016–After seeing a decline of nearly 1 percent in 2015 consumer prices rose 0.4% for January 2016, while export earnings shrank by almost 30% according to reports which the Statistical Institute of Belize (SIB) released this week. The SIB said that imports also slumped, with reduced flows to the Commercial Free Zone, where cigarette imports were down by $8 million, and the Export Processing Zone, where shrimp feed imports fell by $3 million.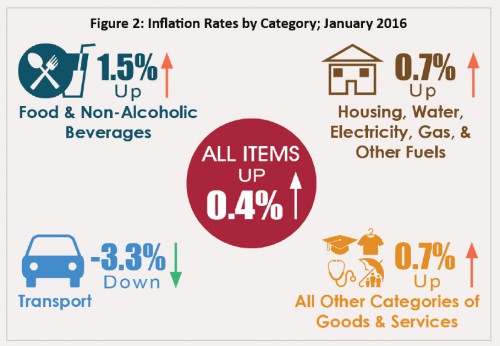 Two of Belize's main export sectors, crude and sugar, did well in January 2016, when earnings were compared to last January's earnings, but earnings from bananas, citrus concentrate and shrimp had declined.
According to the SIB, "Crude petroleum, which recorded no exports in January 2015, brought in earnings of over $3 million during the first month of 2016.
"Despite fetching a lower price on the European market, sugar exports were buffered by sales to the Caribbean region, and grew from half a million dollars in January 2015 to almost $2 million, as the quantity of this product exported almost tripled in comparison to January 2015."
Meanwhile, earnings from animal feed exports doubled from $2 million to $4 million.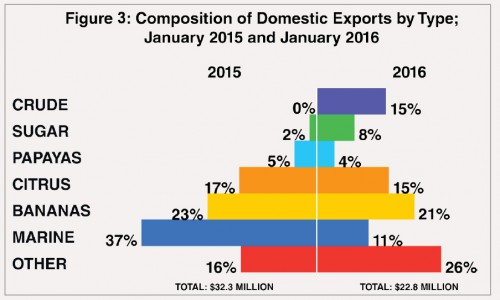 Belize also imported less last month than it did last January—a difference of over $10 million. While the country's imports were valued at over $140 million in January 2015, they were valued at $131 million in January 2016. This also represented a decline from December 2015, when the country's import bill was nearly $180 million.
Meanwhile, exports, which fell by nearly $80 million in 2015—from $614.4 million to $535.3 million—continued on a downward trend. Belize exported $22.8 million worth of goods in January 2016, down 29.5 percent or $9.5 million from the $32.3 million recorded in January 2015. However, this represents an increase over December 2015, when Belize's exports were valued at $20 million.
With adjustments in import duties on fuel, pump prices, which were down last December, were up this January when compared with prices at the pumps in January 2015. This trend was observed although world market prices for crude were substantially lower. On January 13, 2015, there had been a substantial decrease in pump prices for gasoline of over $3.00 a gallon.
According to the SIB, "The average price of premium gasoline was up by 15.4 percent when compared to the same month last year, while that of regular was 7.7 percent higher. Only diesel saw a decrease in its average price per gallon, declining by 9 percent during the period."
It added, though, that the decline in diesel prices, combined with a 39% fall in international airfares, offset the increases observed in the other types of fuel during the month.
The prices of food and non-alcoholic beverages were up by 1.8% on average, according to the SIB. The highest price increase was seen for flour—from 78 cents a pound last January to $1.97 this January, or an increase of 152.9%.
"Higher prices were observed across all types of meats, eggs, fresh fruits, sugar and vegetables," the SIB said.
January also saw home rental prices increase by 1.9%, but this was offset by decreases in electricity tariffs and prices for liquefied petroleum gas (LPG), down by over $20 for the 100-pound cylinder, from $105 in January 2015 to $84 in January 2016.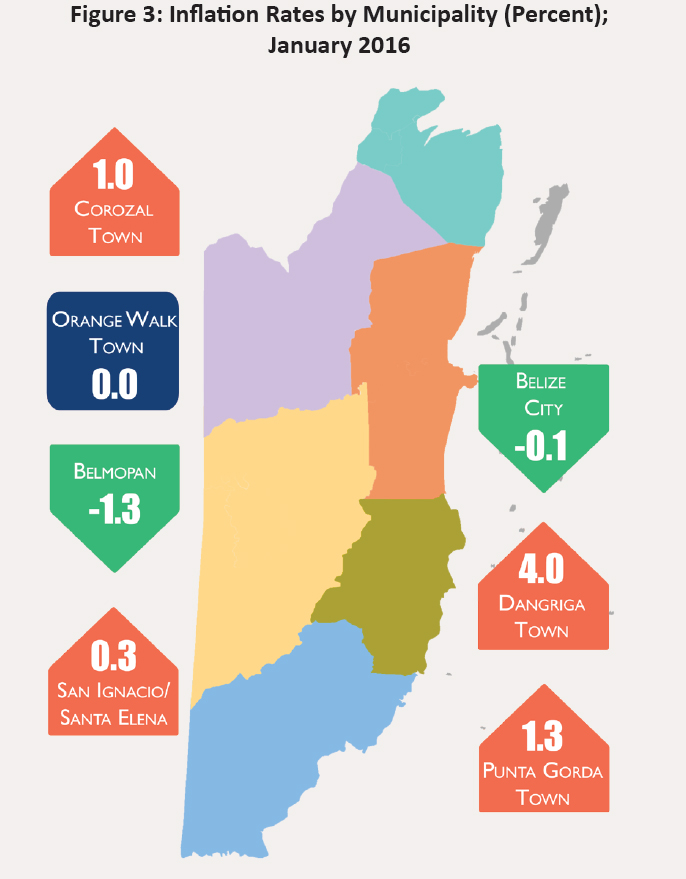 Dangriga continues to show the highest inflation rate (4%), with Belmopan recording the lowest rate (-1.3%).