BELIZE CITY, Fri. Sept. 22, 2017–Corruption and crime—two of the hottest topics in Belize's national discourse—were featured prominently in remarks delivered at this year's Independence Day ceremonies held in Belmopan to mark the 36th anniversary of Belize's independence from Britain. Held under the theme, "Belize: Confronting Challenges! Celebrating Triumphs! Renewing our Resolve!" – coined by Janine Sosa, the event customarily affords a platform for both members of the ruling party, in this case the United Democratic Party, and the Opposition, the People's United Party, to address the nation on matters ripe for national reflection.
Belmopan mayor Khalid Belisle said in his welcome remarks that the rise in crime is no coincidence.
"That too many Belizeans live at or below the poverty line is no coincidence. That too few jobs exist for too many in need of one is no coincidence. But no politician, preacher or foreign billionaire alone can resolve all our challenges and today, a day of celebration, is a fitting time to renew the call to collectively as a nation stand resolute in confronting them," Belisle added.
Opposition leader John Briceño said that social and economic problems abound and the cost of living is out of control.
"Truly when we see this administration overwhelmed with scandal on top of scandal, involving high-ranking ministers, elected representatives and their cronies, we are compelled to agree that we are witness to a kind of moral bankruptcy," the Opposition leader added.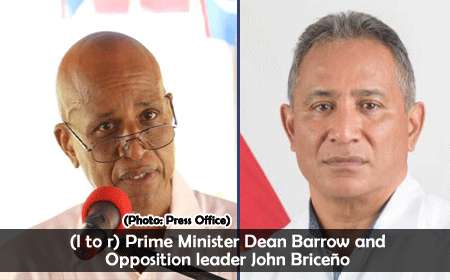 He said that this has led to crippling national cynicism and a total loss of confidence in a system that sees an ordinary Belizean youth locked up for a stick of marijuana and "women sentenced for stealing a ball of cheese, while there is never any interrogation, much less prosecution, of those elected officials and their associates who bastardize and steal our patrimony with impunity."
Briceño said that according to the recently unveiled report of the Auditor General of Belize, there has been "a massive hustle" at the Ministry of Works, and there have also been revelations of "a systemic wide-scale rape of our national lands" and "the wholesale involvement of ministers with knapsacks full of visas and nationality certificates … yet to this day, not a single person has been held accountable before the law for these wrongdoings!"
Barrow, in his remarks at the official Independence Day ceremony, chose not to reply directly to the Opposition Leader's charges, saying: "Now Independence Day is no time for cesspool political rhetoric, even if delivered piccolo. So I will not engage in any back and forth with those hurling brickbats and lobbing stink bombs …"
Of note is that a year ago, at the 2016 Independence Day ceremonies, Prime Minister Dean Barrow officially declared that Belize was in recession mode; this year, he announced a recovery, with Gross Domestic Product approaching $4 billion.
Barrow said that, "…the Statistical Institute of Belize was able to certify 1.1% GDP growth for the first six months of this year. And this headline exit from recession was fleshed out by some really quite remarkable figures in particular subsectors: an 18% jump in sugar production; 30% for citrus concentrate; 20% in livestock; and a 7.8% increase in tourism overnight arrivals."
Related Articles
Share
About Author
(0) Readers Comments